Aviator Crash Game By Spribe Review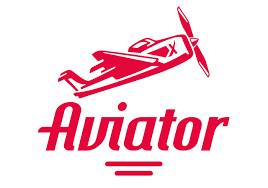 Along with the advancement of crypto gambling, online players got introduced to a unique type of casino game. Among these games, you can find an Aviator crash game by Spribe which is one of the most popular crash games out there.
The rules are simple – you get to place your bet in a fast-paced game with an increasing multiplier which rises until the plane flies away. Well, things may not be so simple, since there's much more to it than what initially seems. Don't worry – we'll guide you through the game and its rules, along with a few pointers on playing tips, so stay tuned.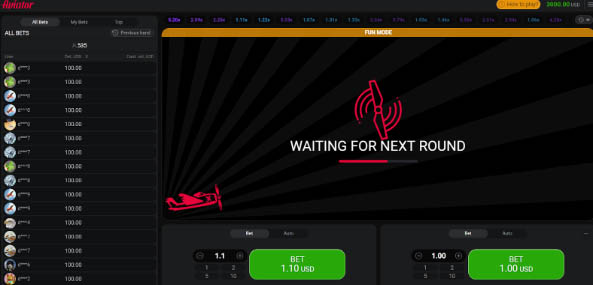 Best Aviator Casinos
What Is Aviator Crash Game?
The Aviator crash gambling game is a version of the Crash casino game developed by the software provider Spribe. They are the pioneers of the provably fair gaming scene, and we'll expand a bit on this type of casino game in a bit.
For now, you must understand the basics behind the Aviator game, and the first thing to do is find a casino site that offers Spribe games. The layout is pretty simple – you get a plain-looking grid with an airplane symbol that's ready to take off before each game round.
As you place your bets and the betting window closes, the social aspect of the game begins. You get to see the plane symbol getting to higher and higher altitudes, and with it, the multiplier rises. At first, you'll see the multiplier starting from x1 and growing to x1.1 which is the first point where you are eligible to claim your wins.
While the plane symbol is on its way, you get to enjoy the live in-game chat and see what other players are betting. You can also see as they are cashing out, which is a wise thing to do if the multiplier starts getting higher and higher.
Sure, you can wait until the multiplier hits x500 and claim a striking win, but that's not always the case. It's possible for the plane to fly away even as low as on x1.2 and your bets would be lost at this point.
That's why this game is so simple and engaging at the same time – it lets you get that genuine gambling thrill and it's up to you as to when you'll be requesting a cashout.
How To Play The Game?
Now that you know a bit more about the basics of the game, it's time to dig deeper into the rules. The Aviator Gambling game is rather simple to get used to and play and the first thing you need to understand is bet placement.
Since this game is categorized under the "Turbo" games by Spribe, it's a fast-paced game and you won't have a lot of time to place bets. That's why there's an "auto bet" option that lets you repeat your previous bet in each game round.
This makes it easier to keep track of the gameplay without having to set your betting level again and again after each game round. Before the game starts, you'll see a warming and right after that, the round is underway.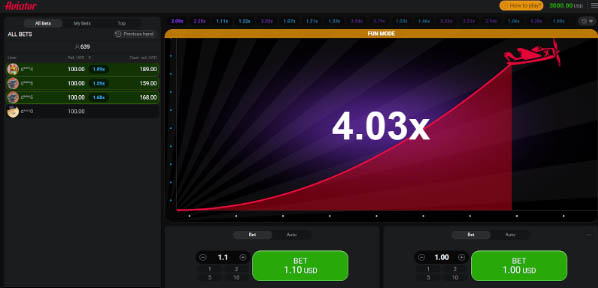 The most beneficial rule for players is that you can cash out at any point – from the x1.1 multiplier, to x1000, it's only up to you. You choose whether you'll settle with a low-profit range, or try to pursue higher payouts at greater risk and increased volatility.
You should also note that the game takes some time to go from x1 to x3, but the pace gets faster as the plane rises in altitude. So, you have to be prepared to cash out as soon as the symbol reaches your desired multiplier, or else you may lose your bet if not following the game closely.
You can also place two bets in the same game round, which makes the Aviator version one of the best Crash game variations out there. The major benefit of this game when compared with other Crash gambling games is that you can place live in-game bets and follow live statistics before each new game round.
The Social Aspect Of The Game
Spribe isn't only there to create unique and highly original slots and casino games. The company makes unique provably fair games that are more engaging with a multiplayer thrill, and the same goes for the Aviator gambling game.
That's why you can scroll through the in-game chat to see what other players are doing with their bets. You can comment on the game, leave your impression on the strategies, or simply see what other players are doing right and try to utilize the same gaming approach.
The important thing is – by following the live chat, you also get to claim some promotional offers that occasionally show up to boost your gaming results.
Bonuses And Promotions
One of the main advantages of the Aviator crash game compared to other games of the same type is the offer of bonuses and promotional prizes. These can be found within the chat, so it's worth going through the messages and scrolling through the chat as you play.
There's the special "Rain promo" feature which randomly adds extra free bets within the chat. Any player can claim these offers, so you shouldn't look the other way around even though it's tough to always keep an eye on the chat.
You can therefore combine the auto-play function and the free bets from the chat to get the most efficient way of playing the Aviator crash game. Free bets may vary in value and number of promotional offers available to players, and the first player to get to the offer claims the prize.
Aviator RTP And Volatility
The Aviator game by Spribe comes with a decent 97% RTP ratio. This means that you should theoretically receive 97 out of 100 of your bets back. Of course, that's not always the case, so you may lose more, or win substantially even in a long run.
The volatility represents the level of risk that the game poses with the payout potential of the game considered. Based on that, the Aviator game is a high-volatility game since the multiplier ranges up to x1000. That means that you can win $1000 on a single $1 bet, which is impressive in this game category.
Still, you should at least be able to work with your bankroll to enjoy a decent gaming session and prevent losing it all like on other high-volatility casino games like roulette.
The Aviator game is also a provably fair game, which means that the RTP isn't the only thing determining the result. You can check the fairness of the game and whether the game round outcome is truly random or not, which isn't the case with RNG-operated games.
Is Aviator A Provably Fair Gambling Game?
We already mentioned how Spribe mainly deals with making "Turbo games" that you can play fast and witness a lot of game rounds within a short period. Still, that's not the main quality of the brand since they primarily make provably fair casino games.
These are the games where the game results are fully transparent and you can even check them yourself! This is a great deal for players in the era where RNG-operated games simply blossom on online casino sites, and that's not always a good thing.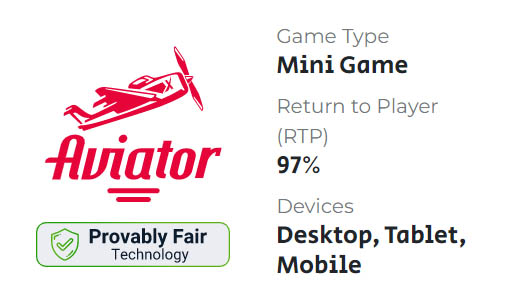 With a random number generator, the game result is pre-determined, while provably fair games are always random. That's a big difference for crypto players since you get to combine the player seed and server seed to get a unique cryptic hash to check the game result.
Because of this, it's impossible for someone to interfere with the game outcome and you can conveniently check the result. All you need is to enter the client seed along with the server seed and a hash, and you will be able to see the result. So, while there's an overall RTP of the game, it's mostly up to your luck when it comes to winning or losing.
Aviator Gambling Game Strategy
You will be surprised at how many in-game strategies you can apply while playing the Aviator crash gambling game. It may seem like a simple game that it is in essence, but there's a variety of methods you can try to maximize your wins.
For instance, you can achieve big wins on this game in two ways – placing high bets and cashing out on a low multiplier, or chasing a high multiplier with low bets. Of course, the second method is a riskier one, but at least you can't lose too much due to a low betting amount.
On the other hand, you can lose quite a bit by relying on a lower multiplier with a high bet amount, since it's possible for the plane to fly away even below x2. So, you may not even be able to double your bet before the plane goes away and that's a major drawback of this method.
Due to the higher volatility of the game, there will certainly be a high multiplier in a game round at some point, but that doesn't happen that often. So, it's up to you to decide which one of these two tactics works best for you.
The Martingale Strategy
If you aren't new to the online gaming scene, you've probably heard of the Martingale strategy on games like roulette. It's simply a way of accumulating profit by always doubling up your bet and looking to cash out at x2 of your bet.
So, if you lose once, you can place a double bet amount and repeat the process until you cash out at x2. Due to an increasing bet level, you only need one hit even after 5 or 6 losing rounds to get some profit. Of course, it's possible that you'll hit an x2 win on the Aviator game right off the bat, which then resets the cycle and you will be once again placing the original bet.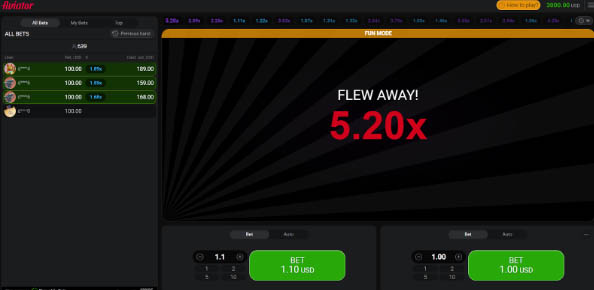 Also, it's possible to see 10 consecutive rounds with a multiplier lower than x2, so you need a decent bankroll as well as patience to utilize this method.
Pros And Cons Of Aviator Crash Game
The Aviator crash game comes with some major benefits when compared to other versions of the game. It involves a lucrative social aspect with an extensive portfolio of free bets that any player can claim within the chat. Also, the x1000 max payout is a decent win limit along with a few useful options like auto-bet, but there are a few drawbacks as well.
Here's our honest overview of the main pros and cons of the game:
Pros:
Crash game with a 97% RTP ratio
Includes in-game chat and live statistics
Previous round results are visible at the top of the grid
You can repeat your previous bet with an auto-bet option
Free bets available
A responsive interface makes swift gaming rounds easier to follow
Cons:
Doesn't include an option to limit your multiplier wins in a game round
Some crash games offer a higher max multiplier limit
Final Thoughts
The Aviator crash game makes one great variation of the popular provably fair game type, and Spribe did a great job with this release. Our team values the social aspect of the game, in-game promotions, and the gameplay layout which is convenient even for beginners.
So, if you are looking for a fun and engaging game with fast-paced game rounds for crypto players, we salute your desire to try this game. It's convenient for both low-rollers and those that wish to play with higher stakes, so the fun is there for every player to grasp.
Aviator Crash – Key Facts
| | |
| --- | --- |
| 💰 Best aviator crash casino | Winz |
| 🎰 RTP | 97% |
| ❓ Provably fair? | Yes! |
| ☞ Volatility | High |
FAQ
Is Aviator Spribe legit?

Yes, the Aviator crash game by Spribe is legit since it's made as a provably fair game with completely transparent payouts and is made by a renowned online casino game provider.

How do you predict the Aviator game result?

There's no genuine trick or hack to predict the game result on the Aviator crash game, but you can always use the client seed and server seed to check the fairness of the round outcome after it plays out. You can always use the in-game statistics to help figure out your next bet.

Is there a strategy you can use for the Aviator game?

There are a couple of strategies you can use while playing this game including the Martingale method and the Fibonacci sequence, but these methods don't guarantee a winning session.