Play Now
Dapp casino
Dividend
FIAT accepted
Mining
No KYC
Passive income
VPN allowed
Wallet login
---
Cryptocurrencies
AAVE
, ADA
, AMPL
, AVC
show more
, BANANO
, BAT
, BCH
, BNB
, BSV
, BTC
, BTT
, BUSD
, CAKE
, CRO
, CRV
, DAI
, DASH
, DOGE
, DOT
, ENJ
, EOS
, ETH
, EURS
, JST
, KSM
, LINK
, LTC
, MANA
, NBX
, SATS
, SHIB
, SNX
, SUN
, SUSHI
, TRTL
, TRX
, TWT
, UNI
, USDC
, USDT
, VNDC
, VSYS
, WBTC
, XLM
, XMR
, XRP
, YFI
Game providers
Belatra
, BETSOFT
, Bgaming
, Booming
show more
, ENDORPHINA
, EVOPLAY
, GAMEART
, GAMOMAT
, HABANERO
, NOLIMIT
, PLATIPUS
, PLAYNGO
, PLAYTECH
, Pragmaticplay
, PUSHGAMING
, RELAX
, TECHNOLOGY
Games
Crash
, Dice
, Live casino
, Provably fair games
show more
, Slots
, Sportsbook
, Table games
TrustDice Casino Review
TrustDice is a brand under the famous casino conglomerate, Satoshi Gaming Group N.V. This crypto gaming site has been around since early 2018, and has been shaking up the landscape of crypto gambling from the time of its inception. Gambling operations at TrustDice are regulated under the policies outlined by the Government of Curaçao. This means that players from countries with similar gambling rulings will be able to throw dice at this casino. The site also supports multiple languages and digital coins!
But enough of the general details, let's get into what's more important : the gaming operations, bonuses, and how you can gamble your way to multiplying your crypto assets.
Is TrustDice Legit?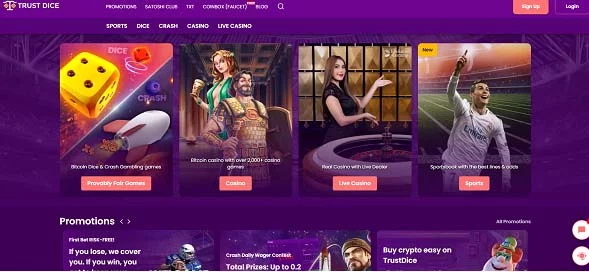 First things first, let's talk about the legitimacy of this crypto gaming site. You already know by now that the site is licensed under the Curaçao Gaming Association, which is directly within the power of the Government of Curaçao. Their strict gaming policies and standards further confirm that nothing shady is going on at this casino. Our professional reviewers did some more snooping about the site and have found that the site uses SSL encryption in order to safeguard customer data, especially for payments. Transactions are carried out through safe payment gateways, provided to the site by trusted payment partners like Bitcoin, Ethereum, and USDT, alongside exchange platforms like UniSwap and Paytomat.
How Do I Open An Account on TrustDice?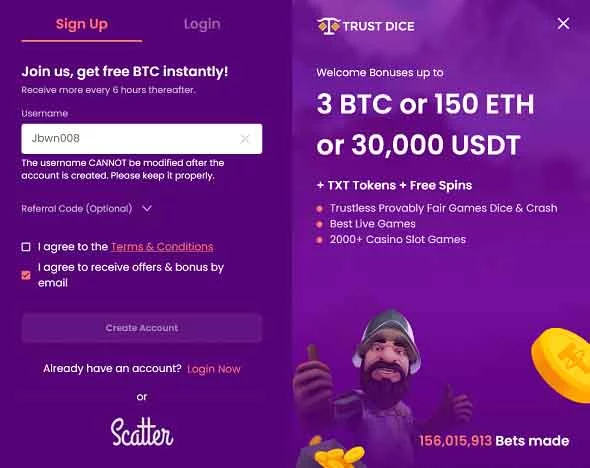 Signing up at TrustDice is super easy! The simplest option is to link your Scatter account to it and start betting away. But if you don't have one, just enter a unique username of your choice and you'll have a new account in mere seconds. Just be sure you think your username through because there is no changing it after. Although you don't need an email to complete your sign-up, adding one comes with a bonus bag of coins. So, don't miss out on that easter egg. Betting on your new account requires no further identity verification. But do keep in mind that you will need to submit the necessary documents before you will be allowed to make a withdrawal from this gaming site.
What's On My TrustDice Account?

Your TrustDice account dashboard shows you a summary of your lifetime progress at the site. You'll see your current level – anywhere from the starting point of Shrimp to mastery at Satoshi. The key thing to remember here is that there is a reset counter for your level points and any sub-levels you have each month, so be sure to reach levels within the month, or else your progress will go with the wind. There is also a portion that lets you know how many cashback points for each of the crypto coins you use at this site.
TrustDice Casino Community & Chat Space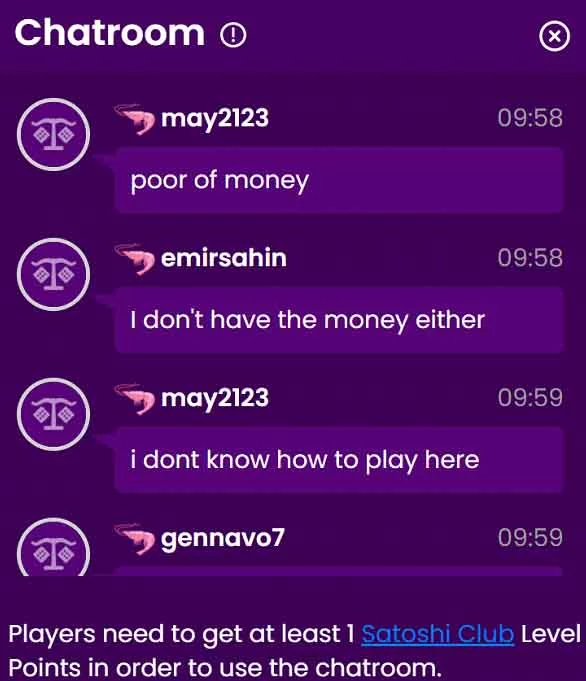 The chat space at TrustDice is where you get to interact with other players, share tips, even bonus drops. It's a great option if ever you need gaming advice or want to know a few insider tips that would help you along the way. The only prerequisite here is that players need to reach at least Level 1 on the Satoshi Club ranking before they can be a part of this global chat room.
They also have organized communities on Discord, Twitter, LINE, Telegram, as well as Bitcoin Forum. Look out for their 'Community' section for quicklinks to their respective community pages.
Dividend & Mining At TrustDice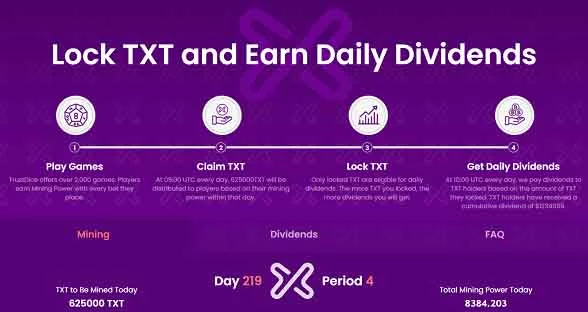 The mining and dividend process is supported by TXT. You simply have to stake TXT to receive even more TXT at the end of the staking period. And dividends drop daily, unlike other sites that offer weekly or monthly dividend payouts. Ready to get TXT-rich? Then read on to see how mining and staking work here.
Mining at TrustDice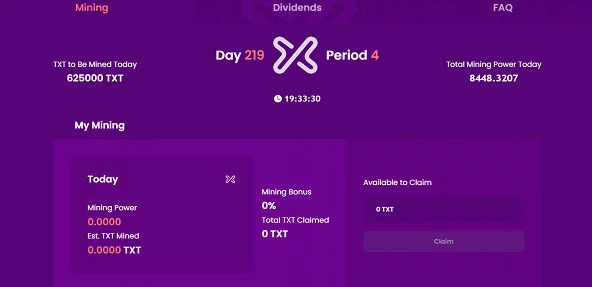 If you're new to crypto gaming, mining may be a completely alien concept. But, it really isn't all that hard. To begin mining TXT coins on TrustDice, you simply need to do what you came here to – bet and play on the games offered. As you bet on these games, you mine or "discover" new TXT coins, a fraction of which you will get to keep. The counter for new coins resets back to 625000 TXT daily, so you'll have more and more to "discover" each day. And from studying the leaderboard, it seems that betting on casino games gives you a higher edge to help you reach the top. The mining bonus also helps you mine at a much faster rate, somewhat like a multiplier at a casino, so try to bet more to earn a higher mining bonus.
Dividend Payouts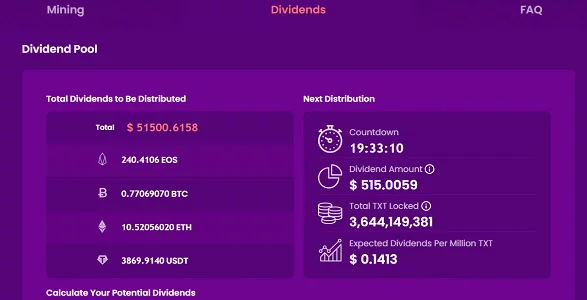 Once you lock in your TXT coins here, you will also be eligible for dividend payouts. Unlike mining where you earn only TXT, dividends are paid out in TXT, BTC, ETH, EOS, and USDT. Essentially, the more TXT you lock-in, the higher your dividend payouts. But in order to unlock or "unfreeze" your TXT coins, there is a 72-hour waiting period, from the time you stake your coins. Dividends are paid out daily at TrustDice.
What Gambling Games Can I Play at TrustDice?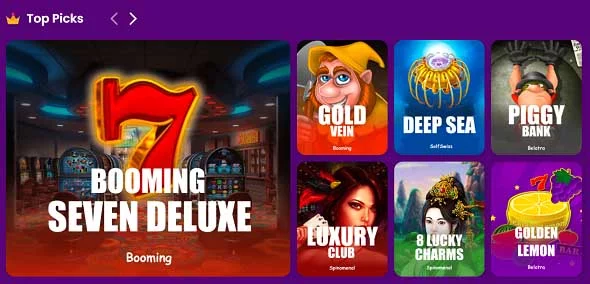 The games library at TrustDice has over 2000 games for you to choose from. And the bulk of these are games from some of the best casino software developers – Spinomenal, Belatra, Booming Games. From slots to table games, even a live casino area, they have all the possible options out here. Additionally, their proprietary Bitcoin games, Dice and Crash are available for those more focused on doubling their digital coins fast. Sportsbetting fans also have a number of options to pick from at the TrustDice sportsbet area. Keep reading to find out what else caught our eye at this casino.
TrustDice Provably Fair Games

TrustDice has two self-developed games here – Dice and Crash. These are classic Bitcoin games, as you would know them. And they are perfect for you if your entire focus is on mining and earning. These games have a simple layout and only come with the most essential of betting features like limits, bid amounts, and of course the betting risk. Although these aren't as entertaining in the long—term, they are the best bet if you're looking to fast-track yourself into crypto riches.

TrustDice Jackpot Games

If you look closely at their slots options, you will see that a good number of them are jackpot slots. Most of these are from Belatra, Platipus, and BSG. These games have quite the jackpot pool, some of them reaching 1 BTC in total value. The great thing about these games is that most of them come with a demo version. This gives you a bit of leeway to get a bit of practice before you lay down real coins at these reels.
TrustDice Live Casino Area

The live casino area is quite the sight, with classic options like Monopoly Live, Dream Catcher, and Lightning Roulette just to name a few. Surprisingly, all the tables here have a very low minimum bet rate, set at 0.0000001 BTC. As for the maximum bet, it's capped off at 0.5 BTC. The board is dominated by Evolution Gaming, who are famous for their top-class live casino software. And just behind them are other providers like Spinomenal, Ezugi, Pragmatic Play, and Absolute Live Gaming.
Sports Betting at TrustDice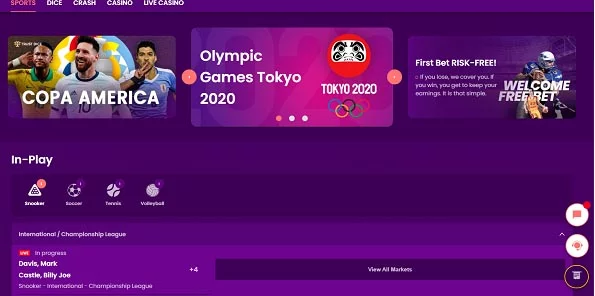 It's a rare sight for crypto gaming sites to have sportsbet options, but the guys here do have it! Betting works just as it would at a bookie, just that you'll be betting with some cooler coins. Bask in the glory of betting on international leagues and local matches for soccer, football, tennis, badminton, and other high-profile sports games.
TrustDice Bonus & Promotions
Not only games are multifarious here, the bonuses and promotions at TrustDice are equally so. Take your pick of casino bonuses, welcome bonuses, live casino promotions, weekly and daily wager bonuses, even free bets for sportsbettors. Let's break them down, one-by-one, shall we?
TrustDice Casino Welcome Bonuses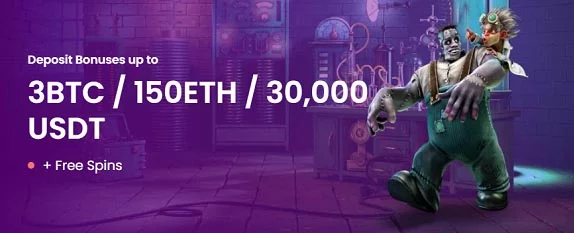 The welcome bonus at TrustDice comes in 3 parts – a 100% match of up to 1 BTC or equivalent in ETH/USDT with 25 free spins followed by a 75% and 50% match, each also up to 1 BTC or equivalent in ETH/USDT. Welcome bonuses are valid 7 days from the day they are claimed, and any unused bonuses will be forfeited. This bonus is exclusive of Dice and Crash. Free spins are not counted towards any wagering requirement for bonuses. Also, it's beneficial to keep in mind that only bets above 0.0007 BTC or equivalent will be counted towards the wagering for this welcome package. Each player can only have one bonus active at a time, meaning that you'll have to claim them in succession.
TrustDice Sportsbet Promotions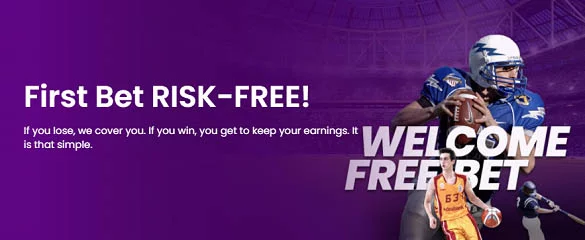 We all know that a risk-free bet means that you'll be getting a free bet! And the terms for this free bet aren't that bad either. For your bet to qualify, you'll need to match an odds rate of 1.60. But remember, this is only valid for your first ever sports bet at this casino, and if you don't use the bonus, it will expire in 48 hours.
Weekly & Daily Offers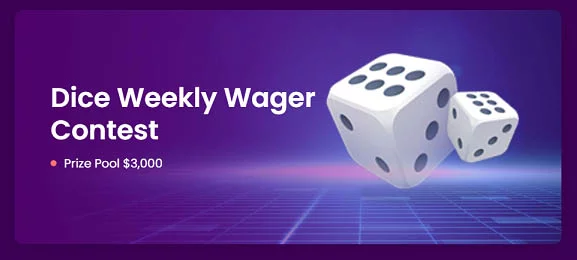 TrustDice's own games, Dice and Crash, come with their own, unique returns. Dice players will be in the running for a part of a $3000 prize pool, each week. At the Crash zone, expect a daily chance to grab yourself a piece of at least 0.002 BTC. And if you and your pals manage to wager more than 2.5 BTC collectively, your daily prize pool skyrockets all the way up to 0.005 BTC. And all you need to do to qualify for both of these prize drops is to keep on wagering to get to the top of both the leaderboards. It's just that easy!
Coinbox (Faucet) Free Coins

Depending on where you are on your Satoshi ranking, you'll be receiving substantial amounts of free coins from TrustDice every 6 hours, daily. You can claim free EOS, BTC, ETH, TXT, USDT, and VITA. No strings, no funny business. Just come back every quarter of the day and get your free coins.
Reward Tasks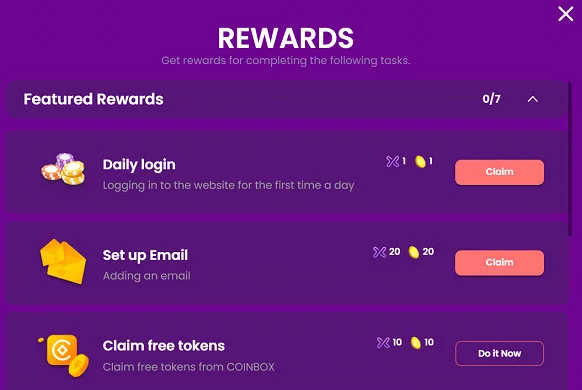 TrustDice Affiliate Program
The affiliate program here is a little different from what we're all used to. Instead of awarding you for each person you sign up onto the platform, you'll be getting a 50% cut of all the coins that they claim from the Coinbox, or as the locals call it 'the faucet'. Simply send them the affiliate links and get coins whenever your referrals do.
Deposits and Withdrawals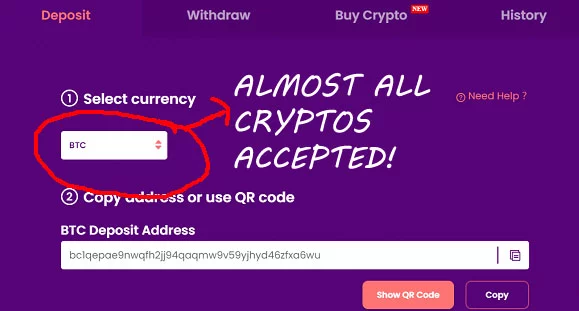 Depending on the type of currencies you want to use at the site, your deposit and withdrawal methods would differ. For crypto users, things are simple. Simply send and receive any of the supported coins to and from your account using your unique link or your very own wallet QR code. If you're going old-school and betting with fiat currency, deposits and withdrawal are strictly through Sticpay. Still don't know what currencies you can use at TrustDice? Read on, we got details coming right up! ALMOST ALL CRYPTOCURRENCIES ARE ACCEPTED!
What Currencies Can I Use Here?
As you may have already guessed from the last section, TrustDice accepts both cryptocurrencies as well as everyday currency. However, for cash deposits, they can only be made in KRW, JPY, or EUR. As for cryptocurrencies, the site accepts almost all cryptos!. TXT coins are predominantly used for mining and dividend payouts. VITA coins are strictly for use at Dice and Crash games only.
Customer Support at TrustDice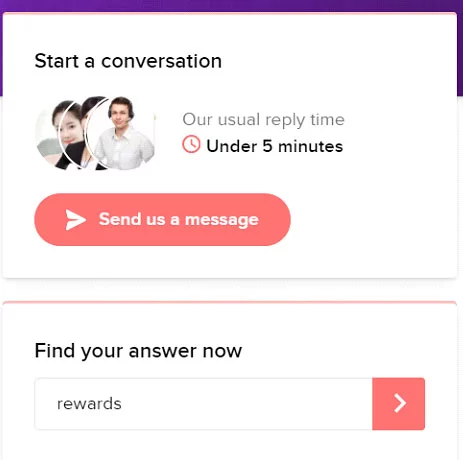 The only way to contact support agents at TrustDice is via their live chat feature. Most of the time, you'll have a bit of a queue, since it's the sole contact point for players. If you need urgent help, you can always check out their help articles, maybe something would eventually pop up. Alternatively, you can ask a question in the community chat and wait for someone seasoned to give you a reply. Other than that, there isn't much to highlight, aside from the fact that the website supports multiple languages including Korean, Japanese, Chinese, Russian, Turkish, Dutch, and a few other widely spoken languages.
FAQ
What are the cryptos accepted here?

TrustDice accepts almost all of them!

Is TrustDice Dapp Casino?

Is TrustDice licensed?

Yes, TrustDice is licensed under the policies outlined by the Government of Curaçao.

Is there a VIP membership?

At this point, there is yet to be a VIP rewards system at TrustDice.

Can I use USD, EUR, and FIAT currency here?

Yes, the site accepts FIAT too!

I am from a restricted country, can I play?

Yes, it is allowed to play via VPN.