Mines Gambling Game
Spotting the Mines gambling game in an online casino's provably fair section is pretty much a standard these days, but this game is often overlooked. After all, just think about the limited gaming options players had back in the day when online gambling just took off, as they were mainly able to wager on slots and some table game variations.
So, it's a good thing that you can now get an exciting new take on online gambling with Mines, and our team is here to tell you all about it. We'll show you how the game works and where you can play it as we break it all down on Mines betting and how it works.
You can pick up the pieces and make a decision on whether this game works for you yourself! Let's get right into it.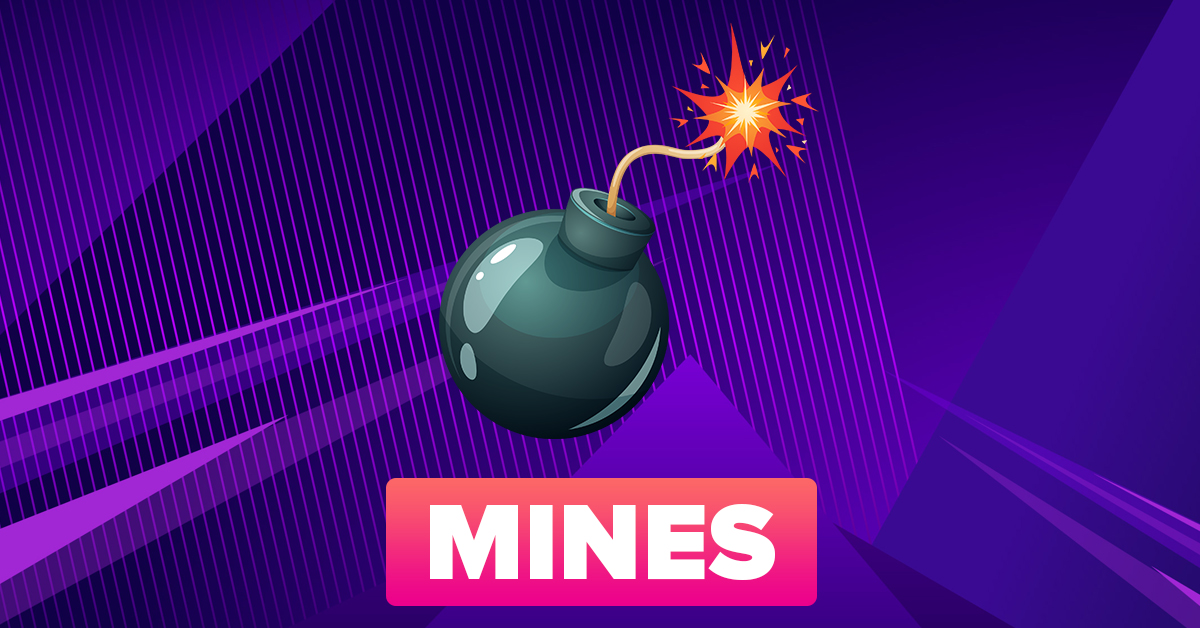 What You'll Find In This Guide
What is Mines gambling and how it works
Types of gambling Mines games
Where to play the best Mines variations
Our take on Mines gameplay and strategies
Best Mines Gambling Sites in 2023
Now, before we get into the drill of playing this type of casino game, our team thought it would be a good idea to give you a sense of the best Mines gambling sites out there right at the start. We'll give you a more detailed explanation on these in a bit, right after we go over the crucial details on the game itself and how it works, but it can't hurt to know about these sites that make a safe haven for Mines gambling enthusiasts:
Mines Gambling Explained
Remember frantically running through the Minesweeper game back in the Windows XP era? Well. Spribe brought the game back up, only in its online gambling form, and so did the majority of other crypto-gambling sites. The mentioned software provider was one of the first to produce a unique new Mines gambling variation, and quite a few other releases followed up.
These days, we can see a lot of online gambling highlights on Stake and BC Game where casino streamers claim massive winnings, but what's the game really about and how big of a win can you actually get? If you are new to this game type, think of it this way – Mines gambling is just like playing that Windows game only for real money which adds up a dose of suspense into each gaming round.
Of course, you won't have to clear all those blocks like in the original Minesweeper, but you'll have to make quite a few lucky guesses to generate big wins in the game. The rules are pretty simple – you get a 5×5 grid with 25 tiles in total and at least one of them hides a mine underneath. It's up to you as a player to decide how risky you want to go since the number of potential mines can mostly be adjusted in almost every game type.
In other words, you may have to do some calculations before you get into the game since playing on a grid with just one mine and cashing out after a few hits won't give you much profit to play with. In most cases, you'll have to reveal at least two to three diamonds, stars, or other symbols except the mines that may be included in a game round to hit a profit worth x2 of your bet.
This can change depending on how you adjust the game – you can either go with a low number of mines for an easier path around them or try a riskier approach and have more mines with the chance of hitting higher payouts. However, going down that road will increase the chances of you hitting a mine even on your first pick on the grid, so most players go with a less volatile option.
The bottom line is – the more picks you are able to make without hitting a mine, the higher your payout will get.
House Edge and Win Potential
Now that you've got a sense of the basics, it's time to dig deeper into the matter by going over some simple math tasks to calculate your winning chances and Mines odds. The rules are pretty simple, so you are the master of your own fate depending on how you set up the game and how many mines there are on the grid of 25 tiles.
However, the house edge is almost always 1%, which means there's a theoretical RTP of 99% on Mines gambling. Of course, this also depends on the game type, so we suggest you take a look at our list of provably fair gambling DApps for inspiration when picking the best Mines casino.
Most of the provably fair Mines releases will give you a pretty high return, but that doesn't mean winning is easy here. Let's put it like this – assume that you are going for the least risky option by only playing with one mine on the grid. That means you have a pretty good chance of making it all the way through the grid, right? Well, yes and no, since the payout for doing so with a single mine included is around x12 of your bet in most cases, and there's no guarantee this will be easy.
If you try to make it all the way through 10 times in a row, you'll most likely be able to do it just once, or maybe a few times. On the other hand, it's also possible to try 25 times in a row and fail, which only goes in favor of the statement that having luck on your side in this game is a must, regardless of the RTP.
Playing with a higher number of mines can lead you to a higher win of around x128 of your bet, x200 of your bet, or even x500 of your bet for playing with 24 mines and making it all the way through on some versions of the game. So, where you play makes a big difference on Mines payouts and winning chances.
Types of Mines Games
Most crypto gambling DApps these days offer a version of Mines similar to BC Game's or Stake's version. It comes with 25 tiles in a grid and you have to uncover "the good stuff" instead of bombs or mines to make progress. However, that's not all regarding the Mines types since some sites like JustBit Casino can bring you a different kind of this game.
Their release is more often referred to as "Minesweeper" and while it's more or less the same game at its core, the gameplay is quite different. It features a grid with different levels, and you have to pick one out of five given options on each level to continue. If you make the right pick, you'll avoid the mine and keep going, but hitting a bomb will result in a betting round being lost and you'll have to go back to the first level.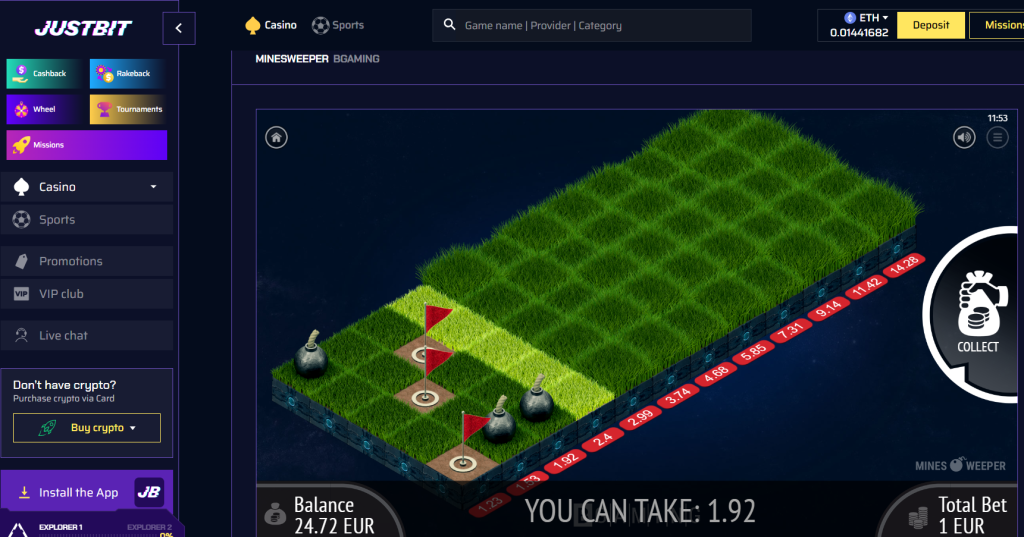 Either way, this game type is pretty fun as well and we had a lot of fun playing it, as you can see from our JustBit review, so check that out to get a better understanding of how this game type works.
How To Play Mines Gambling Games?
If you don't know how to go about this, you've come to the right place – our team of casino enthusiasts has already tried out pretty much every version of Mines there is, so we can give you a few hints on how to play. Follow these steps to get started ASAP:
Register on a gambling site that offers Mines – The first thing you should do to play Mines for your crypto coins is to join a gambling DApp that offers Mines and accepts crypto deposits. You can do this by visiting our list of recommended casino sites or relying on your own hunch to find a suitable Mines gambling option.
Make your first deposit and grab a bonus – Our experts work tirelessly to bring you a list of the best crypto casinos with a rich selection of welcome bonus offers for new players, so there's no reason not to use them before you get to Mines gambling. Please note that not all the bonuses may be eligible for Mines, but it's still pretty convenient you can wager the bonus and then play with what's left of it by placing Mines bets.
Pick the tiles as long as you feel comfortable – Our next piece of advice is pretty simple – always pick the tiles up to a point where you are questioning yourself if you should quit. Don't play it too risky and try to cash out as much as possible, since we know how bad things can get if you enter the "just one more tile" mode. The game is pretty tempting and that's an understatement even.
Set up an auto cash out option – Finally, this is something that can help since setting up a cashout limit can help players that often take too much of a risk by cashing out either way when the Mines multiplier reaches a specified value. That way you at least don't have to wonder if you should have cashed out sooner or not if the next tile pick leads to a mine.
About Mines Strategy and Tips
Before we get in-depth with this next section, let's clear out this one thing – we are not saying that there's an effective Mines strategy that will lead you to foolproof wins. If there was such a system, well, we probably wouldn't be working on this guide right now but rather enjoying a couple of martinis on the sunny coasts of the Bahamas.
However, using these strategies and tips truly helped us achieve that "well, look at that" factor and we were genuinely surprised by the increase in the return we've seen. Of course, we might have just gotten a bit lucky, but here's what you can do to at least try to increase your payout odds:
Try The "Single Mine" Strategy
This one is our personal favorite and we've modified it a bit while playing which has led to a series of more frequent cashouts on BC Game's Mines crypto game. So, you can set the game up for a single mine and then hope to only pick the diamond symbols. You can do this until you've uncovered half a dozen symbols and once you reach the x2 multiplier, you should cash out.
Repeat the process as much as it takes, and you can even double the wager every time you lose since you'll inevitably hit the x2 odds sooner or later with a single mine being on the board (at least that's what math says). This approach is pretty similar to using a Martingale strategy on roulette, so you can see why we can't deem it a way to certain winnings.
Chase After The Higher Odds With Low Wagers
For our next piece of advice on Mines gambling strategies, we suggest you take a different approach and use a high-risk grid with at least five mines on it. This will drastically increase your payout value with each new diamond you uncover, but it will also increase the risk. For that matter, we suggest you lower your bet since there will be quite a few losing rounds this way.
However, you can at least hope to get some impressive payouts for merely hitting a few diamonds and avoiding the mines for as little as a few rounds for some massive wins. We suggest you set up a cashout limit as well since you'll rarely be able to clear the grid with so many mines being underneath.
Our Top Picks For Mines Gambling Sites
Finally, our team wanted you to have a brief overview of each top pick from our list among the sites offering Mines gambling with a low house edge. Most of these sites feature that 99% return on Mines, so look them up for having the highest chance of winning:
BC Game
This site is the best one out there for playing Bitcoin Mines as it offers the signature version of the game with diamonds and bombs being set on a 25-tile grid. It's easy to adjust your payout rates and the number of mines here, and the game is pretty fast-paced. There's also the option to select a random tile, which adds up to the site's convenience for players that enjoy this type of game.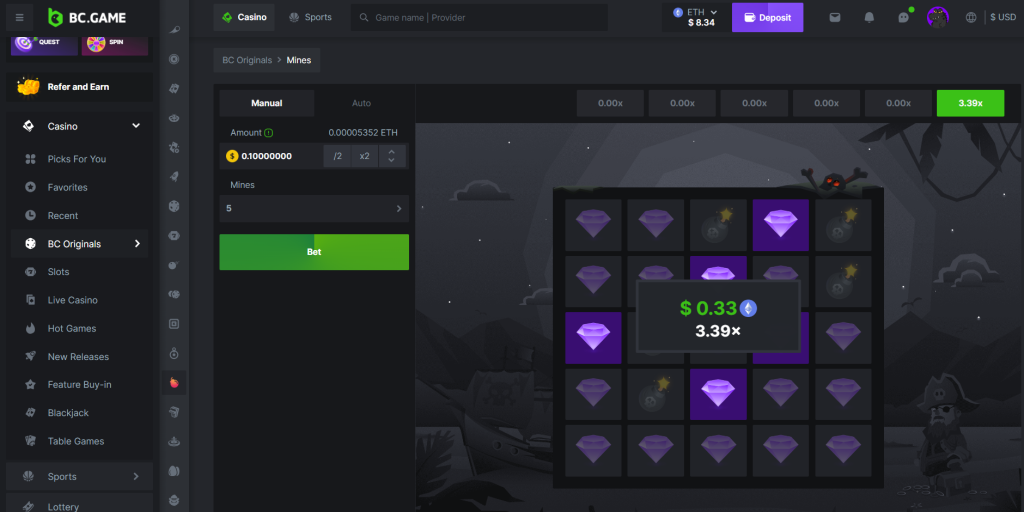 Plus, you can take a look at our BC Game review for more insight into the site's massive four-tier welcome bonus and 5000+ casino games being offered for crypto players. You can also count on weekly prizes and tournaments for more chances to get free mines gambling by wagering the bonus winnings on the game.
JustBit Casino
This site is one of our recent discoveries that made its way into our "top picks" list thanks to innovative gaming software that includes the Minesweeper gambling game. It's a bit different than BC Game's or Stake Mines and it's all thanks to the grid with 12 levels out of which each level contains five possible picks with a single mine being displayed among them.
So, if you can create a safe path to go through, you'll be looking at an x14.28 payout waiting at the other end, and the site offers some impressive bonus offers too to spice things up on this Minesweeper Casino.
Bets.io
Finally, this casino site offers a similar game version to BC Game's Mines, only this time you get to enjoy a different setup and up to 20 possible mines being on the grid. It's up to you to determine the game's volatility, and you can check our Bets.io review for more details on how the game works.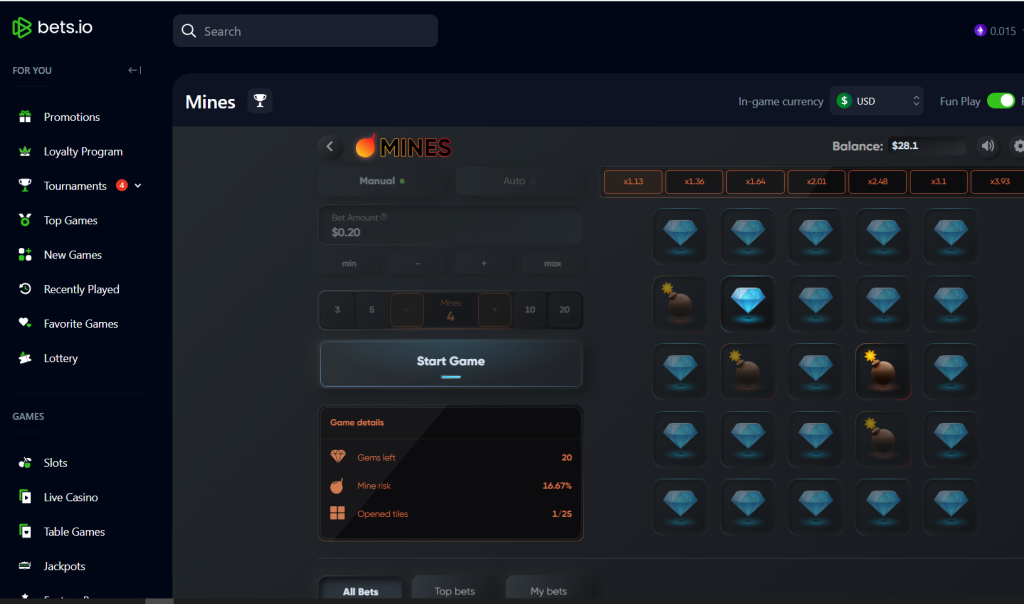 Overall, the site is a perfect match for those that like to combine regular casino games with provably fair Mines gambling thanks to more than 6000 games being available along with weekly bonuses and tournaments to increase your Mines gambling budget and get some Mines real money wins!
Mines Gambling Key Facts
| | |
| --- | --- |
| 🏆 Best casino for Mines gambling | BC.Game |
| 🎰 RTP | Up to theoretical 99% |
| ❓ House edge | As low as 1% |
| ✔️ Provably fair? | Yes |
Mines Gambling FAQ
What is Mines gambling game?

The Mines gambling game is a relatively new crypto-gambling concept where players can pick from the 25-tile grid in hopes of avoiding the mines or bombs and improving their payout the further they go.

How to play Mines gambling?

You can play Mines gambling by joining a site from our recommendation of the best crypto gambling DApps and cashing out after hitting a preferred multiplier on Mines.

Is there a strategy for Mines?

There's no foolproof strategy for Mines, but you can take a look at our picks from the complete Mines guide.

Where to play the Mines gambling game?

You can play the Mines gambling game on sites like BC Game, JustBit, Bets.io, or Stake.com.