Crash Gambling

– Play at the Best Crash Casinos 2023
Gameplay Mechanics, RTP, and Full Playing Guide
The online casino scene is enriched with so many distinctive games that every player can find a personal favorite. The already impressive selection of slots and live casino games expanded to provably fair games run on a verifiable crypto hash at crypto casinos.
While these games are quite popular among crypto players, one game, in particular, has become the go-to game of many players – Crash gambling game. It's a thrilling and suspenseful game that runs based on win multiplier mechanics, but there's so much more to it than meets the eye. This guide will dedicate all the attention to breaking down the gameplay, playing styles, and game potential you can expect.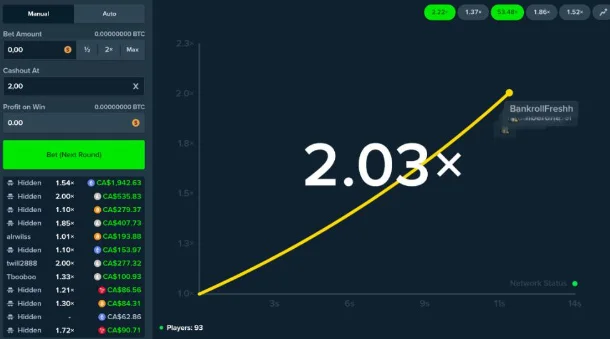 Crash Gambling Sites
About Crash Gambling
You might have heard about the Crash gambling game by the many different associated names based on the casino you are playing at. Besides the "Crash" title, you can also find this game going by the name of Aviator crash, Space XY, or similar titles.
All these games are essentially the same as they work on the mechanism of increasing the bet multiplier. You can wager $1 or equivalent in crypto, and the multiplier will rise until the "crash" happens and those that didn't cash out on time lose their bet.
Everything happens so fast, and it might seem simple, but there's much more to this game. It started as a crypto casino game available only at dedicated crypto gambling sites.
The game became instantly popular, so you can now find it on numerous casino sites featuring different versions. The game is rather simple at first – you place your wager, cash out at will, and either claim your wins or lose the bet if the crash happens before the cashout.
Gameplay and Rules
Most modern slots and live casino games, like game shows by Evolution Gaming, include complex gameplay with bonus rounds and progressives. The Crash gambling game isn't nearly as complex, and it's perfect even for beginners in the field!
As you log into your crypto casino account and deposit your coins, you'll see a game screen with a multiplier scale. You'll have a bankroll and betting section where you can input your desired bet amount.
By clicking on the "start game" button, the multiplier will start from x1 and climb in value. Once you get to x5 or x10, climbing speed usually increases, and there are some games where the multiplier can go up to x10,000 of your bet.
There's one thing you should be careful about here, though, and it's cashing out on time since everything happens so fast. While the game has staggering potential, it's crucial to know that some game rounds can finish as early as when the multiplier reaches x1,1.
If this happens and you don't cash out on time, you lose your bet. Betting rounds take place swiftly, so it's possible to repeatedly play within a short period and chase high multipliers or play with a slightly higher bet to cash out at lower multiplier values.Please note that there's a faster version of the game called Limbo which takes game round turns faster. The Crash gambling game has another benefit, the multiplayer segment since many players participate in the same game round. So, you'll have to wait until the players set their bets, but it's still possible to play a round every minute.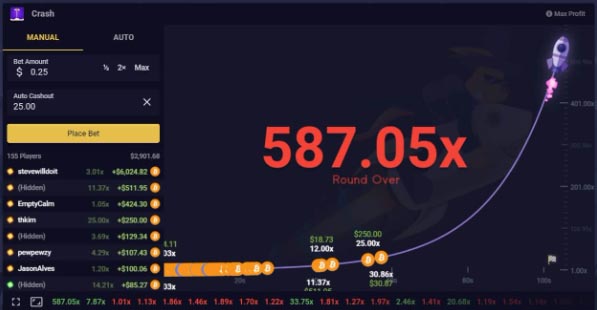 Crash Gambling Game Fairness
You may be wondering about the fairness of the Crash game and how it works compared to other online casino games. The fact is that Crash gambling game is a provably fair game means it's not operated as RNG-generated slots, for example.
Instead, you get an encrypted blockchain hash before the game round, as well as the key you receive after it. You can use the fairness calculator at the site you are playing or an external checker to scan the hash and confirm the game outcome.
Besides the possibility of confirming the fairness of a game round, there's the average RTP which stands pretty high among online casino games. You'll see the return-to-player ratio as high as 99%.
However, you should be careful with this game since it's an extremely volatile casino release. In other words, you might win x100 of the bet in a round and still lose the next 99 rounds theoretically. Therefore, patience and betting strategy are key features when playing a round of the online Crash gambling game.
Crash Gambling Playing Guide
There's no trick to constantly winning at online casino games; the same goes for Crash gambling games. However, there are several things you can use as tips or pieces of advice for playing Crash to make it more fun and possibly win a few more times. Here's what you can do to get the most out of the game:
Use the auto cashout option
Play at casinos with 99% RTP
Make bets accordingly with your bankroll
Make use of the Crash gambling game strategies
Always Set Auto Cashout
One of the most valuable options in online Crash gambling games is the "auto cashout" setting. You can use this setting to adjust the bet multiplier at which the game automatically claims your winnings, and you don't have to do the cashout manually.
You can use this feature as insurance if you lose your internet connection, which sadly happens to players. Usually, there's an auto cashout section above the manual cashout button.In this section, you can input the auto cashout limit. For the demonstration, let's say that you've set the auto cashout option to x2. Once the bet multiplier reaches x2, you are automatically out of the game round with your winnings secured.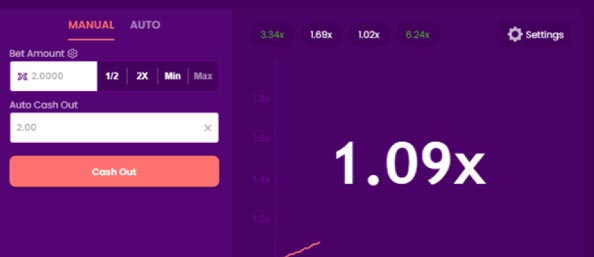 This prevents you from losing the bet if the internet connection lags, and you can't manually claim the winnings. However, what about the situations where you wish to pursue higher wins, you might ask?
Well, you can either remove the auto cashout or set it for a higher limit, like x10. This way, you can chase the multiplier wins up to x10; even if you lose the connection, you'll still get the wins.
It's easy to adjust and remove the auto cashout, and you can still set it up for a higher limit and do the cashout manually on lower multipliers. It's also possible to set the autoplay option, which means your bet level will remain unchanged for upcoming rounds, and the cashouts will occur automatically on a set multiplier.
Since the game is still ongoing, once you cash out, you can still watch the other players' winnings and see where the crash would eventually happen if you didn't back out.
Go for Highest RTP Casinos
To increase your chances of winning at the online Crash gambling game, it's best to play at casino sites with the highest RTP on the game. As mentioned, the RTP is usually as high as 99%, but it's not necessarily a rule for this type of game.
You might get lucky to join the game when it's paying high and secure some great wins, or join the game where most crashes happen below x2. Picking a site that offers a 99% return-to-player ratio means you can expect to get 99 out of 100 game-round bets back. Of course, this is the general number for the entire game and all the players.
So, regardless of the RTP, you should still be aware of the tremendous volatility of the game. Due to high variance, you might see some impressive multipliers in a streak or several consecutive losing sessions with extremely low multipliers.
Now that you know this, you can take advantage of it and adjust your bets accordingly on the game.
Keep Track of the Game
A single game round of the Crash gambling game lasts depending on the multiplier, but even if it climbs to a x1000, it still speeds up on the way. So, it's easy to burn your eyes with this game and lose track of the results.
It's always best to set a multiplier limit for which you are willing to risk your bets and cash out once the multiplier climbs to that limit.
Moderate bets on multipliers up to x3 are more than convenient, even though the game has massive potential. Still, x1000 rounds are extremely rare, so there's no point in pursuing such high wins unless you are in profit.
To slowly build up your bankroll on the game, it's wise pursuing multipliers from x1.5 to x3 and slowly raise the bar depending on your standings.
Place Bets According To Your Bankroll
Now that you know the game's volatility, it's time to dig deeper into the bet level you should set. Of course, it's possible to chase after huge multipliers with lower bets or go the other way around and set large bets and cash out as fast as possible.
However, the most important thing is to adjust your bet level according to your bankroll. Think of it as a similar game to a live casino roulette – you'll have to wait for other players between rounds, but everything still happens quite fast.
Because of this, you'll be able to play a lot of rounds within one hour, and it's best to leave at least 50 or 100 attempts on the game. To do this, you should set your bet per round to $1 or $2 on a $100 bankroll.
If you have a $1000 balance, you can try with $10 and $20 bets and occasionally risk it by making some $30 or higher bets. Overall, it's good to leave a lot of room for the game to enter high multipliers because of the high variance of the game.
The layout of the Game
If you enjoy playing interactive games like online slots with various colorful symbols and bonus round, you shouldn't have high expectations out of the Crash gambling game in that sense. The game features a rather simple layout and design, yet it's appealing to new players.
Depending on the version, you might see a plane, jet, or spaceship launching from the bottom (x1 multiplier) and increasing in altitude as the multiplier grows.
Some games feature interesting graphics in case of a crash, but that's as exciting as these games get. The whole point is not to make it visually appealing, but rather exciting and suspenseful, since you never know when it will crash.
The crash is also a social game since you can interact with other players. Between game rounds, you can see the live chat box where players leave their impressions of the game. Also, you can see their nicknames as the multiplier increases to see where other players cash out.
This makes it all the more fun and engaging, and you can share your thoughts with other players and keep track of their winnings.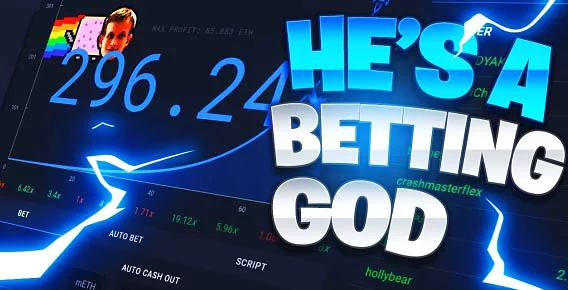 Crash Gambling Game Strategies
Let us stop you before you say, "there's no such a thing as online casino strategy," and we salute your common sense. However, a Crash gambling game is slightly different from roulette and similar games, so that some strategies might work. Of course, applying a short-term strategy is only possible since you are destined to lose in the long run due to the RTP.
Still, that doesn't prevent you from testing your luck with one of these Crash gambling game strategies to win a few game rounds:
Martingale strategy
Auto cashout on x2 multiplier
The Fibonacci strategy
Low bets on an extremely high multiplier
The Martingale Strategy
The Martingale strategy is one of the most common strategies for games where it's possible to double-down your bet and play on x2 winning odds. It's therefore widely used for roulette games, where you can bet on a single x2 bet like red/black or even/odd.
The point is to pursue the same bet and double the amount if you don't win. Once you get a win, it's time to restore the initial bet amount. While roulette seems more applicable to this strategy, there's no guarantee that a single color won't come on the board 10 times in a row or even more.
How does this apply to the Crash gambling game? You can set the auto cashout to x2 multiplier and start with a $1 bet or equivalent in crypto. If you lose five times in a row, your bets will progressively be worth $2, $4, $8, and $16. If you win on the $16 bet, you'll get a $16 profit, and you would have lost $15 on prior bets and would still hit a profit.
The downside of this strategy is that you need a large bankroll, since 10 or even more Crash rounds may end up with a multiplier lower than x2. Also, it only works in a short-time gaming session.
Auto Cashout on x2
While this might seem like a version of a Martingale strategy, it's not even close, since you won't go up the bet if you lose a game round. Instead, it works long-term, since you'll repeatedly chase after the x2 multiplier with the same bet amount.
To make more profit, it's possible to raise the bet to x2.5 or so to get a bit more profit. Of course, this model only works if you can hit more consecutive wins than losses in a row, which is up to sheer luck and the RTP of the game.
The Fibonacci Strategy
Yet another tactic for playing Crash with a higher winning chance is the Fibonacci strategy. It works by adding the bet value of the previous lost rounds to the next bet. Let's say you start with $1 and progressively raise the bet to $2 and $4. The fourth best, in this case, would be $7 in total, so if you hit a win, you'll get a slight profit.
It's somewhat similar to the Martingale method, since you need a large bankroll for testing it out. It's also best not to tamper with the set auto cashout multiplier, since raising the multiplier ruins the efficiency of this system.
Also, the multiplier should be slightly above x2 in this case. Otherwise, you'd end up going back to the starting amount.
Low Bets on High Multipliers
Finally, one last strategy for winning in a Crash gambling game is to try setting up a higher auto cashout multiplier limit and wager low amounts. For instance, you can wager $1 per round and play 100 rounds with a set limit on a x200 multiplier.
If just one of these 100 rounds ends up with a high multiplier, you'll get a profit equal to the total bet of the rounds, or $100 in this case. You can also try a riskier variant and bet $0.5 wagers on 100 rounds, with the multiplier being set to x300 or even x400. This strategy works best with low bets, so it's a game of patience and hope that the RTP will kick in after a losing session and get the multiplier well above x200.
How To Get Started With Crash
How To Play Crash
Register at a crypto casino

Register for an online casino account to access both provably fair games and the Crash gambling game. After successful registration, you can log into your account and continue.

Prepare your bankroll

Next up is to deposit to your account, so you can start making Crash gambling game bets. You can go to the "cashier" section of the online casino you picked to make your first deposit. As soon as your bankroll is ready, you can move on to joining the game.

Enter the Crash gambling game

The next step is to search for the Crash game under the "provably fair" games section. Most casinos also let you type in "Crash" in the search bar, and you can find the game in the panel. Note that the game might be called differently based on the casino, but a plane or spaceship icon often represents it.

Adjust the game and play

Once you are in the game, you'll be able to choose between the manual and auto modes. The auto mode repeats your bets for you, while in manual mode, you must cash out once ready. There's the bet amount section where you enter the wager amount and an auto cashout section below it if you wish to set an automatic multiplier for cashout. You can also see the "current profit" mark as the game round is in progress, which helps decide the cashout moment. 
Minimum and Maximum Crash Bets
Like any other casino game, the crash also has a minimum and maximum bet. The game is also limited to the maximum win of x10,000 for the most part, and the lowest you can cash out at is x1.01.
The minimum bet on the Crash gambling game is $0.0001, but some versions might be limited to $1 for the lowest bet amount. In terms of the maximum bet, it's around $200,000 on most games, but this information varies from game to game.
Crash Provider Names and RTP
As mentioned, different Crash gambling game names and RTP vary depending on the provider. Here's a list of the most frequent Crash gambling game versions out there on crypto casino sites:
Aviator game by Spribe – 97% RTP
Jet X by Smartsoft Gaming – 96% RTP
Jet X3 by Smartsoft Gaming – 97% RTP
Space XY by BGaming – 97% RTP
CSGO Crash game – 95-98% RTP
CSGO Crash is a unique version of these games, since it's possible to play at some CSGO gambling sites for credits and even claim CSGO skins, depending on the result.
While most of the CSGO Crash games are visually not appealing as some other versions, it's a go-to option for CSGO players.
Some Crash gambling games are specific to casino sites, such as Stake Crash or Roobet Crash. To get the most out of the game, you should pick the versions that have the highest possible RTP.
Crash Gambling Key Facts
| | |
| --- | --- |
| 🏆 Best casino for Crash gambling | BC.Game |
| 🎰 RTP | Varies from 95-98% |
| ❓ Minimum bet | $0.0001 |
| ☞ Popular variants | Aviator, Jet X, Space XY, CSGO |
| ✔️ Provably fair? | Yes |
Crash Gambling FAQ
Is Crash gambling game legit?

Yes, the Crash gambling game is legit, and its fairness can even be tested on some sites that include provably fair games where you can use the blockchain hash to verify the fairness of the game outcome.

How do you play online Crash?

Where can I play Crash online?

You can play Crash at online casinos that accept crypto, since it's mostly found in provably fair casinos that operate by generating random outcomes on a blockchain code. Check the top of this article for a full list of the best Crash sites.

How do you make money on Crash gambling?

You can make money on Crash gambling by using one of the main Crash strategies, including Martingale and Fibonacci, or using auto cashout options with the set bet level.