Crash Gambling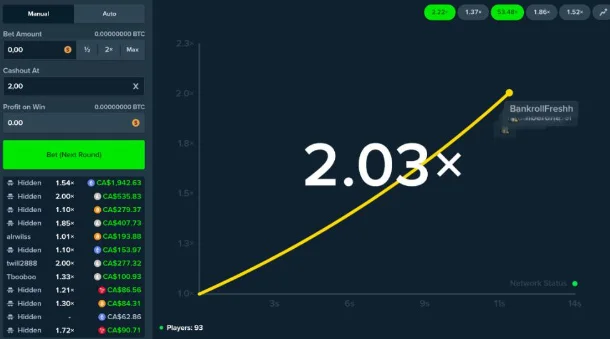 The crypto-inspired Crash gambling game has been slowly gaining traction with players – be it real money fans or crypto gambling groupies. First created for the growing Bitcoin community sometime in 2014, the game slowly rose in popularity, until the pandemic, when both the game and crypto casinos skyrocketed.
Here at DappCasino, we are dedicated to researching every offering available at Bitcoin casinos, and Crash games are no exception. In this article we will show you how to play Crash games, the best casinos for Crash gambling, as well as a few bonus tips and tricks to help even the most experienced players improve your game. So let's jump right in!
Crash Gambling Sites
This game is picking up momentum in the online gambling scene, and there are quite a handful of sites where players can enjoy crash game gambling right now. You can find our complete casino list here, but the top crash gambling sites are listed below:
What is Crash Gambling?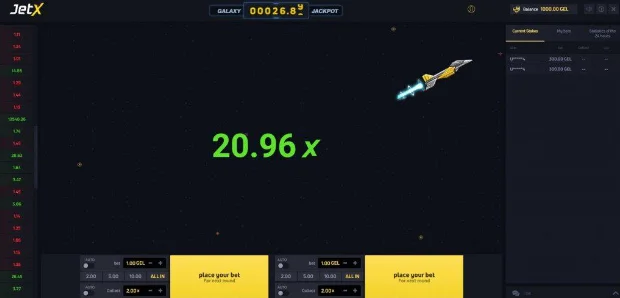 Crash is a casino game that was developed for some of the first online Bitcoin casinos back in 2014. How it works is pretty simple Bets are first received from players, then a systemic timer is set at a random algorithmically selected odd. As the timer progresses, so does the multiplier on the bet – like a graph going up. Players will need to cash out before the point where the selected odd is reached and the round ends. There are plenty of Crash gambling sites online, some of which we'll share a little later on.
Is Crash Gambling Legal?
Most of the crash games offered at online crypto casinos are 100% legal and regulated by stringent international policies, much like any other casino game. It is of course recommended to play Crash games at regulated casinos offering provably fair games. It is also good to choose games created by big and respected game studios.
How To Play Crash Gambling Games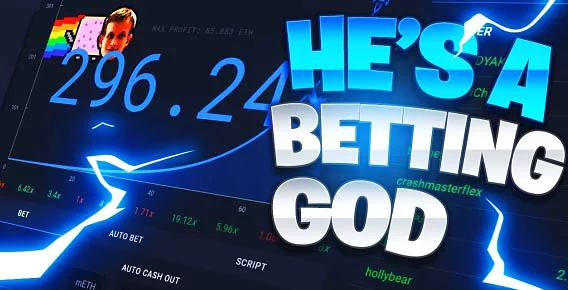 Most casino sites offering Crash games will have a quick tutorial on how to play the Crash games they offer. However, if they don't or you're just here to learn more, this is our quick guide on how to start playing Crash games on BC GAME.
Sign up for an account with the crypto casino of your choice. Most online casinos support cryptocurrency gambling as well as fiat money bets.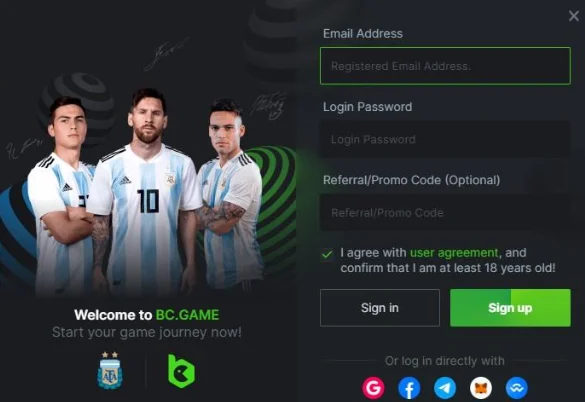 Be conservative, deposit a small amount in order to claim the welcome bonus and boost your initial Crash game bankroll.
Select one of the Crash games available at your chosen casino site. Preferably, one with a lower reported house edge.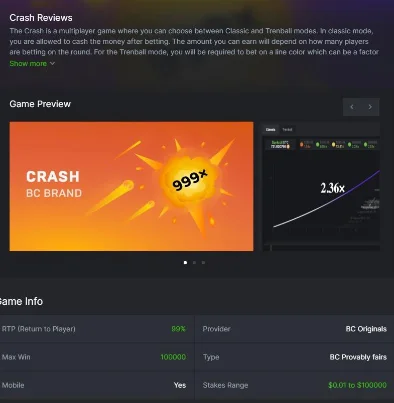 Set your initial bet amount and wait for the game timer to progress. There may also be auto-betting features at some casinos.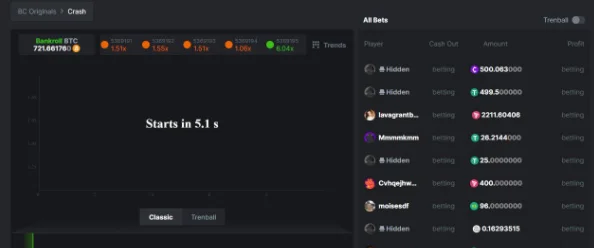 Be sure to cash out before the game crashes or you will risk losing your entire bet. There is an auto cash-out feature with most Crash gambling games to help you strategize for when a specific winning point is reached. It will also prevent you from losing your bet if you lose your internet connection.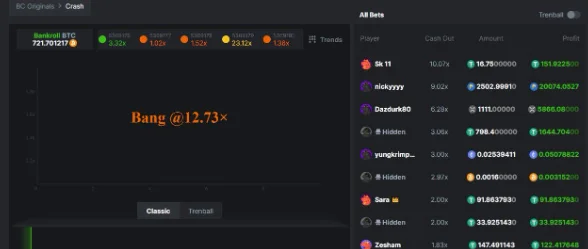 Repeat your bets as you please. There may also be quick bet buttons to help you place doubled or halved amounts of your initial bet.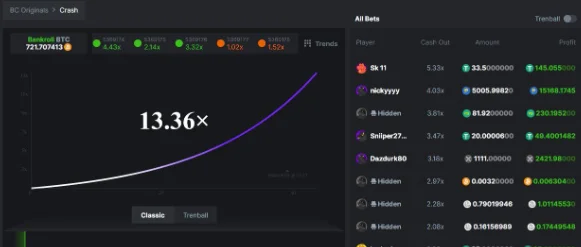 Picking The Best Crash Gambling Sites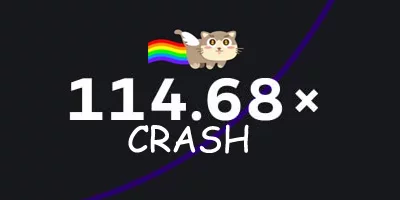 There are so many Crash gambling sites out there offering competitive house margins that it's becoming increasingly hard to choose the best one. But don't worry, that is why we created this little checklist for you:
Always pick a casino or gambling site that is licensed and regulated.
Choose a gaming site that uses the latest SSL encryption for data protection.
Choose games that offer both a manual mode and an auto bet function.
Look for games by well-known and respected developers – that's the easiest way to spot provably fair games.
Most casinos offer VIP club access – use these bonuses to boost your Crash bankroll.
Check the casino's customer service options – the more the better.
Read online reviews about the casino before making a deposit.
Crash Betting Strategies – Tricks to improve your returns
In this section, we will share with you some of the best Crash strategies, tips, and tricks used by both the pros and newbies. All for the sole purpose of maximizing your returns!
The Martingale Strategy
One strategy taken from the roulette wheel is the Martingale strategy. The concept behind it is simple – with every bet lost, you increase your bet two-fold. It works in such a way that when you hit an actual win, the losses break even and may even leave you with a decent profit. Out of all the working strategies here, this offers the smallest potential winnings but likewise the least likelihood of bigger losses.
The Fibbonaci Strategy
This particular trick is widely used in a variety of casino games, especially ones that rely heavily on luck. Again, like with the Martingale strategy, your odds with this strategy are about 50%. Bets are placed as a sum of all the bets made previously. Let's say you're in your 3rd round of Crash and as the 4thround begins, you'll be placing a bet that is a total of all the bets you've made in the first 3 rounds. This is a great strategy for short-term play, but can prove expensive in the long run – not just with your favourite Crash game but with other casino games too.
The DÁlembert Strategy
Another one taken from the roulette wheel is the DÁlembert Strategy. With odds of 50% again, this is one of the more reliable Crash strategies out there. First, pick a starting bet amount and an increment percentage – a good one would be between 2% to 5%. As you hit a losing streak, keep increasing your bets according to the set increment and when you hit on a win, drop it by the same increment. This trick helps keep your losses in check, while giving you nice bonus wins along the way.
The Red Snake Strategy
Not all gamblers are aware of this one. Taking a few pointers from the roulette table, this strategy involves matching all your bet amounts to the "red snake" pattern on the roulette playing table. Following this pattern, the amounts to bet are, therefore – 1, 5, 9, 12, 14, 16, 19, 23, 27, 30 and 32. The idea is that upon hitting a winning strike on any of these, you will be left with a minor profit. Again, this works well short term.
The LaBouchere Strategy
LaBouchere is a little more complex in comparison to the strategies we have seen so far. Before a game round, set yourself a sequence of numbers. Say you're going with the following ones – 2, 4, 6, and 8. For the first bet, it will be the sum of the first and last numbers – 2 + 8. If you hit a win, the total bet amount from the last round will be added to the end of the sequence. And for the next round, you will add the two new outer numbers – which will be 2 + 10 from our earlier example. On a loss, you'll exclude these numbers and use the sum of the remaining outer numbers, in this case, 4 + 6.
The Lucky 7 Strategy
This trick is also a handy one to use at most Crash gambling websites. Set your first bet amount. If you win, add an extra 50% to your last bet. Say you start off with a $20 bet and hit a win, your next bet will be $20 plus an additional 50%, making it a total of $30. Should you lose money, drop the bet amount to your initial one – which would be $20 with our example.
Top Tips For Bitcoin Crash Games – Just For The Newbies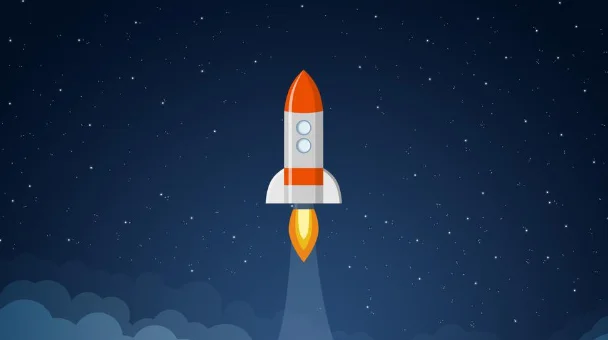 When playing adrenaline-revving games like Crash, you may need a few extra pointers, especially if you're new. Luckily for you, here are some tips for when you need a little help from Lady Luck:
Start off your Crash gambling journey with free bets or a demo game.
Make use of the auto cashout function – it saves you from having large losses in later rounds.
Break down your Crash bets into more manageable sizes.
Collect modest, continuous wins – bigger wins pose bigger risks.
Keep with a tried and tested strategy – like any from our list.
Play Crash with your mind, not your heart.
Always visit a trustworthy and licensed casino– be it for crypto or real money bets.
Choose a provably fair game – games from well-known and respected game developers are the way to go.
Win Big With The Best Crash Gambling Games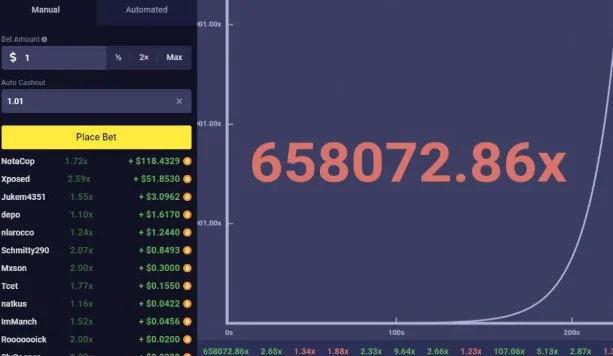 Crash has come a long way since the first games hit casinos back in 2014. And as more people are working from home these days, many have turned to crypto games such as Crash as a means of recreation and a way to earn a quick buck here and there. That reason alone has caused the number of Crash games available on the Internet to skyrocket – no pun intended!
Here is our shortlist of the best Crash games available at the moment
Space XY (RTP 97%)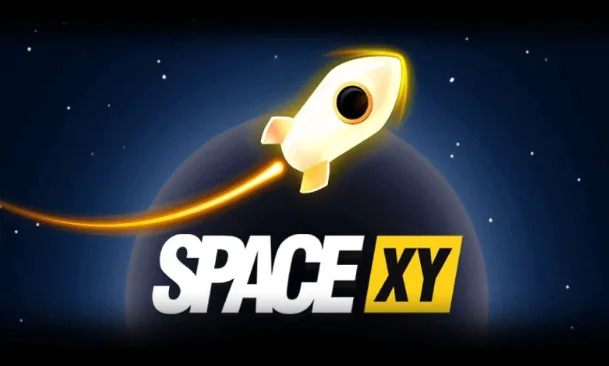 Space XY is one of the more well-known Crash games and can be found at almost every crypto casino these days. Released by BGaming, the game has gained a lot of players both old and new thanks to its unique features – endless multipliers and multiple bet options. It also comes with an autoplay feature – just set and forget! And, with a multiplier of up to as much as x10000 and an RTP of 97%, it's no wonder the game is a staple at most online casinos.
Aviator (RTP 97%)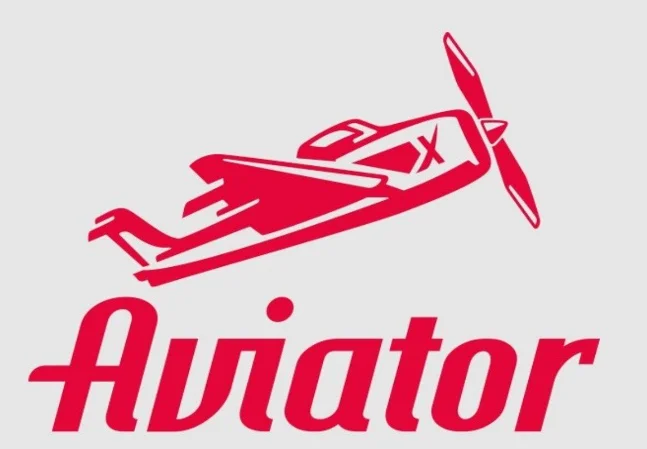 The next one on the list is Aviator, a product of a fairly new casino game developer – Spribe. Despite having a similar setup to most Crash games, the game attracts players with its live bet display and outcome history tab. With these two in full view, players can delve deeper into the game and better guess when the Crash will occur. You can go on to Spribe's official website and try the demo game. Naturally, with so much to offer, Aviator is sure to be one of your favourites.
CSGO Crash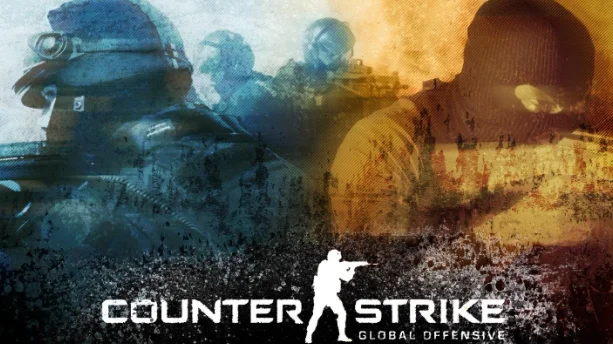 CS:GO Crash is a unique version of Crash that incorporates the adrenaline-pumping elements of the popular PC game Counter-Strike (CS) with the heart-pumping progressions of a Crash gambling game. CSGO Crash comes in different varieties – some mirror Crash, others mirror CSGO. Depending on the type of game you choose, you'll place your bet on either the Crash rocket or a Terrorist/CT team and let the multipliers maximize your winnings before you cash out. With some CS:GO Crash games, you'll even be able to take part in skins gambling – placing bets with your collection of CSGO skins.
JetX Crash (RTP 96%)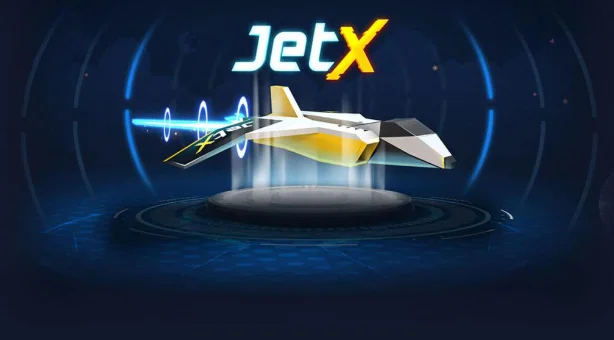 JetX is another version of classic Crash, somewhat a predecessor to the Aviator game. First released by Cbet, JetX has been innovated since and is available in a number of variants at different casinos on the Internet. It was one of the first options with a live bet ticker as well as an outcome history layout. A single JetX bet could multiply up to 10,000x. The game was so popular in its heyday that the term "JetX gambling" was coined to refer to almost any type of Crash game.
Thundercrash (RTP 96%)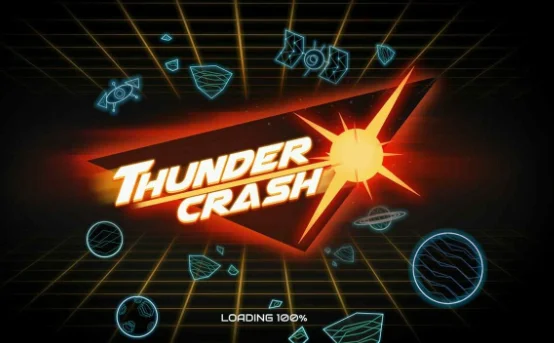 Another one to add to the space theme is Thundercrash. It takes you on a riveting storyline – players are on a space rocket doomed to crash and must struggle to stay alive and get out at the top escape point before the rocket bursts into a ball of flames. Interestingly, Thundercrash is a common addition at slot game sites as well as sites offering Crash games for real money.
Roobet Crash (RTP 96.5%)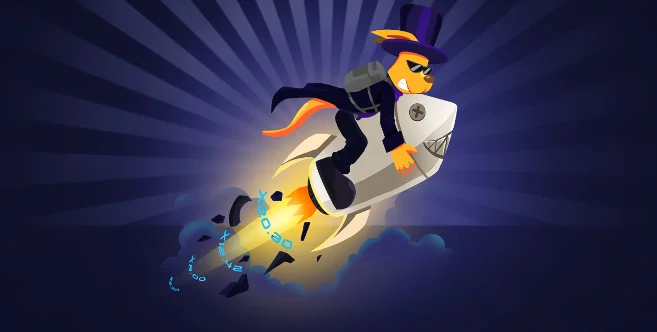 And the final one for the list is Roobet Crash. This game has been developed especially for Roobet Casino and again offers a spaceship theme. However, for those planning to earn big bucks with Crash, you will be delighted to see the extensive auto cashout features as well as three insane autoplay options in the game. Roobet Crash promises a maximum profit of up to $150,000, making it a definite must-try.
Make Every Random Moment Count – Play Bitcoin Crash Games
Crash is one of the simplest Bitcoin games out there and the one to play if you're looking for a big win. The game is 100% random and determined by an algorithm script linked to your local Crash game.
Remember, the best crash gambling sites are the ones offering the lowest possible house edge, while also giving you a chance to automatically cash out after every round you play. But before you go out and start playing Crash games for real money, be sure to get some practice on one of the many free-to-play and demo versions of Crash games. Happy Crashing!
Crash Gambling FAQ
What is a Crash crypto game?

Crash is a simple Bitcoin game that involves cashing out a bet before the multipliers on the bet crash. Upon crashing, a bet will be forfeited. Most casinos offering Crash games are also crypto casinos, so be sure to check your country's gambling regulations before signing up and playing.

Disconnected during the game – what happens?

Always use the "auto cashout feature" and you will be safe.

What is Roobet Crash?

Roobet Crash is a game similar to the classic Crash you would find at most online gambling sites. The only difference here is that the layout depicts an alien spaceship travelling along the graph, that explodes whenever a crash appears at any random moment during the round. The only stark difference is that Roobet offers unlimited multipliers, which could even go into the thousands.

What is Thundercrash?

Thundercrash is yet another version of Crash with an interesting storyline of a soon-to-crash space rocket where players are the passengers struggling to escape their impending doom.

What is CSGO Crash?

CSGO Crash is a variant of the game that incorporates elements from the Counter-Strike PC game with those of a classic Crash game we have all come to know and love.

Is the Crash gambling script random?

Most Crash options run on an RNG system using inverse hash – unlike the more common server and client seed pair.

How do I hit multipliers – and which are the most common ones?

Multipliers show up automatically as the graph progresses. The most common ones are between 2x – 4x. However, they can and will go up to and beyond 1000x at random.

What is the best bet amount for each round?

It is recommended to spend between 5% to 10% of your bankroll with each round for maximal returns. You can also play more conservatively with bets that are 1-2% of your bankroll.

Which games are better – Crash gambling US & UK or Crash games from Asia?

Crash games from the UK and USA will definitely have a Western spin and offer way more features to maximize winnings. These unfortunately are mostly cryptocurrency-based. However, Asian Crash games are not far behind and carry decent returns. They also allow you to use real money bets more often.