EOS Casinos
In this article, we examine this blockchain network that is used for building EOS casino platforms. We also take a look at which games are available on these dApps and how to seek some of the best EOS casino applications.
EOS Gambling – Guide to Best EOS Casinos
The online gambling market surpassed $55 billion in 2019 and is expected to grow at a CAGR of 16.5% from 2020-2026. While the online gaming market has been surging upwards since a while, advanced technological solutions like A.I. and VR have further boosted the industry's dynamics. One of the innovative solutions making an impact in the online gaming sector is crypto and blockchain technology.
Cryptocurrencies and blockchain technology provide services that cater to the requirements of players in this arena. Moreover, the incorporation of crypto and blockchain has further optimized the experience of the online gaming sector. Various decentralized applications (dApps) are being developed on different blockchain networks to leverage the fundamentals of crypto and blockchain. Apart from the Tron blockchain platform, another platform that is registering growth in dApps of gaming is the EOS network.
In this article, we examine this blockchain network that is used for building EOS casino platforms. We also take a look at which games are available on these dApps and how to seek some of the best EOS casino applications.
EOS Casino Gambling Dapps Lis
EOS Casino dApp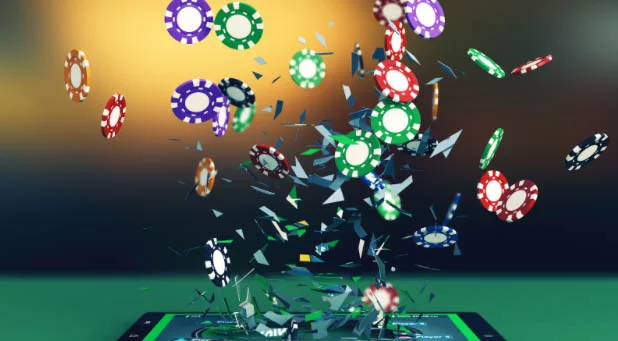 EOS is a decentralized protocol launched in 2018. The EOS blockchain was released with the aim to offer developers a platform to build decentralized applications catering to different industries. It focuses on improving scalability within these applications to enable the efficiency of processing transactions at a faster pace.
Due to its fundamental characteristics, the EOS platform has become a favorable option for developers to build gambling applications. EOS casinos leverage blockchain technology to offer a fair, optimized, and easy experience to players. The platform has also become a popular medium to build gambling dApps as it facilitates transparency in the gaming experience and innovative solutions like bonuses.
As per a report, nearly 62% of the transactional volume generated on the EOS blockchain network came from gambling dApps in 2019. Nearly 38% of active users leveraged the EOS network to access applications in the gaming sector.
The advantages of seeking EOS network for gaming applications are as listed below.
Anonymity
Unlike conventional gaming platforms, players are not required to upload their identity documents. With EOS casinos, players can choose to remain anonymous and maintain their privacy. Further, there is no requirement to submit bank account details as all transactions can be accessed through cryptocurrencies.
Security
Cryptocurrency transactions in EOS tokens are protected through cryptographic protocols. As players need not submit their credit card or banking details on EOS gaming platforms, thereby ensuring security in their financial information.
Customizable Ecosystem
The EOS blockchain allows developers to build customizable decentralized gaming applications. Further, it uses a consensus mechanism known as Delegated Proof of Stake (DPoS) to enable greater security along with providing a decentralized infrastructure to approve transactions.
Scalability
One of the reasons that developers prefer to choose EOS for the development of gaming dApps is that it enables greater scalability. The EOS blockchain network facilitates a transaction speed of 4000/ second. This further allows players to process cryptocurrency transactions at a faster scale.
Instant Deposits and Withdrawals
EOS casinos offer the option of instant deposits and withdrawals directly into a player's cryptocurrency wallets. Unlike fiat casinos, players do not have to undergo the process of verification with banks. Rather, tokens are instantly deposited into the cryptocurrency wallet instead of waiting for days or weeks. Scatter is the most common and used wallet for EOS.
Bonus and Dividends
Players can enjoy EOS casino bonus by engaging in these decentralized gaming applications. Most of the EOS casinos offer attractive bonuses to bring new players as well as engage existing players. These bonuses may be in the form of first deposits, EoS free spins, and even offered to top players on the platform. Some casino websites also offer dividends to players which is a percentage of their profits.
Provably Fair
EOS-based casinos provide a provably fair mechanism to players in order to build trust and engage in a fair gaming experience. Operations are fundamentally governed by automated smart contracts. With provably fair mechanism, EOS dApps use seed numbers and hash function to generate the outcome of a particular game round. This further enables players to understand that games aren't rigged by developers.
Games at EOS Casino
Using EOS blockchain, developers have casinos incorporating traditional games with additional features. Players can enjoy a wide variety of games along with the benefits of instant withdrawals, fair results, bonuses, and more while playing on EOS casinos.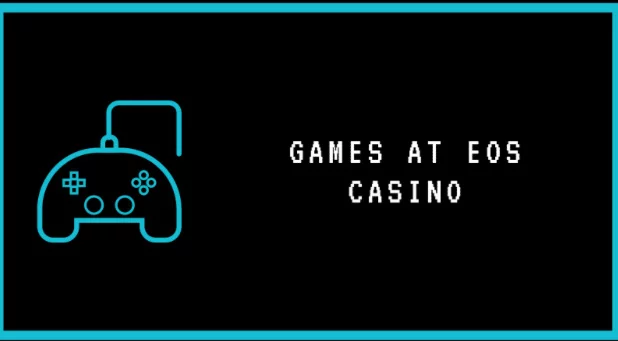 EOS Blackjack
Blackjack is one of the prominent table games enjoyed by players at land0based casinos. Players can access traditional games like blackjack from EOS casinos as well. Moreover, blockchain-enabled dApps also facilitate the advantages of lower house edge whilst playing blackjack. Additionally, variations of blackjack are also offered by EOS gaming applications to enable a fun experience.
EOS Dice
One of the first gambling dApps on the EOS blockchain were dice games. Users can select a roll-over or roll-under number between 1-100. Some dice games were played using a slider in which a player needs to set a mid-point number. Players can slide left which would decrease the odds of winning but offer more payout or slide right which would increase the odds but decrease the payouts. With EOS games, users were able to enjoy faster processing of transactions within 500 ms.
EOS Roulette
Apart from blackjack, another classic game that has become popular with land-based casinos is roulette. EOS casino websites also offer roulette with a live gaming experience. In order to facilitate a real experience, EOS casinos have a live dealer department. Players can place their virtual chips on-screen and a real croupier will then spin the wheel. EOS casino websites set up real tables and beam the dealer to a screen via HD feed.
EOS Poker
EOS casinos offer poker games with access to different titles including Three Card Poker, Multihand Double Poker, and Caribbean Poker. Video poker games on EOS websites have one of the lowest house edges. Also, users have the chance to select their own stakes before playing a poker game.
EOS Slots
Blockchain-enabled gaming applications also have classic slot games with 3 reels and 1 pay line. Additionally, players can also indulge in interactive slot games with access to in-game specials. Some casinos also offer free spins in slot games as a welcome bonus. The games are also backed with provably fair mechanism. This helps a player vet the outcome of a slot game.
How to Choose a Right EOS Casino?
While there are a number of decentralized gaming applications on the EOS blockchain, it may not be suitable for all players alike. Here are some of the checkpoints that players can check whilst choosing the right EOS casino platform.
Provably Fair- It is important to ensure that the casino website offers provably fair tool to enable a fair gaming experience. With provably fair, a player can check if the results are not rigged.
Reputation- By researching the EOS casino and its testimonials, a player gets a fair idea of its reputation.
Games- EOS casinos offer varied games, some of which specialize in only dice games and some of which offer table games. It is important to check if the EOS casino offers the game that you want to play.
Bonuses- Most of the EOS casino websites offer lucrative bonuses to new players. It might be a good idea to check if your opted casino offers dividends and promotions. Bonuses come in various forms like deposit bonus, welcome bonus, and free spins.
Bottom Line
In this article, we examined EOS blockchain network, its advantages for gaming applications, and which games are supported by EOS casino websites. We also provided checkpoints before opting for your favorable EOS gaming application.
Cryptocurrencies and blockchain technology have become widely popular in the gambling industry in recent years. While new dApps based on blockchain are being developed, even the existing service providers have started to access crypto and blockchain to offer a better experience to their users. Moreover, technological innovation caters to the loopholes of the current infrastructure in the online gambling market. By enabling features like provably fair, bonuses, dividends, and lower house edge, crypto casinos have become a popular medium to engage in the online gaming experience.
EOS is one of the top blockchain platforms for developers to build decentralized gaming applications. More than 50% of transactional volume on the EOS blockchain is from the result of these gaming applications. Moreover, by providing a decentralized network along with scalability in transactions, EOS has become one of the most favorable options for gaming dApps.
The current outlook firmly suggests the growth of EOS casinos is bound to go higher.