Top 10 Online Plinko Gambling Casinos For Real Money
Plinko is one of the fastest-growing online gambling games in the world – and for good reason. Plinko crypto gambling games are fun, easy to understand, and can be found at all the best crypto gambling sites. Read on to find:
The best real money online Plinko casinos (chosen by our industry experts)
Plinko gameplay and rules
Some top tips for online Plinko gamblers
About Plinko Online Gambling
If you are not that into the online gambling scene, that's ok – we'll patiently lead the way and help you learn more about this game. It originally started as a new concept in the online casino world called "provably fair gaming".
It's a unique category of casino games that works based on blockchain technology and allows you to check if the game is truly fair to its core after each round. We'll get to it in more detail in a bit, but for now, you should know that you don't have to be a crypto player to enjoy a round of online Plinko betting.
There are various other variants that work on the Random Number Generator (RNG) software and crypto casino providers like BGaming and Spribe offer these. It's not that these games aren't "fair", they simply work differently and your luck can decide if you'll hit big wins or not.
Just like in "The Price is Right" TV show, a round of online gambling Plinko uses a pyramid-like grid with pegs or barriers that help direct the chips towards a prize column at the bottom. Only this time, you won't have the chips but virtual balls that you can drop by setting the stake for each ball and watching as it rolls down the grid toward a win multiplier at the bottom.
If you are more curious about the origins, you can check our article about the history of Pachinko game from its ancient roots to its modern-day allure.
Plinko Casino Gameplay and Rules
So, you've decided it's time to cut the wait and enjoy your online Plinko gambling session instead of just watching the TV shows? We know it may seem complex, but all you need is a good-old walkthrough and our team will ensure you have a breakdown of all the crucial game elements.
You first need to know how it works once you join the online Plinko casino site and set up your balance. As mentioned, there are several different Plinko betting games, but they all work with the same mechanics. You'll have a pyramid-shaped grid filled with pins that determine the direction of the balls.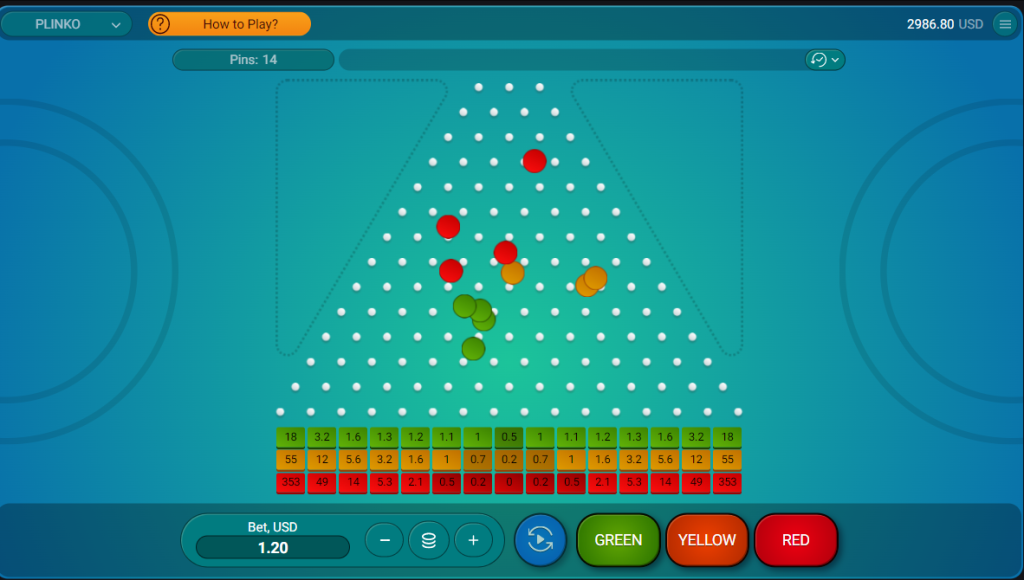 Each ball represents a single bet, so let's say you've set up the $1 bet per ball or spin. You can release as many as 50 or even more balls every minute, so it's a pretty fast-paced game and it's important not to go over the line.
At the bottom of the pyramid, you'll see designated win multipliers. For instance, the middle usually includes low-value multipliers like x1 and these will only return your bet. However, more valuable multipliers will be at the corners and if you can hit those, you can get some pretty big wins.
Risk Levels & Layout Of Plinko Crypto Game
We hope that everything is pretty straightforward for you so far, so now it's time to spice things up with some extra adjustments you can do in a round of online Plinko. It's important to understand the following risk levels since these can affect the return to the player as well as the win potential of the game:
Low-risk Plinko
Medium-risk Plinko
High-risk Plinko
Every round of the Plinko game online can be a low-risk one with a lower win potential or a high-risk one where you can lose your bet easily but also eventually hit x1000 of your bet, check also our post about biggest wins on Plinko game and get excited! It's up to you to decide and we suggest you start by playing the game with a low-risk profile.
This way, you'll mostly have x0.5 of your bet as the lowest possible outcome, and a couple of x1 sections that return your bet. That means you are less likely to burn down your balance, but you won't unlock the full winning potential of the game.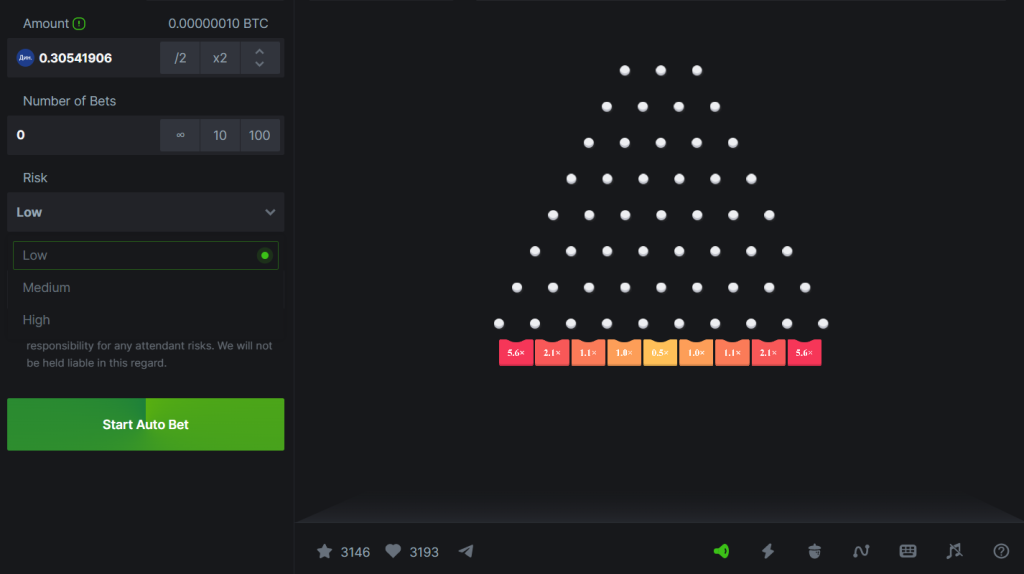 It's like with online slots – the higher the volatility of the game is, the higher your chance of hitting massive wins. It all comes for the price of being ready to lose a bit, so for a complete thrill, you can try medium-risk or high-risk versions.
This may change the grid in a way that only offers you a few x0.2 return slots, but if the ball lands into the higher-value slots, you'll be in for some serious wins. The bottom line is – if you are ready to take higher risk, you may benefit from higher win multipliers including x100 or even x1000!
Setting Up The Rows
As you configure the risk levels of the game, you may end up changing the layout of the pyramid depending on the game type. Some online Plinko games will include the same grid only with different payout levels for different risk options.
However, some may extend the pyramid-like grid to have more rows and more pins so the game also becomes more intense as you increase the risk level. The basic low-risk configuration will in this case include the least pins and rows, and these can increase as you progress through the risk bar,
So, you shouldn't be surprised if you see the grid evolving from the initial 8-row pyramid into a 16-row pyramid while setting up the higher-risk configuration.
Plinko Crypto Game Options and Fairness
Before we get to playing the game and explaining how it works, let's take a brief pause to discuss fairness and payouts. If you are new to Plinko casinos, you'll want to consider the two types of Plinko games – video Plinko operated by RNG software, and provably fair Plinko for crypto players.
For the regular version, you can find games with a return-to-player ratio (RTP) between 97% and 99%. This means that if you play a version with a 99% RTP, you should theoretically get 99 out of your 100 bets made back.
With a single bet being $1, it means you should get $99 back out of the $100 wagered on the game back in the long run. Of course, this means you'll sometimes lose more, and sometimes win more, but it all comes down to the return eventually.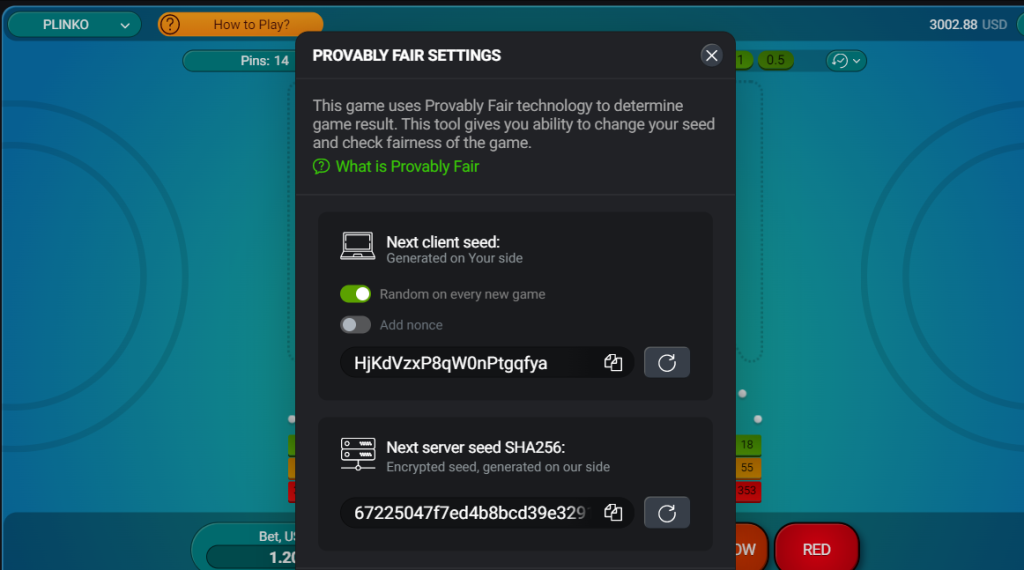 That's still better than other crypto casino games like online slots that usually have an RTP of around 96%. As for the provably fair Plinko crypto game, you have a better winning chance since the game operates on blockchain. As a player, you get the right to test the game's fairness after every game round by using the hash code.
This allows you to verify if the game truly ended up as predicted before the round even started, so we recommend this version to all crypto players among you. Speaking of the gaming options in general, these are the main features you can expect out of every Plinko gambling game:
Game result and history board
An auto-play option that repeats your previous bet
Risk settings
Row settings
Bet ID for easier tracking
Client seed for verifying fairness for provably fair Plinko
Once you set up your bet level, you can proceed to place auto-play bets for a specified amount of betting rounds. We've already explained the risk settings and rows, while the bet ID shows both your previous bets and those of other players.
All these features are pretty helpful when it comes down to playing the game at its full potential and customizing it to suit your gaming preference.
Plinko Gaming Titles and RTP
While Plinko is a pretty simple online crypto casino game when compared to other game types, not all casino sites offer it. If you want to play online, you'll need to know your options and the best way to start is by checking Plinko games from the following providers:
Plinko game by Spribe – 97% RTP
Plinko game by BGaming – 99% RTP
Plinko Originals
You can find a perfect online casino to play the Plinko game by these providers, but Plinko Originals are often only available on specific sites. These are the crypto gambling versions of the game and every casino uses its own version of provably fair Plinko.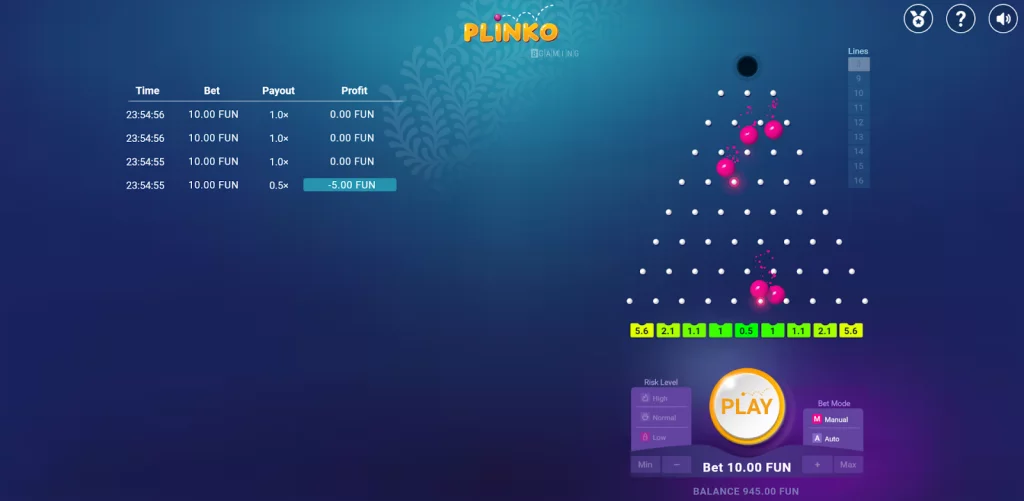 The BGaming version of the game offers a higher max multiplier of x1000 of your bet when compared with Spribe's x555 for a max win. On the other hand, playing an original game will result in several other benefits like checking the game's fairness, and being able to securely and instantly deposit to play with BTC and other cryptocurrencies.
A lot of it, therefore, depends on a casino site you pick to play Plinko games at, since you may also be able to play a free demo version of a Plinko gambling game. It makes it easier to get to know the game before placing any real money bets.
How To Play The Online Plinko Game
When the time comes to finally start placing Plinko casino game real money bets, it's essential to know exactly what to do, so we'll help cut your worries short. Here's a step-by-step guide to playing online casino Plinko games:
Play Plinko
Pick an online casino site

The first thing you'll want to do is to find a suitable online casino site and join so you can place real money bets. This depends on the type of Plinko game you wish to play. If you want to play the Plinko game by Spribe or BGaming, make sure to check if the site offers these games. On the other hand, if you are a crypto player looking for provably fair Plinko, your best guess is sites like BC Game with original titles.

Register to join the site

The next step is to become an official member of the site and if you haven't done this before, don't worry – it's pretty simple. You'll usually find a "Join Now" or "Register" button that leads to the sign-up form of the site. For a regular casino, you'll need to submit your personal information to verify your age and banking information for managing payments. If you decide to go for provably fair casinos, you only need a crypto wallet in most cases.

Prepare your bankroll and bet amount

Perhaps a crucial step is to figure out your bankroll and decide on the bet size accordingly. There are two things to consider here – your winning goal and the risk level of the game. If you go for a high-risk version, you can even go with lower bets. If you wish to win big on a low-risk game type, you may need a higher bet value. Just keep in mind that this is a fast-paced game, so keep an eye on the bankroll.
Game Limits
Depending on the version of online Plinko you decide to go for, there are different possibilities regarding the game's limits. For instance, the minimum bet is in the range between $0.1 and 0.5 per ball, while the maximum bet can go up to around $100,000 or equivalent in crypto.
Besides the minimum and maximum bet limits, there's also the matter of win potential which goes from around x5 to x1000 depending on the game type and the risk level.
Tips For Playing Online Plinko Crypto Games
We hope that this guide helped you get to the bottom of how online Plinko games work so you can get your own piece of the action without having to apply for "The Price is Right" and similar shows. Still, you'd be wrong if you thought that we would leave you hanging without a few precious game tips discussed first:
1) Keep Track Of Your Balance
We can't stress enough how important it is to keep track of your balance while playing online Plinko. To put it simply, it's not like in a TV show where you get two or three chips to throw onto the pins.
A lot of your bets will probably end up as the balls fall into the low-value slots, so most players decide to place several bets at the same time. This makes the game more difficult to track, so keep an eye on the "results" section to see if you are making profit or losing balance.
2) Set Up The Limits While Using The Auto Play
Considering the pace of the game, using an auto-play option can be pretty useful. However, you should limit the number of auto spins based on your bet value and the risk level of the game. This way you can prevent ending up with a losing streak or suffering some unexpected losses.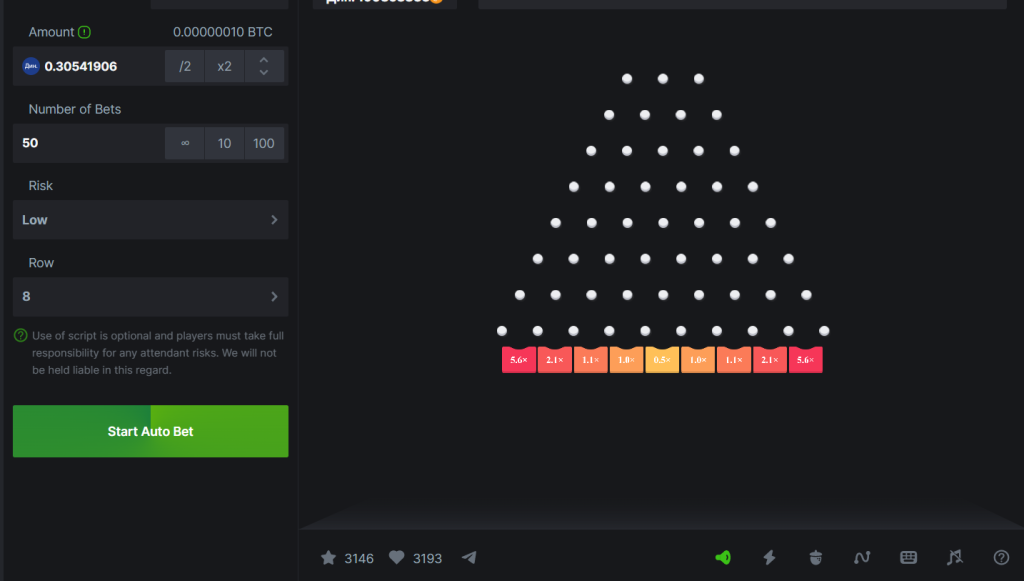 We suggest that you set up the auto-play option for up to 10 or 20 spins and do it again once you check the outcome.
3) Use The Seed To Verify The Fairness
The most frequently played versions of the Plinko game are the original versions available for crypto players. If you decide to go for that type of game, you should always use the provided seed and combine it with the part of the hash code you receive after the game round takes place to check the fairness.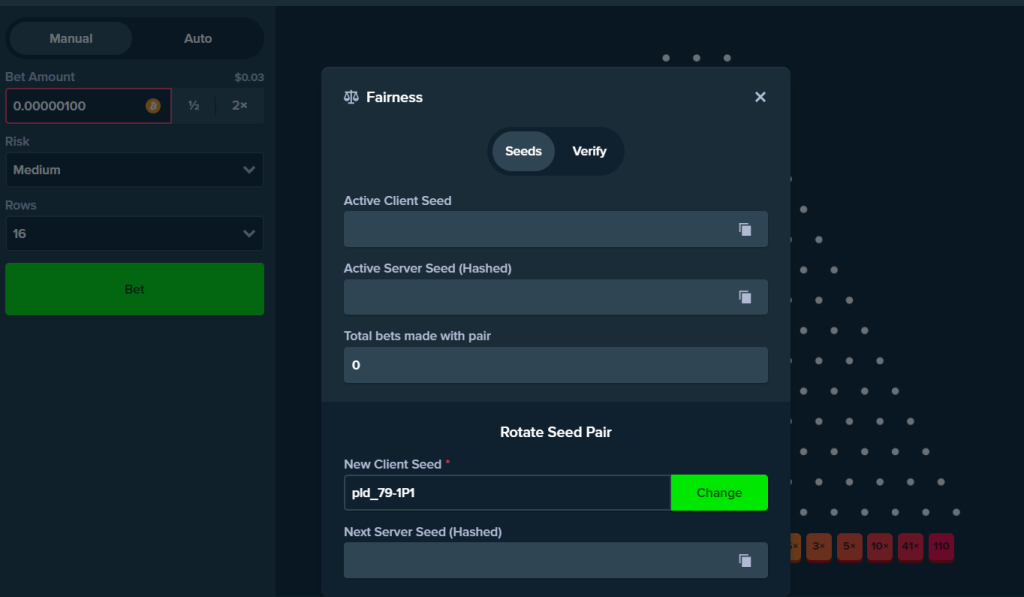 Finally, make sure to experiment a bit with low bets when it comes to risk levels and bet values until you find the method that works best for you and your gaming style. For more information about tips and strategies, check out tips and strategies on how to boost your odds on Plinko!
Plinko Key Facts
| | |
| --- | --- |
| 🏆 Best Plinko Casino | BC Game |
| 💰 Maximum Possible Win | Varies – up to 500x or 1000x |
| ⚖️ Provably Fair? | Yes |
| 🎁 RTP | 97-99% |
| 🔸 Minimum bet | Varies – usually $0.1 and $0.5 per ball |
| ❔ Risk Levels | Low, medium & high |
Plinko Casino Game FAQ
What is a Plinko gambling game?

The Plinko gambling game is an online casino version of the social game featured in TV shows like "The Price is Right" with a pyramid-like grid that has pins to guide the balls and multiplier slots at the bottom to determine your payout based on the ball's path.

What is the best casino to play Plinko?

The best casino to play Plinko is BC Game with its own original Plinko game, but you can also check our list of other casino dapps with Plinko games.

Is the online Plinko game rigged?

No, the online Plinko game isn't rigged, it just works on the RNG and a return-to-player ratio, or the blockchain technology if you play provably fair Plinko.

How can I trust that the casino is legit?

You can trust that the Plinko casino is legit if it has a renowned casino license, or if it operates as a decentralized casino for crypto players.

What's the max win you can get on online Plinko?

The maximum win on Plinko casino games depends on the provider and game version and it usually ranges from x500 to x1000.

What's the best Plinko casino game to play?

The most popular versions of the Plinko casino game are Spribe's and BGaming's Plinko along with crypto casino originals.

Where can I play Plinko for real money?

Any of the casinos we've recommended on this page will let you play Plinko for real money!

Can you win real money from Plinko?

You certainly can win real money from playing Plinko – as long as you're playing (wagering) for real money in the game.