BC Game Casino VIP Club & Benefits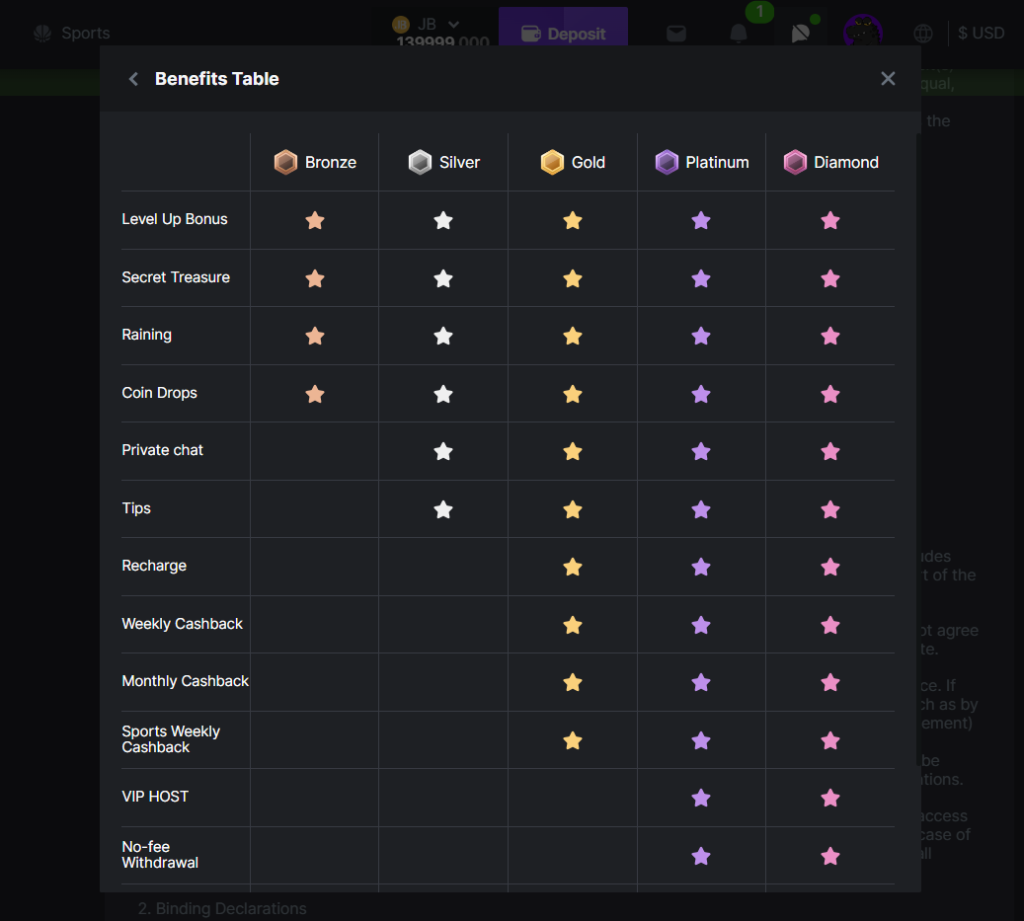 Finding a decent online casino these days gets pretty hard with all the newly-emerged sites, let alone finding the absolute best ones. Especially if you are a beginner, you simply need insight from experienced casino experts to determine whether a site is worth your time.
You may have seen this by taking a look at our team's BC Game review and we simply feel the need to demonstrate to you why the site makes our top pick. Well, there's no better way to do that than by going through the essence of the BC Game VIP club and its benefits.
So, we'll take a deep dive into the added value you can get by becoming a member of the site's loyalty system, and expand a bit more on how you can reach VIP status in the first place along with a few exciting tips.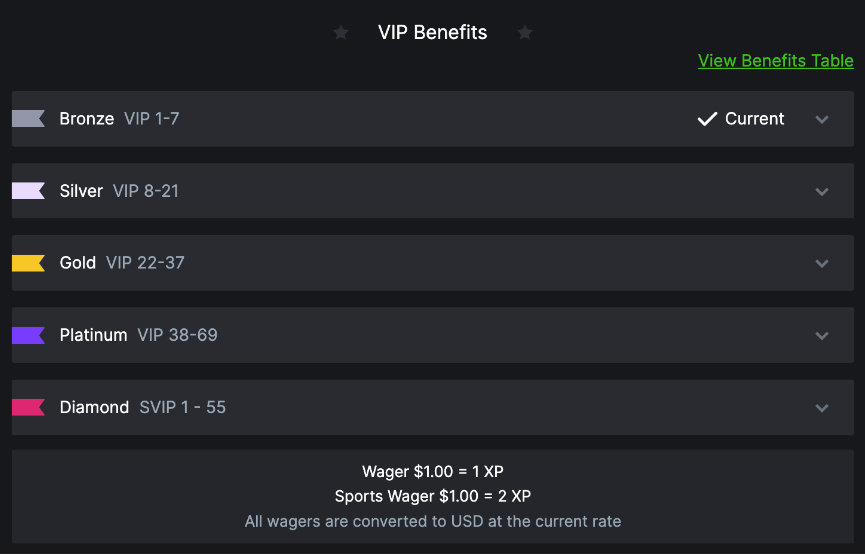 What's BC Game's VIP Club?
If a casino you pick has a VIP club or a loyalty scheme associated with it, it's the first green light when it comes to getting the most out of it as you play. After all, who doesn't like feeling special as the site gives you special perks and incentives to keep you happy as a member?
BC Game has a proper VIP club which means there are several VIP levels that you can advance and increase your rank for better prizes. It's all pretty simple – the more you play on the site, the higher your chances of becoming a VIP member.
It's all thanks to BC Game XP points you can collect with every $1 bet you make in crypto or an equivalent value in other accepted currencies.
On this online casino, every player has an equal chance of making it into the VIP section since even sports wagers contribute towards the collection of XP points. In this case, you get 2 XP points for every bet worth $2. You don't need much more reason to become a VIP player other than knowing that it could lead to massive weekly prizes and special promotions.
You can get a bankroll boost from a dozen bonus offers only available to VIP players, including daily bonus wheel spins, the roll bonus, and reload promotions on a weekly level.
BC Ranks and Levels Explained
Our team noticed that many players complain about the complexity of the VIP club at BC Game. We don't blame you, since it may appear a bit complicated to an untrained eye, so our team wants to help you get a hold of it. Here are some of the basics:
BC Game has five VIP ranks you can reach
BC Game has 69 loyalty levels and 55 special SVIP levels
The final rank titled "DIamond" counts as an "SVIP" rank
SVIP levels once again start from 1 so they are different from regular VIP levels
Every VIP rank requires you to reach a specific loyalty level
To make things clear, it's much easier to climb in loyalty level than it is to reach a whole other VIP rank. So, being level 5 only means having three more levels to go before you reach the second "Silver" rank after the initial "Bronze" one.
If that sounds a bit like it's too much, don't fall into despair just yet – our team will tell you how you can swiftly advance through the levels so you can boost your rank until the final Diamond position.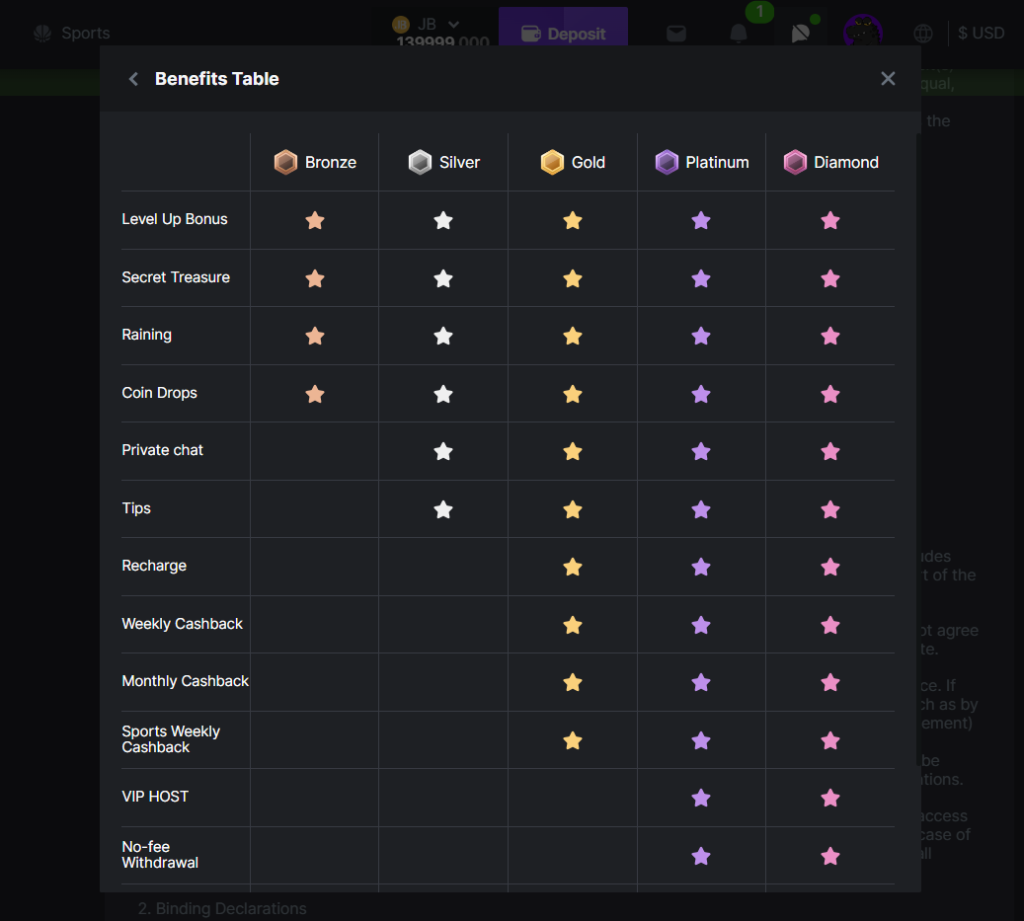 VIP Ranks and Main Benefits
Now it's time we get to work by giving you a brief introduction to what you can expect out of each BC Game VIP rank! Overall, there are five different VIP ranks you can reach, so here's what it looks like in practice:
Bronze VIP rank
Silver VIP rank
Gold VIP rank
Platinum VIP rank
Diamond VIP rank
Reaching the initial Bronze rank is fairly simple – all you have to do is reach level 1 of the VIP program by making a couple of initial $1 bets. To become a VIP member, you also need to take the operator's invitation for the VIP club membership, and if you do, you get to enjoy the following perks that we'll discuss.
Bronze Tier
The first VIP rank of the site is the Bronze tier and it includes players that are able to qualify by reaching VIP levels from 1 to 7. If you can do so, there are several treats you can count on, including the following offers:
The Level-Up bonus
Secret Treasures
Rain Drops
Coin Drops
The level-up bonus occurs every time you reach a new level of the VIP program, so you can win up to 7 level-ups while in the bronze rank. These can include various prizes that include loyalty medals. You can get a prize of 20 BC Dollar coins up to 10,000 BCD, and each coin is equivalent to a $1 bet you can place on the site.
Besides these, you also get to unlock secret treasures and there are 14 of these custom prizes you can win. The Rain bonus and Cash Drops and every six hours you can win a chatroom prize since up to six players can win a random boost. All these promos are only available to VIP players, so even the Bronze level is a decent place to start your journey.
Silver Tier
With the Silver tier, you get to enjoy two Secret Treasure offers by reaching levels 8 and 14. Besides, there are various other benefits that you can get including a spin on the wheel promo, along with the tip feature and the private chat feature.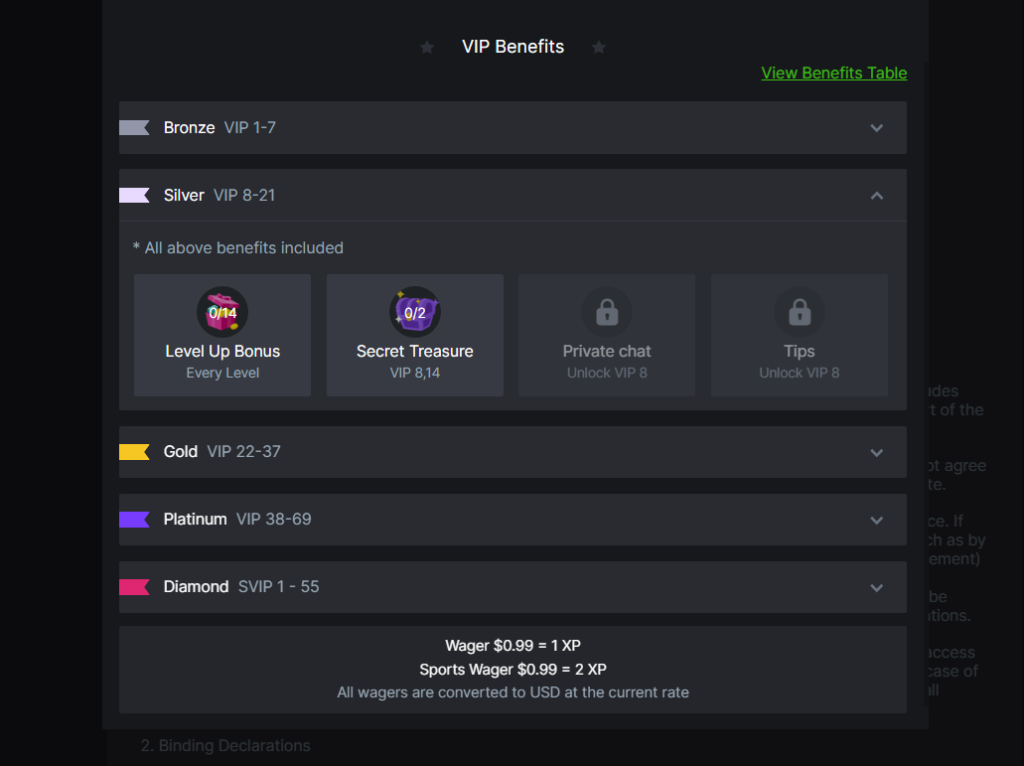 These two are basically ideal for players that have friends they made through the chat on the site or their personal friends. You get to share your gaming experiences without exposing the details in the public chat room and tip your friends once you get into lucky streaks.
Players that reach VIP levels from 8 to 21 get to enjoy the benefits of the Silver tier, and it takes 5000 XP points to reach this level.
Gold Tier
Things are getting more serious with the Gold level of the BC Game VIP ranking since you need more than 45,000 XP to reach this level. Of course, that doesn't mean you have to lose the equivalent of $45,000 to reach the level – you simply have to wager that much throughout your journey on the site.
So, if you wager $100 as an example and win $1000, you'll still be grabbing 100 XP points and you'll be in profit with enough balance to get at least 1000 XP points more. We think it's a fair rule by the site since every player can reach the Gold status this way if you can hit at least a few decent wins to keep your bankroll going.
The main benefits of the Gold rank include level-up bonuses along with two Secret Treasure boosts on levels 22 and 30, but you also get a few new promos:
Recharge bonus
Weekly Cashback
Monthly Cashback
Sports Weekly Cashback
The Recharge bonus will give you a chance to get some extra playing cash if you reach the VIP level 22 and wager at least $1000 in the week of the Recharge. On top of that, you get weekly and monthly cashback offers for both casino games and sports betting every Friday, and the bonus amount depends on your recent activity on the site.
Platinum Tier
The Platinum tier can be considered somewhat as the final stage of the regular VIP club of the site. You get to use all the previous benefits eligible for previous ranks, and a couple more. These include regular level-up promotions and four Secret Treasure options available on VIP levels 38, 46, 54, and 62.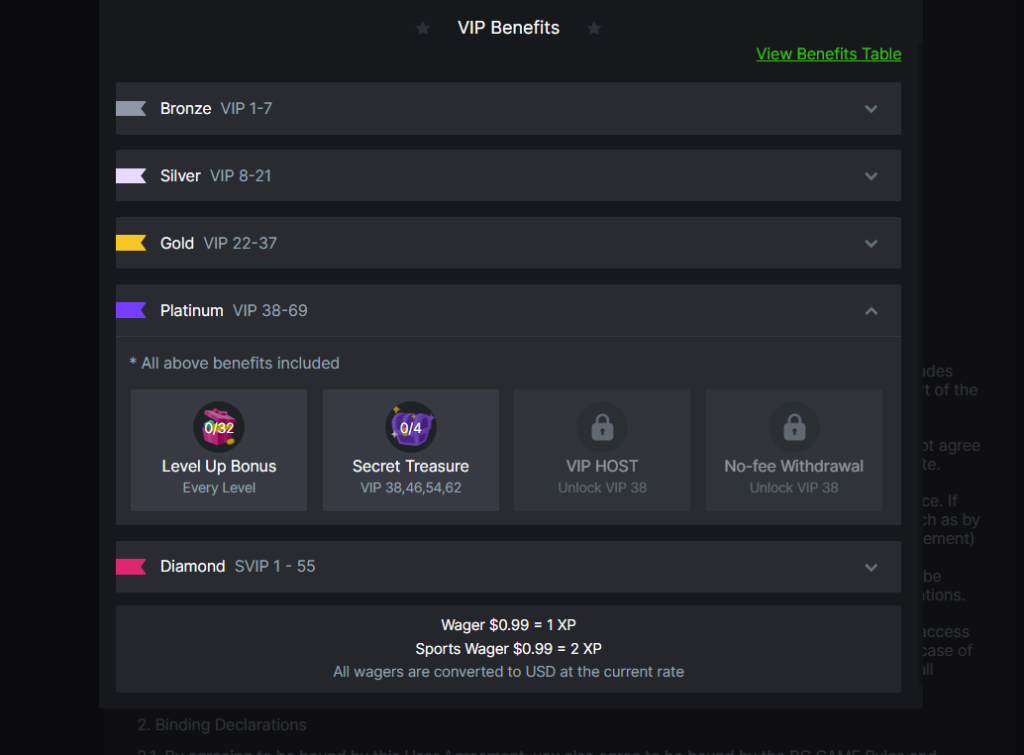 Along with all these, we find that the best additional option is the VIP Host feature that enables you to get a personal VIP manager to inquire about all the benefits and promotions. There's also the No-Fee Withdrawal feature that comes in pretty handy for high-rollers using conventional payment methods where fees could be pretty high without this option.
The Top Of The Pyramid – BC Game's Diamond Tier
One final rank of the loyalty system at BC Game is the Diamond tier which is considered a special VIP or an SVIP rank. We want you to know that this rank includes new levels from 1 to 55, so you'll have to once again build your way from level 1 to level 55.
However, don't think it will all be in vain since you still get all the regular level-ups and seven Secret Treasure bonuses along the way. As you reach the first SVIP level, you'll also unlock special features available only to Diamond-rank players and the luxury giveaway also becomes an option you should keep an eye out for.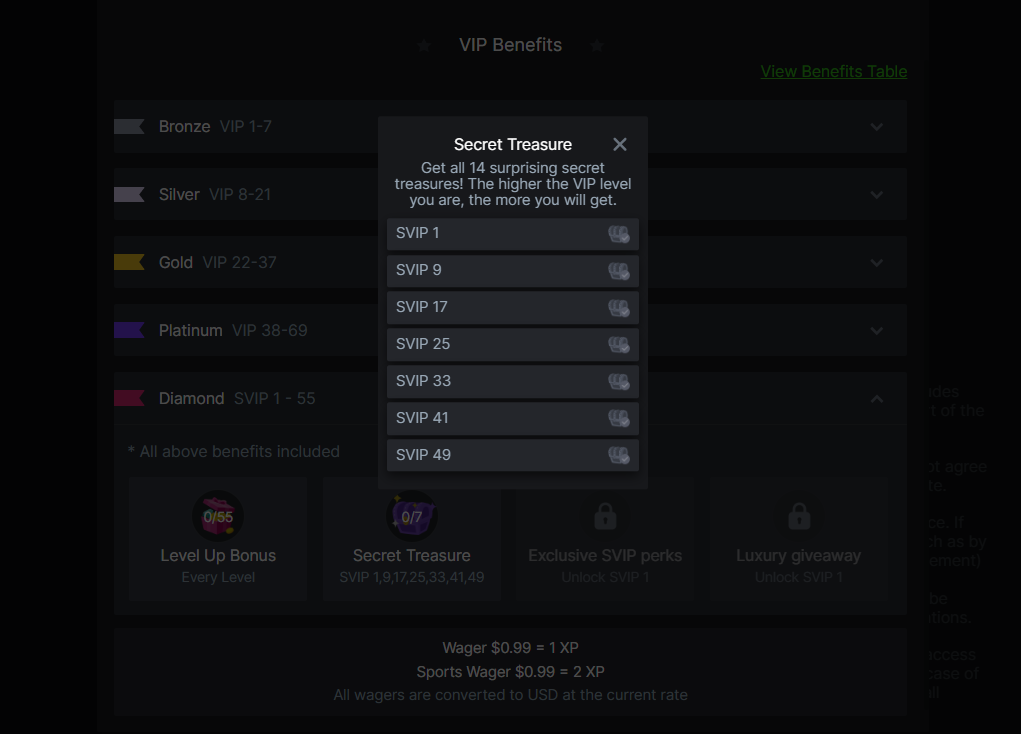 With this in mind, who knows what ludicrous promotion you can expect next from the operator since now you become their priority-level player and the giveaways can be pretty profitable.
Our Expert Take on BC Game VIP Club
To spice things up, we only have to advise you to use your daily wheel spin as a new VIP member of BC Game Casino. Every VIP player has a right to spin the wheel more and more frequently as their VIP status grows, and it can reach impressive heights with one spin per day!
The wheel offers some exciting crypto boosts with different coins and up to 5BTC for VIP players as the grand prize. So, you better get into it as soon as possible and we have nothing but praise for this immersive loyalty system developed by BC's experts to keep you satisfied as a player and feel welcome on the site.
BC Game VIP Club FAQ
What is the BC Game VIP club?

The VIP Club on BC Game Casino is a special place reserved only for the best of the best among the site's players. You can earn your spot among these players by earning XP points and you get one point for each $1 bet placed on the site's slots and casino games to get exclusive perks.

What are some of the main benefits that VIP club members can get?

Some of the most exciting prizes you can expect as a VIP member of BC Game Casino include the Roll competition, the Rain and Cash Drop bonuses, the lucky wheel spins, private chat, the tip function, and the Recharge bonus.

How much money do you need to spend to qualify as a VIP player?

BC Game features a specific set of rules for VIP players and this means you don't necessarily have to spend money to become a VIP player. Every $1 bet you make grants you one XP point, and it takes up to 4000 of these for Bronze rank levels, 5000 points for Silver status, and 45,000 for Gold status. The Platinum and Diamond ranks require much more wagering, so these are reserved only for high-rollers on the site.