Biggest Wins on Plinko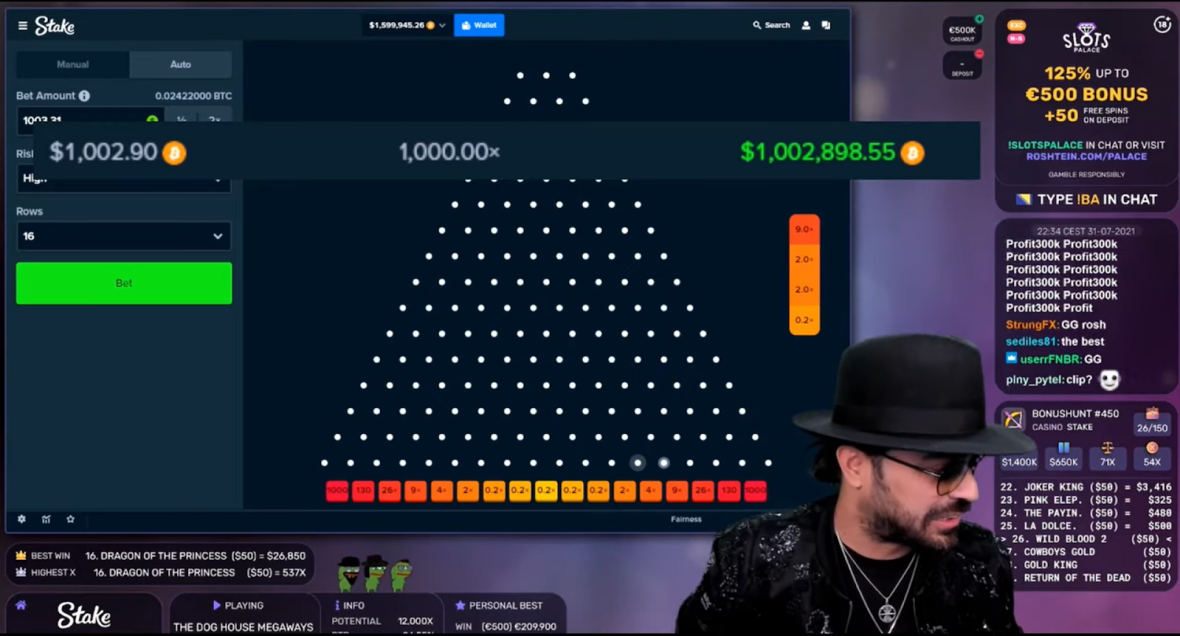 If you don't mind taking a chance on games of luck, Plinko casino game can be the most rewarding of all lotteries. Of course, it depends on your preference, but the fans of the famous Japanese game can these days pick from a variety of distinctive options.
To get straight to the point – sure, the game is entertaining enough to keep you engaged for quite some time, but the players mostly want to know – what are the biggest wins on Plinko? Some of the biggest Plinko wins have been achieved by gaming streamers and on "The Price is Right" TV show, so let's jump straight into it and give you an overview of these massive wins!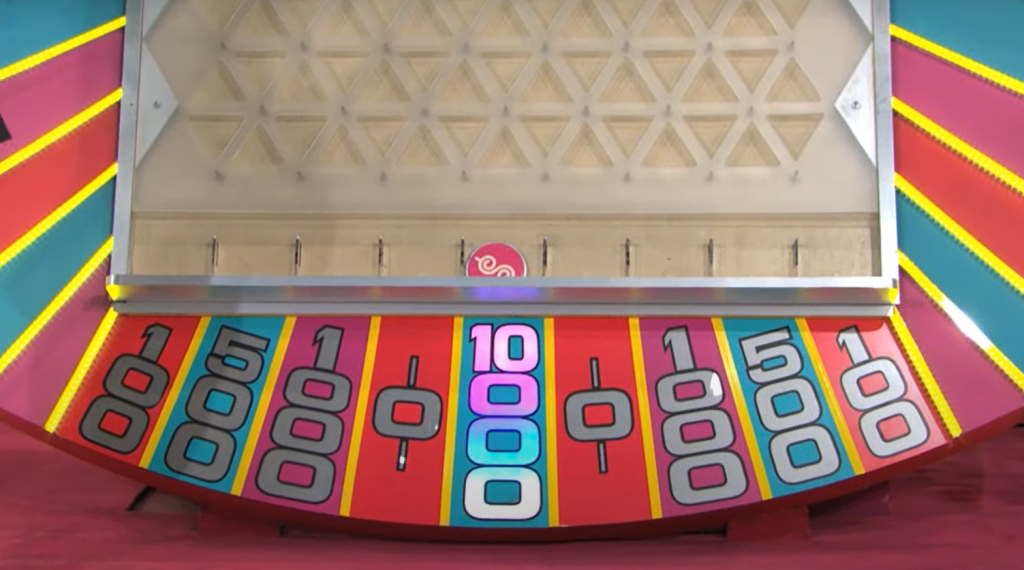 How Big Can You Win On Plinko?
Before we get to the juicy part, let's give you a bit of background on the game and it's winning potential. The win amount on this game depends on several factors, and we'll first start with the online version of Plinko:
Your bet level
Number of rows
Risk level adjustment
Game provider
Those of you that are curious about the max win on casino Plinko will need to get familiar with all of these before you can truly get the most out of the game. It also has a bit to do with your betting method, but for now, let's focus on the listed features.
Since this version of the game isn't like the TV show in terms of gameplay mechanics, you'll be the tailor of your own destiny by choosing your bet limit. To put it simply, this game includes placing a single bet on one ball that drops onto the Plinko board, and whatever multiplier it lands on will determine your prize.
The multipliers can go from x0.2 as the minimum amount, up to the max win of x1000 of your bet. So, if you place a $1 bet, you can win $1000 in a single round which is not half bad. However, this multiplier value will only be available in the high-risk version of the game, which means you'll have to set up the board with max rows and the highest risk level.
While it makes it more difficult to land small wins this way given the increased amount of those x0.2 and similar low-value multipliers, at least you'll be in for a treat if you score a max win hit. It also depends on the provider, since not all of these games come with the same set of multipliers and winning potential, so you better check the RTP and the provably fair options of the game before playing.
The TV Show Version
Unlike the online gaming option that players now have on various iGaming sites, there's also the TV show version and the most common example is "The Price is Right" show. The popular CBS pricing show features a version of TV Plinko you can play as a contestant and compete for massive prizes that are often limited to $50,000 as the grand prize.
Still, there are exceptions to this rule as well since some contestants had the chance to pack an increased top prize of $175,000. Sadly, it never happened, but there's the famous episode from the "Big Money Week" where a grand prize of $200,000 had been packed by a contestant.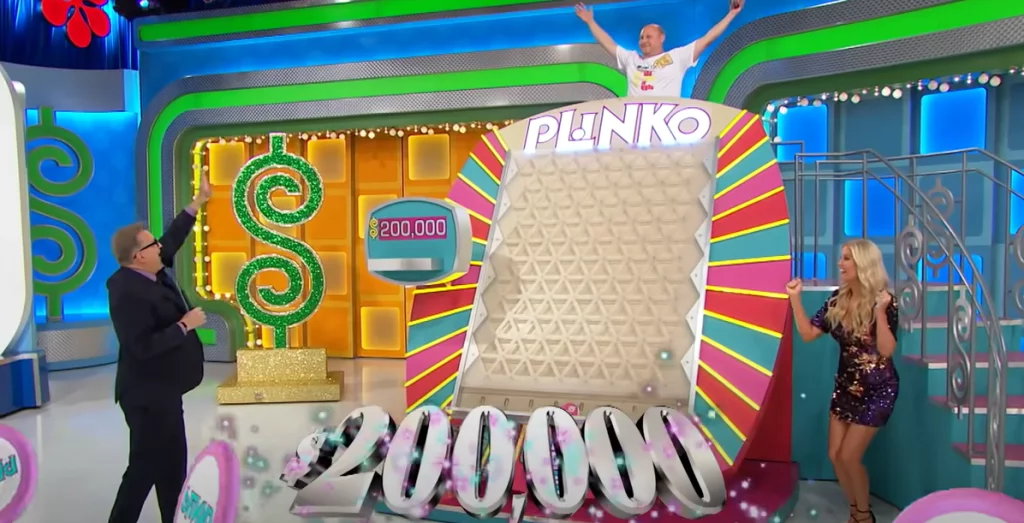 Rarely, the prize can even jump to $1 million but we've only seen that once in the long history of the show. Even so, contestants can get up to five chips to have higher chances of winning and even pack low-valued prizes for a total that could exceed the grand prize in some cases.
Prize amounts vary in each game, so that's another exciting factor to it and the reason why we all love the show.
Highest Plinko Streamer Wins
While the wins in a season of "The Price is Right" show often exceed $200,000 per season, you won't believe some wins achieved by high-stakes iGaming streamers. They usually stream their gaming sessions on Twitch and a few other platforms now that Twitch is battling to ban gambling.
However, the iGaming scene offers immense Plinko winning potential, and taking a look at some of the following streamer wins can only give you an idea of what you can get as a player.
The King of Plinko – Roshtein's Biggest Wins
As the first player we'll discuss that achieved the max win on Plinko, Roshtein's background story is truly inspiring. He started out small and created Twitch and YouTube channels to broadcast his gaming in front of a wide audience.
Seeing his number of followers grow only motivated him to work harder with referral codes and hours of streaming live on his way to get millions of views on his most popular videos. Of course, he decided to give Plinko a chance and has played the game numerous times on Stake crypto gaming site.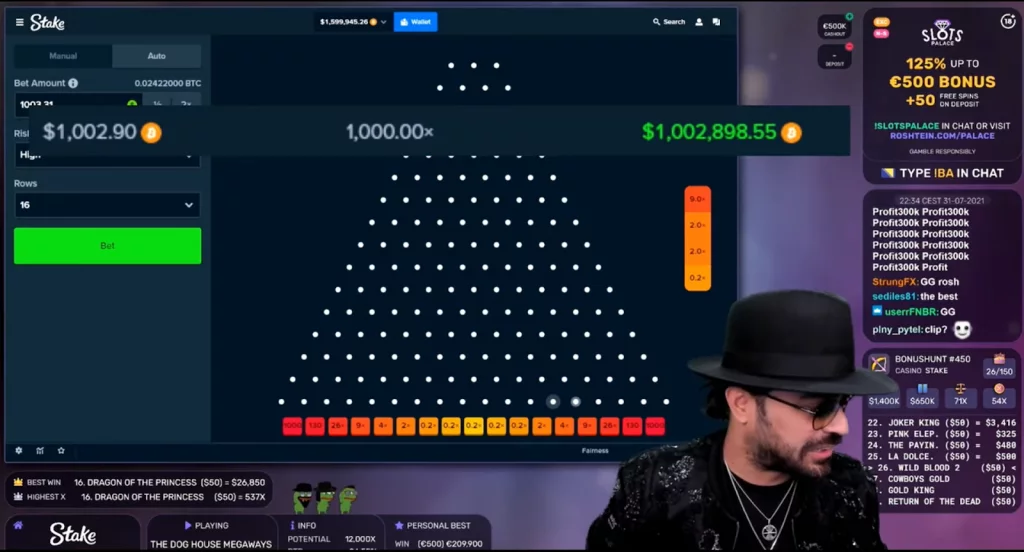 By watching his $1 million win video, you can see how risky it could be to play the game on high stakes and drop dozens of $1000-worth balls onto the board every minute. Luckily, things went well since he managed to pack home a max x1000 win which resulted in a $1 million hit. He played the game on a high-risk setup and with a max of 16 rows with a 0,0015 chance to hit the max win.
Still, he got it and the craziest part is – he managed to do this several times, and one session gave him a $2 million profit on the game which is simply incredible.
Incredible Wins By Drake, XQC, and Adin Ross
Other popular streamers that won huge on Plinko include XQC and Adin Ross that won $200,000 and $100,000 respectively on the game. Still, there was no luck to hit a max x1000 win, but lower multipliers turned out to be just as efficient for these two on high-stakes bets.
Even the popular rapper and record producer Drake played the game and it's said that he managed to win $1 million in a single gaming session. Even so, Roshtein remains the king of the game with the biggest wins ever recorded, or at least those we could say in live streams.
Juicy Fruity's Tasty Max Win
Another popular streamer that managed to hit that x1000 golden prize is Juicy Fruity. He has around 1 million views on that video as well, so that's something that we may take as a lucky sign. He's among the most popular streamers in this category and his $50 bets turned out to be pretty profitable since he hit a $50,000 prize by seeing the ball landing in the side-positioned x1000 slot.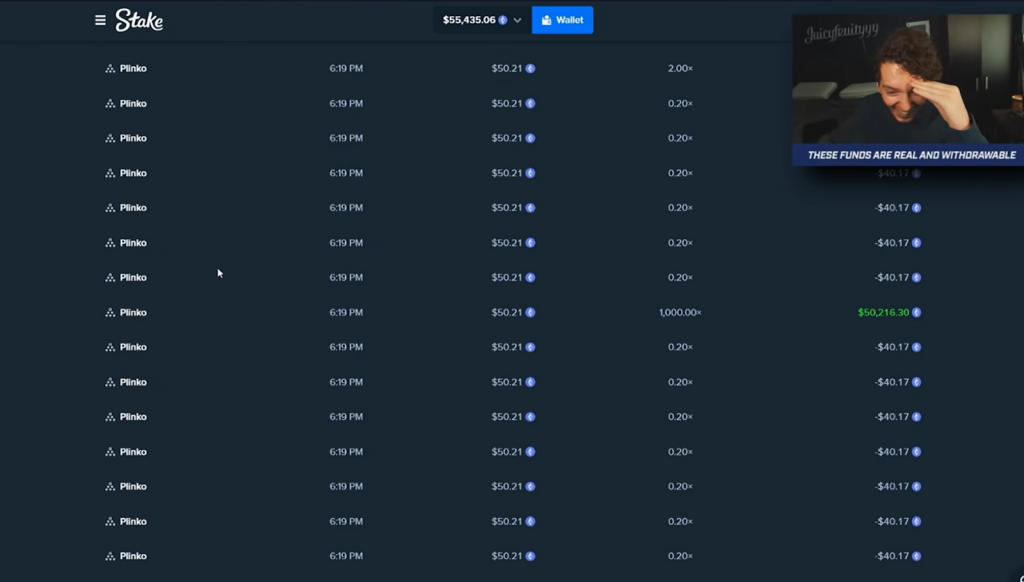 The session lasted for hours and he started with a balance of $10,000 and it all finished with a $55,000 figure on his balance.
Biggest Wins on "The Price is Right" Plinko
The Plinko game on the most popular pricing show on CBS started back in 1983 and it went a long way until today with some remarkable wins being achieved. Contestants had some luck in the Big Money Week and there were some pretty massive wins when compared with what the players started out with.
Here's a list of some of our favorites just so you could get a taste of what it's like to win big on the game:
Ryan Belz's unforgettable streak – All the fans of the show will probably remember a college student winning several consecutive grand prizes in a row for the rest of their lives, and so will Ryan Belz. He managed to turn around the $1 bet on the pricing game into a lucky streak on Plinko with four chips awarded. He hit three $10,000 prizes along with a $1000 hit for a total of $31,000 on the Plinko board!
Mike Stouber's unimaginable grand prize run – As mentioned, the Big Money Week of the show provides increased prize values and that's something that Mike Stouber used to his advantage with the most success. It all happened during the 2019 Big Money Week as he claimed an increased grand prize of $200,000! Besides, he also hit a few other prizes for a total of $262,000 out of the five chips he was granted.
Ryan Glass's record-breaking win – Before Mike in 2019, we had another crazy Plinko session from Ryan Glass as he managed to win a $35K grand prize along with the $3.5K one and two $350 hits for a total of $39,200 in a single session!
Plinko Games with Biggest Win Potential
All right, we know you've been curious about all the different wins in Plinko games from the Price is Right to other game types, but let's face it -you've come here for the juicy info on the online gambling version of the game, right? Don't worry, we won't judge you since it's also one of the favorite games of our team members, and the best way you can at least have a theoretical chance of getting your own Plinko big win is by playing the best versions of the game.
These include the versions made by renowned casino software providers like Spribe and BGaming, while provably fair versions of the Plinko game on crypto casinos are also quite rewarding. Here's our list of the highest-payout Plinko games that come with the ultimate winning potential:
BGaming Plinko – This version of the game is available in almost every online casino that offers Plinko games since it's among the most popular variations. You can play this game for a chance of hitting an x1000 max win on Plinko.
Spribe Plinko – The version of the game made by Spribe perhaps offers a lower max win of x555 of your bet, but it at least allows lower bets to be placed. Depending on the site where you play, the game can use a minimum bet as low as $0.1, which is great for low-rollers.
Plinko by Stake – As one of the leading crypto casinos, Stake is one of the first sites to have developed its own original version of the Plinko game. Their variation can pay up to x1000 of your bet as a max win and it features convenient risk levels and grid adjustments.
BC Game Plinko – BC Game Casino is one of the best sites to play online Plinko since it can lead to an x1000 Plinko max win which is on par with the best versions of the game out there, so you won't miss out on anything.
Hacksaw Gaming Plinko: Finally, we come to the king of all online Plinko games and it's the game variation developed by Hacksaw Gaming. With games like Hand of Anubis and RIP City, the provider already established itself as one of the most prominent online casino developers, but their version of the famous Plinko game features a max win of x3843 which is the highest one we've seen yet.
Best Casinos To Win Big on Plinko
To wrap things up, we have to also give you an idea of where to play online Plinko games to secure the biggest wins out there. So, we've created a list of sites that offer both the original version of the game and some juicy bonuses and other privileges for players to give you that extra bankroll boost:
BC Game Casino – Playing BC's Original Plinko game can be quite rewarding especially if you can hit the biggest x1000 payout. However, it doesn't have to be a risky session since there are incredible multipliers like the x43 multi on medium risk grid with just 12 rows, which is impressive, to say the least. The site also delivers in other areas, including the four-tier welcome deposit bonus with up to 360% deposit bonus and daily WHee of FOrutne spins and other prizes.
LTC Casino – This site is yet another online casino with its own version of the game and you can also hit a x1000 max win and organize your rows and pins the way that suits you the best. Besides Plinko, the site also offers dozens of other original games that you can try.
WolfBet Casino – WolfBet is a place where you can try various types of the game including BGaming's Plinko, but it also offers Hacksaw's version with the highest payout potential and Spribe's version so you can choose the one that suits your gaming style the best!
Our Take
With all that being said about the game, it surely seems that Plinko is the go-to option for both the lovers of the TV pricing show and the iGaming version of the game. While Roshtein remains an unprecedented ruler of the game with his multiple $1 million hits, all the lottery fans will keep being inspired by Mike Stouber's $200K hit.
Overall, it's mostly the fun of the game that still manages to captivate the audience even four decades after the TV show went on air, and the online availability with x1000 win potential only makes it more attractive.
FAQ
How much can you win on online Plinko?

This version of the Plinko game can give you a max win of x500, x600, or x1000 of your bet depending on the provider, and that's just for a single game round.

What's the biggest ever The Price is Right win?

The biggest Plinko win on the famous "The Price is Right" TV show happened in 2019 when Mike Stouber managed to pack home the grand prize worth $200,000 during Big Money Week.

What's the chance of hitting the max win on online Plinko?

In theory, there's a 0,0015% chance of hitting a max win slot in a round of iGaming Plinko.