Scatter Wallets Explained
What Is A Scatter Wallet?
The crypto gambling field is getting more competitive by the day, and with all those gambling sites that are constantly emerging, things are getting pretty tough to follow up on. However, a few things are certain regardless of the site that you choose – you'll need a safe and secure crypto wallet for deposits and withdrawals.
Well, that's where the Scatter wallet kicks in since it's one of the best open-source solutions with all the security features that a blockchain-based crypto vault can offer. That said, we've heard a lot of players complaining about being unable to find more info so they have to look for another way of storing their EOS or TRON coins. Luckily for you, our dedicated team of crypto gambling experts will guide you through the wallet and how it works in this comprehensive review, so let's dig in.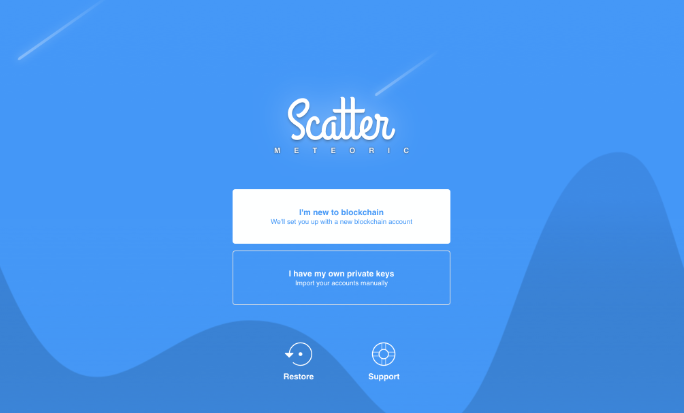 What You'll Find In This Guide
Detailed explanation of how the Scatter wallet works
Steps to download and install the app on various operative systems
Benefits of using Scatter wallet for online casino deposits
Our expert take on Scatter wallet's value for safer online gambling
Scatter Wallet Explained
We get it – you may have quite a lot of questions related to usability, safety, and transaction methods that this wallet comes with, but let's start from scratch first. Scatter is an open-source crypto wallet that's been around for quite some time now and it's constantly being updated with new versions by the development team.
The first thing you should know is that Scatter wallet is completely free to use and it doesn't take long to set it up or create your account. It even offers customer support so you can always get updated answers to all of your questions, and the good thing is that this platform is compatible with different operative systems
So, you will be able to use it regardless of whether you have a Windows, Mac, or Linux system on your PC or laptop. While it's possible to download the Scatter wallet app, it's more frequently used on laptops or PCs.
Furthermore, it's also very convenient for storing different coins and making online casino deposits in terms of just minutes. It's equally beneficial for secure deposits and withdrawals and comes with low fees for making these payments which is a quality that every crypto-gambling enthusiast will know to appreciate.
However, there are some difficulties with this wallet as well and these make it a bit less attractive or convenient for players, if you will. The main issue is that new versions are often incompatible with certain operative system versions so that's an issue, as well as complex updating of the software which includes having to use your 12-word code and set it up all over again.
Don't worry, though – we'll be there to help you every step of the way, so let's see how you can use this wallet for online casino deposits and the steps necessary for setting it up.
Scatter Wallet Installation
Before we get to using the Scatter wallet for online casino deposits, you'll first need to download and install the desktop app. You can do this by visiting the GitHub page, and here's where you'll find all the latest versions and download files.
The thing is – it's always best to download the latest version of the software since the wallet gets constantly updated to support new currencies. For instance, one of the latest updates was made to support TRON which is a great addition to the platform.
The next step is to download the appropriate version since the GitHub page contains Windows, Linux, and Mac versions. Once that's done, you can start with the installation process. There's even a Chrome extension for this wallet which is a pretty handy feature if you are frequently going to be using it for crypto casino deposits.
You may have to allow your system to install the app since your antivirus software or Windows itself may recognize it as a threat. However, you shouldn't be afraid to allow the installation and proceed with it since the mentioned source is reliable and won't lead to any scam files.
From this point on, you can simply continue with the installation like you would install any other app or program. It should only take a few minutes before the process is finished and all you'll need to do afterward is set up your account.
Setting Up Scatter Account
At this point, you'd only be a few minutes away from playing for real money through Scatter wallet deposits, so let's move on to the next step – setting up your wallet account. Before we get to it, you should know that Scatter uses all the security options available to keep your coins safe at all times and no one will be able to breach your account even if it's a cyber security threat.
That being said, the first step to creating your account would be to open the newly installed software and initiate the registration process. If you didn't have a Scatter account before, you can simply use your crypto keys to store your coins within the wallet, and the first thing to do is to generate a strong password.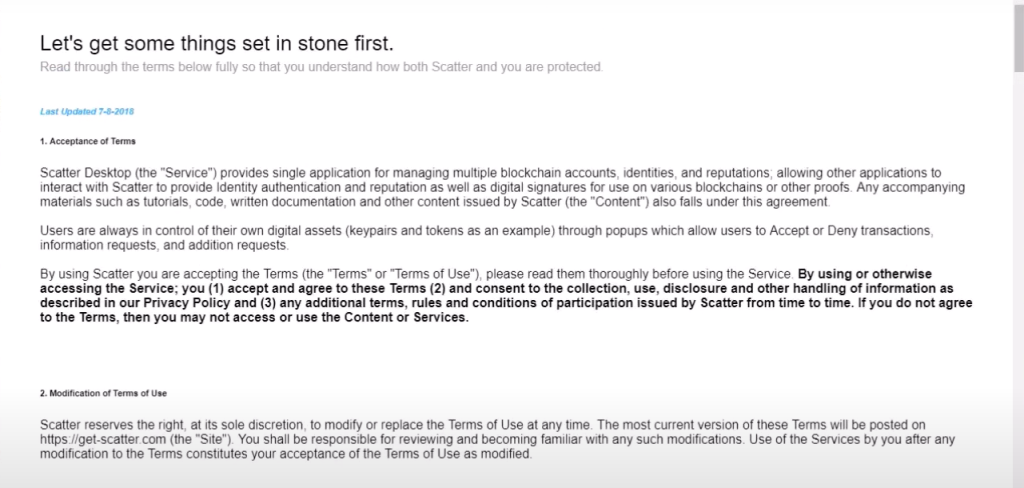 For security reasons, we advise you to write this down as well as a 12-word sequence which keeps your account protected. You could store it somewhere within your PC's files, but it's perhaps best to write it down on a piece of paper and safely put it away.
Once the password is confirmed, you'll be asked to write down the sequence of 12 random words and enter it again for verification. Once this is done, you can always use those 12 words in their exact order to recover your account in case you move on to a new device or simply if the older version of Scatter lags and you install a new one.
We also recommend you create a backup pathway that acts in combination with the sequence of words to ensure that only you have access to your account. At this point, all that's left would be for you to safely store your crypto coins within a Scatter vault.
You can do this by clicking on the "Vault" option which becomes visible once you've reached this stage of account verification. You can either create new keys or import them from your EOS account if you've previously created the account.
You'll also have the option to use a hardware wallet or input your private key to receive the EOS tokens within the vault. Now that this is done, you'll be able to easily move the coins from and to your wallet and manage your online casino transactions thanks to the send/receive wallet address that you'll get.
How To Use Scatter Wallet For Casino Deposits?
So far so good – our first goal for this guide was to show you how you can easily download and set up your Scatter account. So, now all that's left is to go through the deposit process to help you use your new wallet account to fund your online casino balance.
Once you have a wallet account ready and some EOS or TRON coins on it (as well as ETH), you can easily make a deposit within minutes by following these simple steps:
Register on a trustworthy casino site – The first step of the way would be to create a player's account on one of the reliable crypto gambling sites. We know it could be a lot for someone new to the field, so check out our list of the best gambling DApps from the crypto world as we update it monthly to store all the information related to the best and safest sites for crypto players.
Visit the cashier for the deposit option – The next thing you'll need to do would be to find the cashier or banking section and look for the deposit address of the site. It's usually easily accessible through the "Deposit" option or similar functions.
Send crypto to the site's wallet address from your Scatter account – Once you are ready to make the payment, you can use the Scatter wallet to enter the deposit amount and fill in the casino's deposit address you've received from the cashier section to complete the transfer.
Play your favorite casino games within minutes – After all this has been finished, you'll be able to play a wide range of crypto gambling games and even gamble on provably fair casinos which are tested for fairness and transparency of the RNG software metric.
Benefits Of Using Scatter Wallets
We know what you are thinking – why should you go through all the trouble of setting up a Scatter wallet when you can make online casino deposits through almost any other wallet option? Well, there are several reasons and the first one is that Scatter has been deemed the number one option for all EOS accounts and it features an in-built option to connect the EOS account of the same name with your wallet account.
This way, you ensure to have a completely safe and unreachable connection between the EOS balance and the wallet which you can use for casino payments.
Furthermore, there are various safety features that the wallet comes with and they all come in pretty handy in case you lose connection with the account. Sure, you may also have to do it all over again when there's a new version of the app (we've already mentioned this), but that's not such a big deal as long as you keep your backup options stored and remember the 12-word code.
Finally, transfer fees are extremely low if any, so that makes it even more convenient for online casino players looking to get the most profitable option among crypto wallets.
Types Of Casino Sites You Can Access
There are different sorts of gambling sites you can access with your Scatter wallet, so we thought it's only natural to give you an example of what you can expect.
To put it precisely – the sites depend on the coins you are using for online gambling, and there are three main options with the Scatter wallet. You can either gamble in ETH, EOS, or TRON, so let's see what it all looks like, shall we?
EOS Gambling Sites
The first thing that comes to mind is that you can now approach EOS casinos with your Scatter wallet since it's a logical option for all EOS players. It's also a good thing for you since these casinos are extremely safe due to their decentralization and lack of real governing bodies behind the site.
While it may sound shady to an untrained eye, this is actually a good thing since your gambling results won't depend on some overseas regulatory body or gaming providers. You can play completely provably fair games here and that means a fairer gaming experience, higher RTP rates for players, and lower house edge for the casinos.
Of course, the house always wins more so we encourage you to gamble responsibly here, but that's still a whole lot better than putting yourself out there in regular RNG-operated casinos.
EOS casinos also use cryptographic encryption which is once again good for your security, while you can count on the blockchain technology for utmost anonymity and privacy.
TRON Casinos
Gambling on TRON casinos comes with quite a few shared benefits with EOS casinos. The scatter wallet allows you to easily play on these sites, and you can browse our guide on the best TRON casinos in 2023 to find the best options for your gaming style.
To put it short – TRON casinos offer increased scalability, complete anonymity, and security while gambling, and a unique set of bonus offers you may get by joining one of our top-rated picks.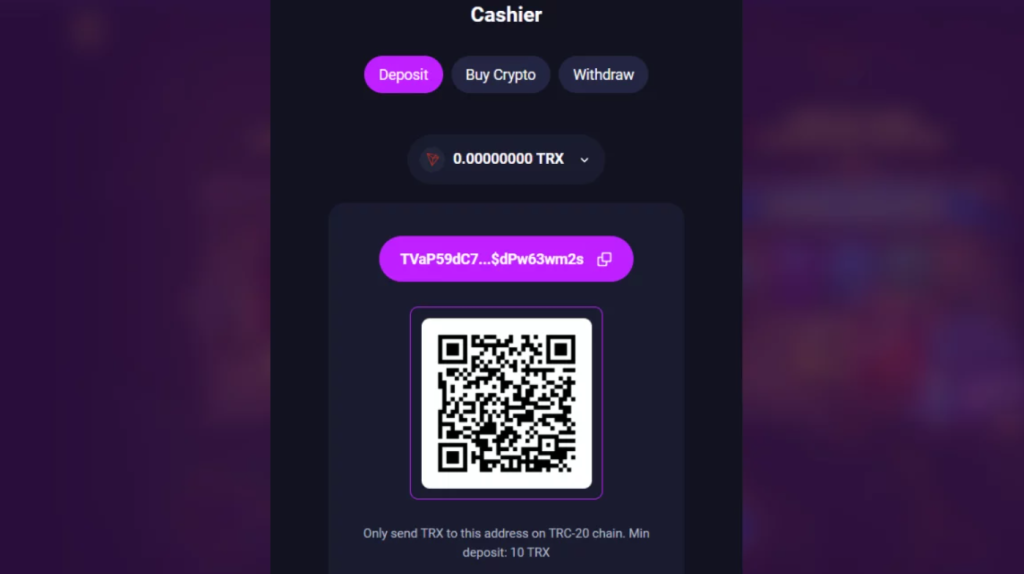 Of course, you also get to enjoy lightning-fast TRC-20 network deposits that can be managed with Scatter wallets, so it's the best way to combine the two for the best possible gaming experience.
Ethereum Casinos
Finally, you can also deposit to ETH casinos with your new Scatter wallet account and these are among the most popular crypto gambling sites out there. Sure, there are a lot of other options among decentralized crypto wallets out there, but we strongly recommend that you stick with Scatter for its usability and safety features.
Ethereum casinos offer a little bit more convenient gambling than its famous rival BTC since they offer lower transaction fees, especially in combination with the Scatter wallet.
On top of that, you get to enjoy the original instant win or provably fair games along with some of the best bonuses in the industry, so ETH is a great option to play with through this wallet.
Scatter Wallet FAQs
What is Scatter wallet?

Scatter is an open-source and free app for managing your crypto transactions with a vault feature to safely store your crypto coins like ETH, EOS, and TRON.

Can you deposit to casino sites with Scatter?

Yes, you can use Scatter wallet to deposit to online casino sites that accept crypto payments.

Is Scatter wallet safe?

Yes, the Scatter wallet is extremely safe thanks to its cryptographic encryption, backup pathways, and security codes that allow you to properly control your account and regain control of it if you lose access to the wallet app.

Is Scatter the best EOS wallet?

Scatter is one of the best EOS wallets out there as it allows you to connect your EOS account directly with the vault and store your EOS tokens safely.