Guide to the Best Provably Fair Casinos
If you've been following the latest changes in the online gambling industry, you've probably heard about provably fair casinos and games that are rapidly evolving these days. While the term says a lot about the point of these games on its own, there are so many variables to consider here, so our experts often get asked the big question – what is provably fair gambling?
Well, that's what we'll show you today and we'll do it together through this comprehensive guide by our crypto casino experts to help you understand it and apply that knowledge when playing provably fair games!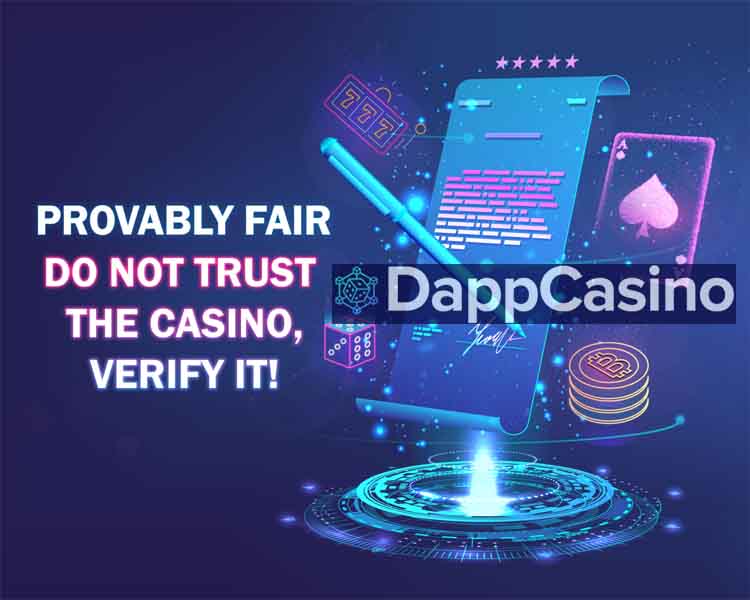 Top Provably Fair Casino Sites
What Does Provably Fair Mean?
Let's get started by first explaining the concept of provably fair gambling and what it stands for to make sure you've got it right. Provably fair means more trustworthiness, fairness, and transparency in casino games than ever before, but how exactly is this accomplished? Well, think of it this way – if you are playing just any ordinary casino game out there, you'll be relying on the word of the casino and the RNG (random number generator) metrics to vouch for the game's fairness.
In reality, you really don't have any way of confirming the fairness of these games, so you can never know if you truly received that trust factor from the site and the game provider. Luckily, it all changes with provably fair gaming algorithms, as now you get the chance to verify the game round's fairness yourself.
Think of it this way – you get to apply a few blockchain and software algorithm metrics that we'll discuss further on to check the game's fairness in real-time. Now, this is extremely important since you can already check this as soon as your betting round is over, and that means increased trust and an equal chance for all the players to win.
How Provably Fair Casinos Work
We know that the concept of having verified fairness in gambling may not strike you as crucial (you are willingly staking your funds based on pure luck after all), but once we are done with this guide, you'll only be picking provably fair casinos. All these sites use specific blockchain-based software that allows you to accomplish higher transparency and generate a truly random outcome of a game round.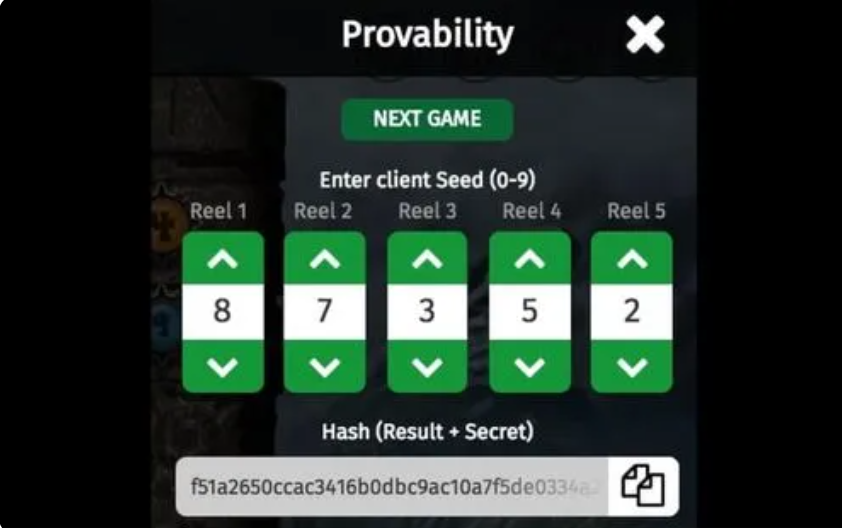 To put it simply, it all works thanks to the following factors:
RNG
User seed metrics
Server seeds
Hash codes
As you probably already know, the RNG stands for a program that predicts countless different combinations and possibilities regarding your bets and the betting round outcome. Only this time, you'd be able to verify that yourself and not just rely on the randomness of the program to bring valid or at least decent fairness to the table.
Server and user seed metrics are the key here since these can impact the game and you can combine these two to get a display of the predicted game round. While you can get the user seed value beforehand, the server seed metric will be provided to you once the game round has already taken place. That way you can combine both together with the hash code.
The hash is the final component of a provably fair gambling system as it provides that extra layer of security thanks to its blockchain operation. Thanks to hash encryption, no one can configure the client and server seeds of your betting rounds, which makes the betting run truly random to its core.
Benefits of Provably Fair Gambling
As you can already see so far, provably fair gambling has quite a few perks for players that make these games more relatable to players in a sense. We all know that online casino games and even land-based slots have to operate by a certain algorithm or pattern based on its software, but it's sort of comforting to know that you are getting truly random betting outcomes and we believe that's appealing to all players.
Still, there's even more to provably fair games than that, so let's take a moment to go over the main benefits:
Increased Anonymity and Privacy
Provably fair games feature that extra layer of trust, but that's not their only advantage. Mainly, you can stay completely anonymous as you can use decentralized gambling DApps offering you a chance to gamble safely and anonymously. This mostly refers to the blockchain software being used, but it can also be due to the fact that only you can get a specific and truly random gambling round outcome.
This simply leads you to have more trust and place your bets easily without caring too much about your details being exposed, which is always a good thing in the current iGaming world.
Security and Trustworthiness
Another major benefit of this gambling system is that you get to enjoy a betting experience like no other in terms of your winning chances. These games also come with the specified theoretical RTP, but this time you can actually prove that the game has that return percentage.
Plus, most of the latest provably fair games feature high returns and there's no way for hackers or other players to know about the hash code provided to you and this makes things even more secure.
Fast and Safe Deposits
As you probably realize by now, the system operating on blockchain technology means that you'll mostly be betting in crypto, and this can also be a good thing. You can make fast and easy deposits that are completely secure via your crypto wallet and combine that with the benefits of having the seed values and cryptographic hash to verify the game round.
If you put it that way, it becomes clear that provably fair gambling has a lot of benefits when compared to "regular" gambling software.
Responsible Gambling in Provably Fair Casinos
Offering provably fair gaming to players isn't a sort of marketing trick of a commercial nature by the site – it truly delivers value to players. So, there would be no point in ruining that by gambling over the line, and our team advises you to always stay within your comfort zone in terms of what you can afford to lose.
We also do our best to bring you the sites that are verified and safe along with having responsible gambling features like self-exclusion and getting gambling addiction helplines in case of an issue, so you can rely on our help for that matter.
Still, most of it is up to you so don't just waste the provably fair nature of these games by wagering on and on after you've lost your gambling budget. The fact that the games are 100% fair doesn't guarantee you'll be able to win more frequently.
How Provably Fair Security Works
Before we get into any more details regarding the best provably fair games you can play these days, let's get into a bit more detail about how the security system actually works. You can now follow us thanks to your knowledge of the provably fair factors we've discussed earlier, and it all starts with the random number generator.
Once the certain betting outcome has been predicted, the value gets encrypted thanks to the crypto hash and it therefore gets completely secure and unbreachable, meaning it stays the same no matter what. You also get the user seed value that you can use later on through a hash calculator that helps verify the game's fairness.
It works like this – you first enter the user seed and then add the server seed provided after the game round has taken place. During the process, you'll be able to see the original hash value that was encrypted as the predicted outcome, and then you can check the value for the genuine result of the betting round. Comparing these two will give you an idea of the game's fairness – the two values should always be the same, meaning you've got the same random result that was predicted by the program in the first place.
Provably Fair vs "Regular" Casino Software
To help you put things into perspective, we'll also take a moment to compare this gambling system with the "traditional" one and see what the perks and benefits are for players. So, the first thing to note is that you get a completely transparent experience and we can't seem to stress enough how important this is.
You genuinely get what you paid for, and that also means there are no third parties involved in the process so the game has no way of being rigged by the operator or the software provider. You can even find in-house games like BC Originals as you can see by the example in our BC Game review, so that's a good thing to keep in mind.
You usually also get a generally higher RTP rate when compared with traditional gambling software since the casino has a lower cost of adding these games and even a lower house edge on these turns out to be profitable for the operator. Finally, you'll be playing with crypto which may not seem like the best thing due to all the volatility factors you have to count on, but it pays out in extra security that you get.
Our Tips on Finding the Best Provably Fair Casinos
We like to think of our casino reviews as genuine and unbiased as we use real money deposits to try each site, as you can see from our TrustDice review and similar posts, but we also value your own opinion as a player, so here's what to look out for if you don't want to use our list and wish to find the best provably fair casinos yourself:
Look for sites that take known crypto payment options – The crypto world can be a safer place for some due to its decentralization, but that doesn't mean there aren't many scams going on there. So, make sure to only pick verified provably fair Bitcoin gambling sites to reduce the chance of being tricked or scammed.
Pick a site with a valid security system – Your safety of playing on the site goes way beyond just relying on the blockchain, so you should ensure that the site at least has an SSL certificate or uses a decentralized wallet for storing your coins in a safe place.
Check the terms and offers – We'd also like to give you a heads up about the terms and conditions that some sites may have in place and these may not always turn out to be profitable for players. So, make sure to read the terms and conditions as well as check the bonus offers on the site for the best possible experience.
Choice of provably fair games – Last but not the least important is the choice of provably fair games you can play, so make sure to look for sites that offer plenty of gaming options that we'll discuss right away.
Provably Fair Games
Well, now comes the fun part – we've gone over the provably fair casino deposits, withdrawals, security, and benefits of this gambling system. What that leaves us with is the focus on all sorts of different provably fair games you can play, so let's go one by one to give you a precise overview of each: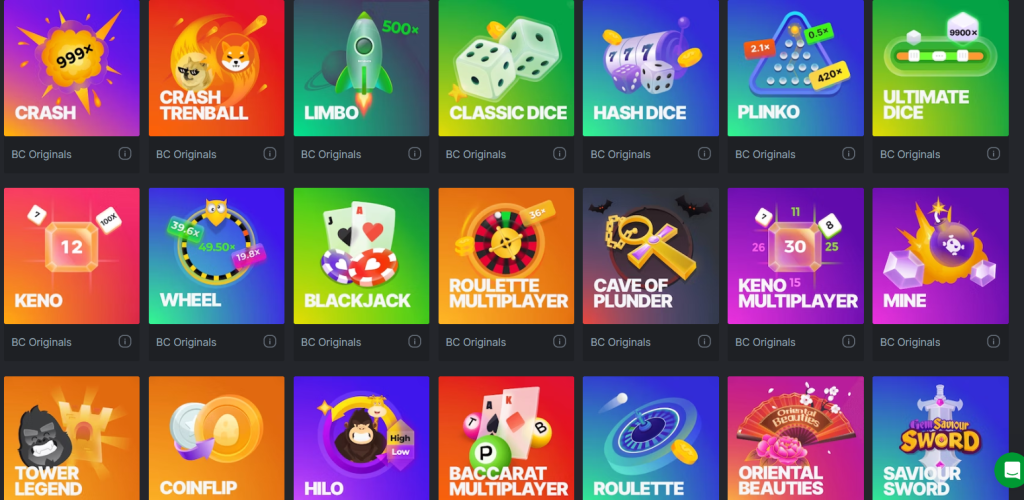 Provably Fair Poker
Provably fair poker is an online poker that operates based on cryptographic techniques called Mental Poker. All poker variants on different betting structures can utilize this provably fair system. In this system, players don't need to trust the server organizing the game which adds to the fairness and you can enjoy the same fast-paced engaging poker round as if you were in a real Las Vegas casino, only perhaps even more fair.
Provably Fair Blackjack
Blackjack is yet another sort of a provably fair game you can play on these sites and it works in the same way as poker – you get to play a table game like version of the game with a cryptographic hash encryption so each draw round can be verified for its fairness and transparency.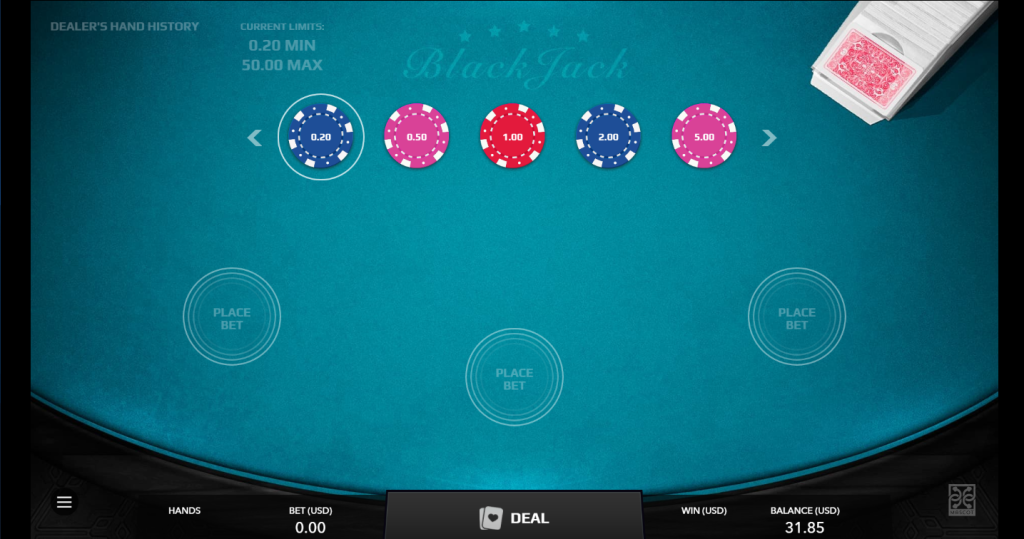 Provably Fair Roulette
We know you may like the good old-fashioned roulette game, but we can assure you – there's not much to lose by trying out the provably fair version. Moreover, you have a lot to gain since the RTP on these games is a lot higher than it would be on regular RNG-based roulette or even some of Evolution Gaming's variations (not that we don't like their games because they are excellent).
Provably Fair Slots
There are a lot of entertaining games including slots you can play in this category, and some of them are fairly unique like the QuantumX game which is not a traditional slot but fits into video slot-ish games with a player being able to decide their fate alone by making in-game decisions and collecting multipliers.
You can also play old-school-type slots that come with a higher RTP and provably fair gaming metrics.
Provably Fair Dice
Another amazing variation is provably fair dice that allow you to easily check the casino games' outcomes using an algorithm. It's a fun game type where you can bet on the randomness of a dice throw to make over/under bets and profit if you get lucky thanks to the game's high return percentage.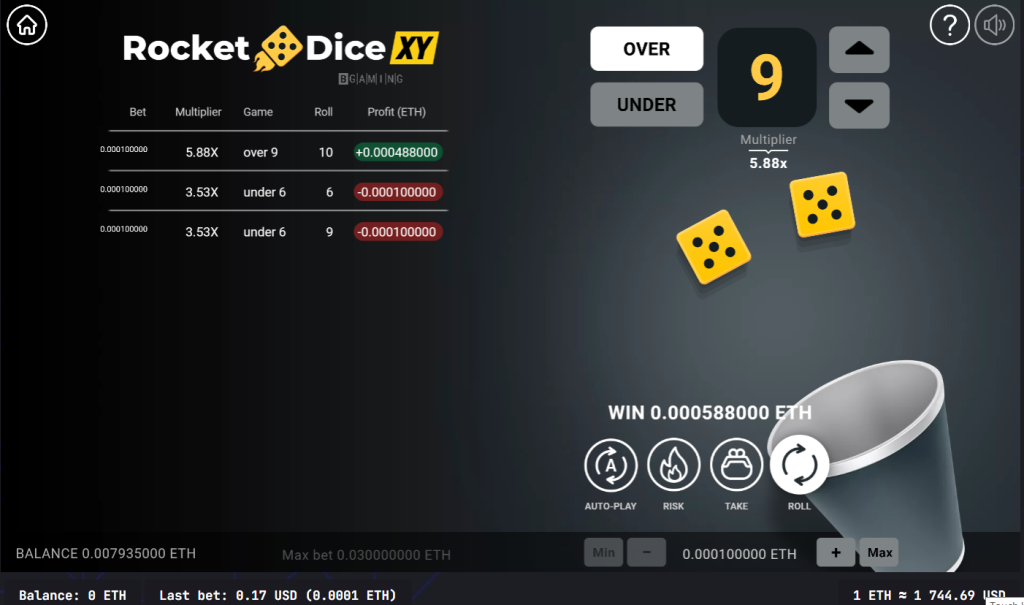 Provably Fair Crash
The provably fair crash gambling game is probably the most popular game there is when talking about these games as it's the first one to ever be developed on blockchain gambling technology and it uses a fast-paced game round with a growing multiplier.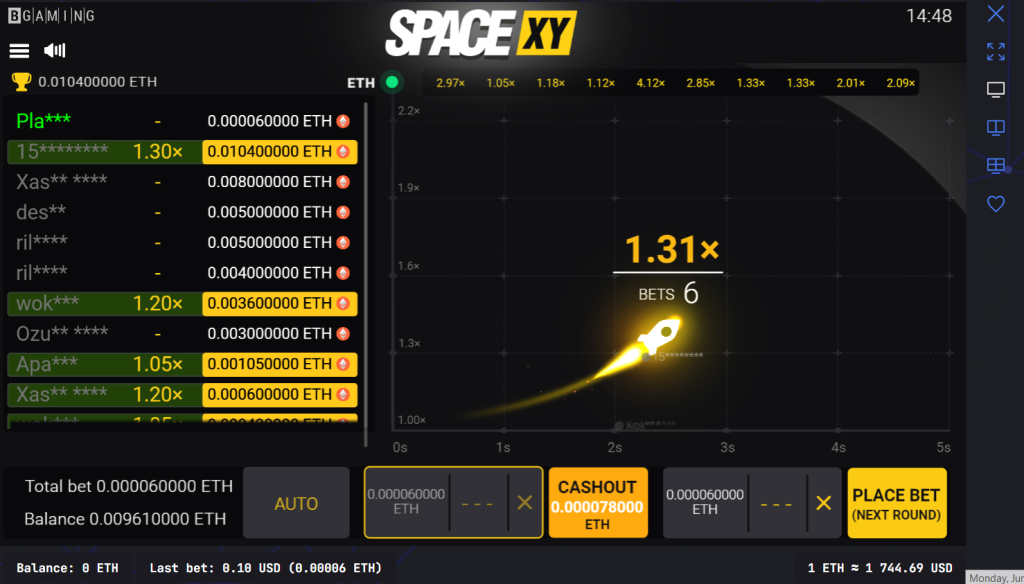 The goal of the game is to cash out before the multiplier indicator crashes, so you can either play it risky and lose or play it smart and cash out on time for some great winning opportunities.
Provably Fair Mines
Mines is a new game that resembles the old-school Minesweeper PC game that we all used to play back in the day. Only this time, you can get a grid filled with rewards or mines and you get to randomly pick and uncover each for the prize or lose in case you uncover the mine.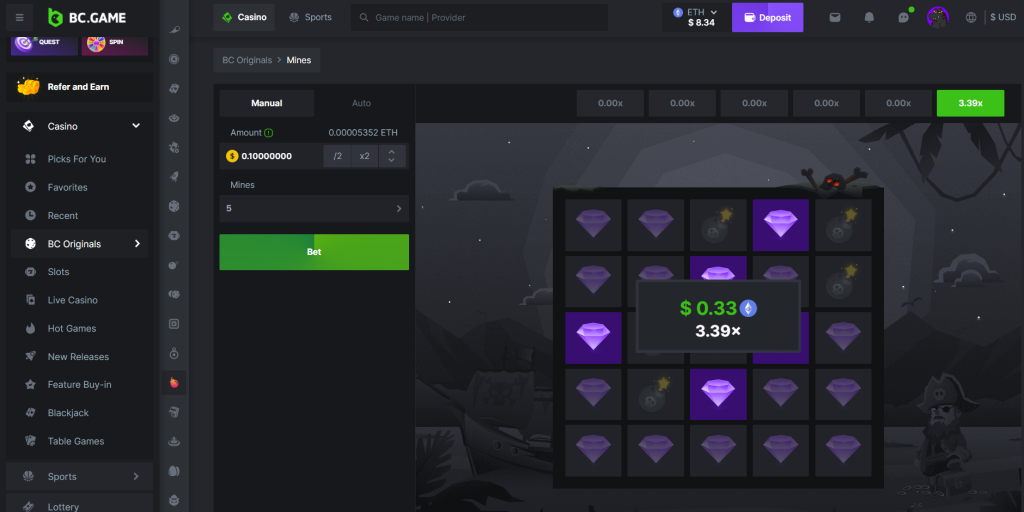 The more picks you make, the higher your payout will be, but watch out not to hit any mines along the way.
Provably Fair Plinko
A provably fair Plinko game is much like the traditional TV show Plinko, only this time around you get to place your Plinko chips in the form of crypto bets and hunt for a multiplier of up to x1000 or even more depending on the game provider.
You can get some striking wins this way as the game usually comes with up to 99% RTP, which is simply incredible.
Provably Fair Limbo
Provably fair limbo is similar to Crash only this time it works even faster. You can set up your multiplier limit, and the counter will immediately run the result. If you've received an outcome within your specified cash-out zone, you get the winnings, and if you miss, you lose.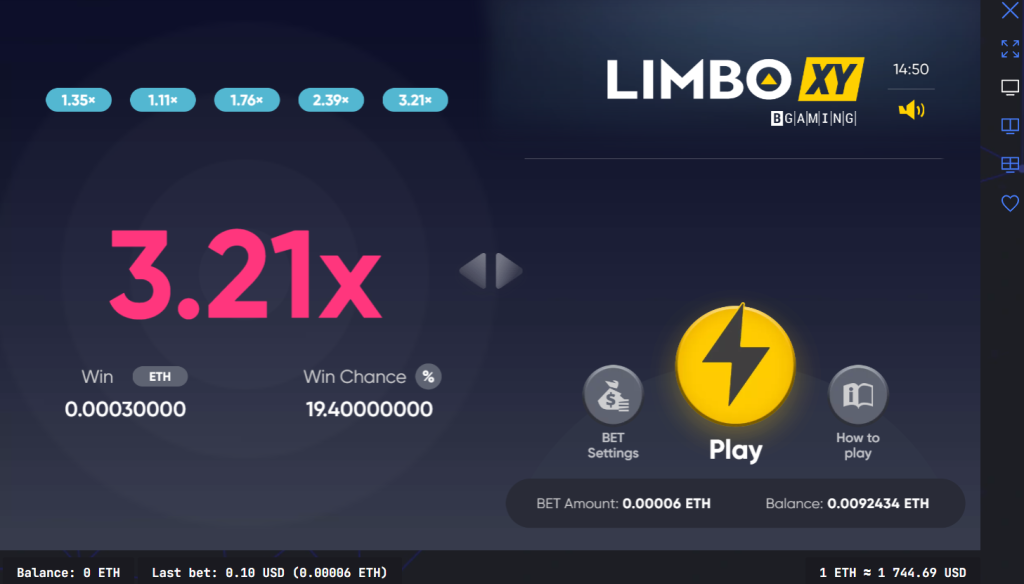 Provably Fair Games FAQs
Is provably fair legit?

Yes, a provably fair system is a legit and reliable system. The gaming system allows you to gamble safely using cryptocurrencies.

How Provably Fair Gambling works?

The provably fair algorithm is based on technologies that permit online randomization to step up and reach a higher level of fairness and openness. The algorithm uses blockchain to make actions of randomization, like shuffling a deck of playing cards or flipping a coin, as random as possible. All players can easily verify the randomization process.

How do you test for provably fair?

After your betting session, copy the server seed the casinos provided for your bet. Past your server seed into any third-party hashing tool. The output should match correctly with your server seed hash.

Are casinos provably fair?

Yes, a provably fair system is an algorithm that checks and verifies an online casino's fairness towards its players. This diminishes the fear of most players that online betting sites will rip them off.