Simplified Guide to the Best Provably Fair Casinos
Seeing your hard-earned money falling into systems you can't control or that you are not sure of its working principle is very disheartened. Thankfully technology has improved and made a drastic change to it. Most Online Casinos now use a provably fair system. It is a transparent system that ensures houses or casinos don't have an advantage over your funds. Casinos adopt this system to verify all games as being fair.
This article provides the most simplified guide to the best provably fair casinos. Read on to discover them.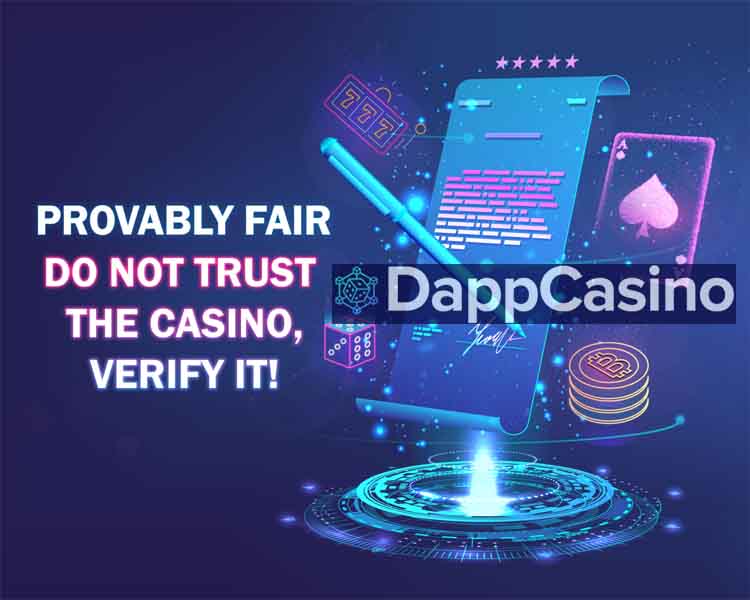 Top Casinos with Provably Fair Games
What Does Provably Fair Mean?
In a layman language, provably fair means; No More Trust Issues! In a provably fair game, the operator usually provides tools that enable players to verify the outcomes in real-time after they have finished the gameplay. A provably fair system is almost 100% correct in its evaluation. It ensures the safety of your funds or at least a fair outcome.
It is only honest casinos who value their reputations and the safety of their customers that uses a provably fair system. Beyond ensuring transparency, it gives players more chances to win. A provably fair system is based on algorithms with hash functions that verify the game results based on the events that happened while playing it.
How Casino's may Exploit Provably Fair gambling against players?
Provably fair games are usually implemented using the provably fair algorithm. Still, casinos may exploit you. This is why it is paramount that you always check if the casinos' provably fair system is 'fair.' Never assume the casino you are playing at is honest.
Provably Fair Systems and And Blockchain
Probably fair is a broad technology that cuts across crypto and non-crypto online casino games. It is primarily applicable to bitcoin or crypto casinos and games. Crypto casinos equipped with provably fair algorithms utilize fair blockchain algorithms. This gives you a higher opportunity to win the majority of your bet.
Probably Fair Code
Provably fair code is a code that allows anyone to generate a provably fair hash chain. When developing a provably fair gambling game, generating a provably fair hash chain is the first step.
What Does Provably Fair Gambling Mean?
Provably Fair Gambling is an algorithm that allows players to verify that the result or outcome is fair in real-time. Provably fair games are based on; Random Number Generators (RNG), Seed Generators, and Hashing technology. RNG determines game output. The system allows you to add a seed number to ensure that the casinos don't control the game outcome. The hashing technology encrypts your seed numbers, thereby ensuring they aren't tampered with.
Provably fair poker
Provably fair poker is an online poker that operates based on cryptographic techniques called Mental Poker. All poker variants on different betting structures can utilize this provably fair system. In this system, players don't need to trust the server organizing the game.
Provably fair blackjack
Provably fair blackjack is another game you can play with provable fairness today with various online casinos.
Provably fair roulette
Roulette has been played ever since the 18th Century. Provably fair roulette is a basic casino game available at almost all casinos. You can bet on single numbers, various categories of numbers, or even colors.
Provably fair slots
Provably fair slots games provide transparency on the results of each bet. It shows players a revealed seed and a hashed one used for computing the outcome.
Provably fair dice
Provably Fair dice allows you to easily check the casino games' outcomes using a Provably Fair algorithm. Players can use the Server Seed, Client Seed, and Hash generated by every Dice play to check the randomness and fairness of the casinos.
Provably fair crash
The provably fair crash gambling game uses blockchain technology to independently verify the game to ensure fairness.
Provably fair mines
Mines is a new game that allows players to win whenever there is a right or wrong answer, You will see a grid with some tiles, and you have to uncover them. Just uncover a grid with some tiles. Players have multipliers underneath some squares. Avoid mines while playing. Once you open a mine, you lose. The provably fair mines use a provably fair system.
Provably fair plinko
A provably fair Plinko game is a Plinko game on a provably fair system. To play the game; Enter your bet, choose how many bits to drop, and finally select a prize row. If your bet hits, it will be multiplied by the number indicated on your prize row.
Provably fair limbo
Provably fair limbo is similar to the chart but more simplified. There is no bailout or button – It solely depends on your predictions. If your bet roll number falls over your prediction, you win the bet.
Wrapping Up
You are now aware of the latest gambling technology. The system is so easy that you can verify all your games from the comfort of your home. Choosing a casino that utilizes a provably fair gaming system will maximize your chances of winning.
FAQ
Is provably fair legit?

Yes, a provably fair system is a legit and reliable system. The gaming system allows you to gamble safely using cryptocurrencies.

How Provably Fair Gambling works?

The provably fair algorithm is based on technologies that permit online randomization to step up and reach a higher level of fairness and openness. The algorithm uses blockchain to make actions of randomization, like shuffling a deck of playing cards or flipping a coin, as random as possible. All players can easily verify the randomization process.

How do you test for provably fair?

After your betting session, copy the server seed the casinos provided for your bet. Past your server seed into any third-party hashing tool. The output should match correctly with your server seed hash.

Are casinos provably fair?

Yes, a provably fair system is an algorithm that checks and verifies an online casino's fairness towards its players. This diminishes the fear of most players that online betting sites will rip them off.