Plinko Strategies: Top Tips To Boost Your Odds

The Plinko gambling game can be very attractive, especially if you are looking for something that won't "eat up" all of your bankrolls on RTP alone. Especially when playing on crypto gaming sites, it could make a major difference due to a provably fair mechanism and your betting method.
Yes, there are some Plinko strategies in place and we know you can't wait to hear about all these. However, there's one major question bothering all the players from the start – do these strategies truly work for online Plinko in a way that makes you profit? We guess you'll have to wait and see as we elaborate on some of the best betting tactics for this game type.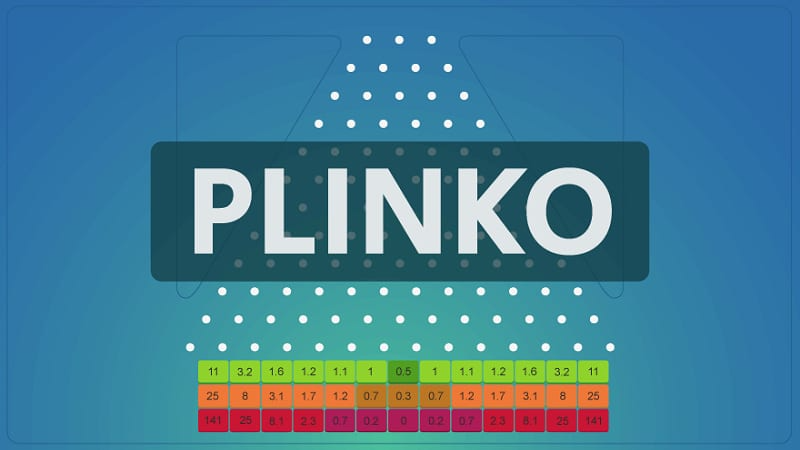 Plinko Game Rules
Before we get to the actual Plinko strategies, it's time to stop for a minute to explain all the game's rules. It's luckily a simple game even for newbies, so you won't have a hard time getting to know the essence of it.
The thing is – you'll have to set up a bet level that applies to a single ball thrown down the pyramid-shaped Plinko grid. The grid contains the pins that will re-direct the ball and as its trajectory changes, the intense factor of the game shows up.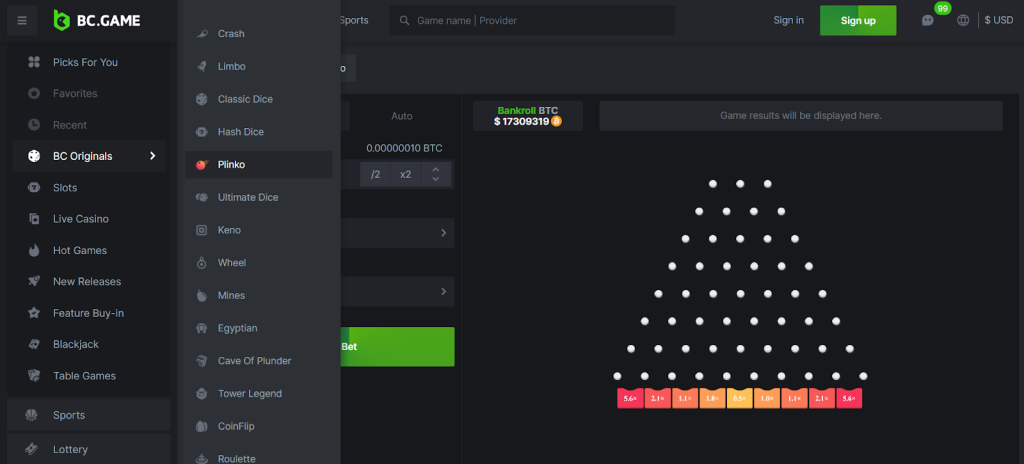 You'll never know where it will land until it reaches one of the slots at the bottom of the grid with prize multipliers. To put it simply, let's say you are betting $1 and releasing one ball at a time. If it lands on an x1 multiplier, you'll get the dollar bet back.
However, depending on the game's settings and variance, you may even hit prizes like x15, x100, or even x1000 on some games. That's all there is to it, but you should know that there are also x0.2 and x0.5 slots that may lead to losing bets, so that's where the Plinko strategies come in handy.
How To Start Playing Plinko
There are just a few steps on your way to playing Plinko for real money. Getting to know the rules is the first key thing to do, but I'll talk you through the playing steps first before you get to utilize the strategies. So, if you are a beginner, follow these steps:
Join a gaming operator that offers Plinko – Playing Plinko gets easier if you can instantly find a reputable site that offers the game. This includes all those regular iGaming sites with the RNG-operated Plinko by Spribe and similar providers, and our recommended dapps that allow crypto players to enjoy provably fair Plinko on decentralized casino operators.
Register and make your first deposit – After you follow the instructions on the "Sign-Up" page of the site, it's time to make your first deposit and set up the Plinko bankroll. This one is essential for picking Plinko strategies since it greatly depends on your balance amount.
Adjust the game's variance – The volatility is a key factor of many games and the same goes for Plinko. It's a relation between the risk you take and the payout potential of the game, and risk levels are the determiners of Plinko's volatility. You can go for a low-risk mode with 8 rows and lower payout values, or for more rows and higher payout values. Still, it's more difficult to hit those high values on high-risk versions, just as much as it's difficult to lose most of your bets on the low-volatility grid.
Keep track of your balance and set the limits – Most Plinko games have a dedicated "results" section where you can keep track of what's going on with the game, so use it to track your balance changes and set up betting limits to make sure you always stick with the plan and strategy.
Best Plinko Strategies
Before we get to these it's essential that you know that Plinko is a game of luck. So, there's no definitive answer to how to win in the game, just like with slots, roulette, and other iGaming games. And by the way – the history of Plinko is super interesting!
However, Plinko is designed in a way that allows for some tactics that could prevent you from suffering heavy losses and improve your winning chances as we'll discuss below.
Plinko Strategy #1: Place High-Value Bets on a Low-Risk Grid
This strategy works for any sort of bankroll but high rollers will find it more appealing than low rollers. Still, for the sake of a better explanation, let's say you have a $100 bankroll. You don't want to risk it all in at once, so we suggest bet amounts of around $5 per spin.
That means that dropping in a single Plinko ball will cost you $5. However, there's a twist to this strategy – make sure to set up the number of rows to low, and the game's volatility to a low-risk one. What this will do is give you a slight advantage in terms of eliminating instant loss possibility.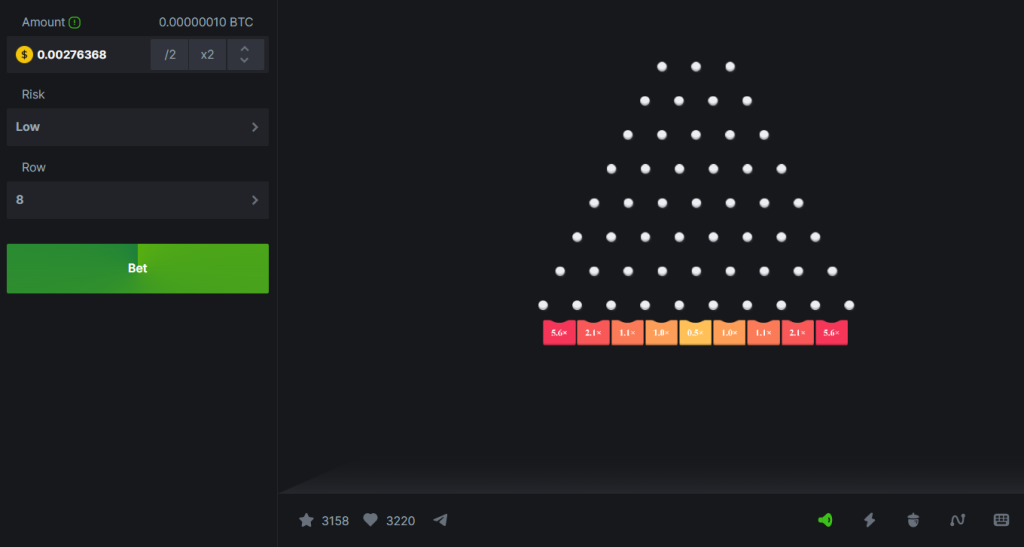 Your payouts will be lower, often limited to x15 at most, but that also depends on the provider. Playing a round of BC Game Casino Original Plinko this way will give you one section with an x0,4 slot, and others ranging from x0,7 to x13 of your bet. So, the chance of hitting that single x0,4 slot all the time is pretty rare, and you can expect to slowly build up some profit in most cases. The downside is – you shouldn't expect to hit massive wins with this one in a single spin.
Plinko Strategy #2: Low Bets On High-Risk Setup
Let's stay with the $100 budget for this next one just for the sake of explaining the tactic and the difference between these two initial Plinko strategies. This time, instead of placing high bets, we'll try to place low bets up to $1 on a high variance grid.
This means more rows and a higher risk setup, ending up with 16 rows and more slots where the balls could land. While this leads to several x0,2 slots which is a bad thing, it also leads to slots with the game's full potential like the x1000 one.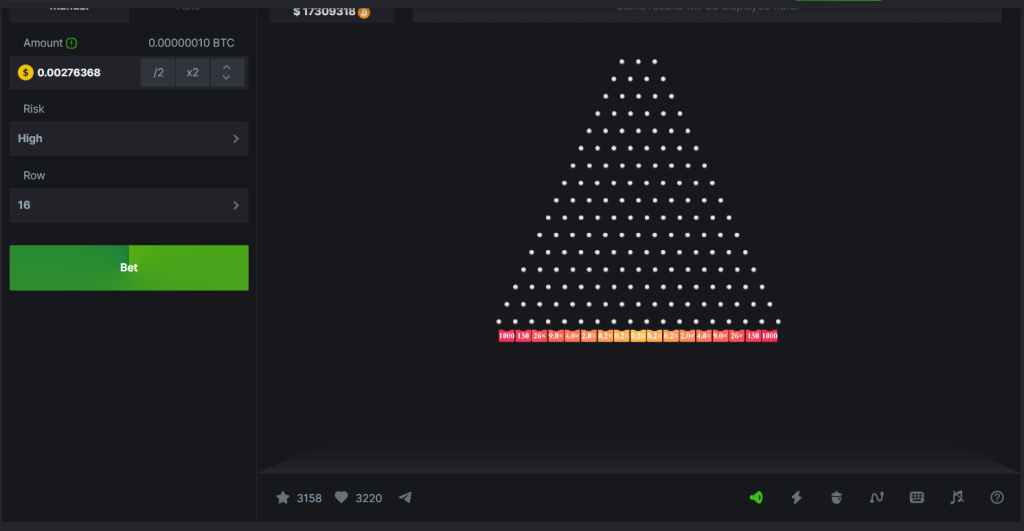 Of course, you can't hope to hit that one very often, but even a single hit would lead to massive profit. If not, you can always try hitting the lower-value ones like x130, or x26 a few times in every 10 or 15 spins to get to the profit land ASAP.
It goes without saying that this method will result in a lot of losing bets, so it's best to keep the bet lower and enable at least 100 spins with your balance or preferably more to see how it goes. Keep track of the bet history as well to see how often you can hit multipliers higher than x10.
Plinko Strategy #3: Martingale – The Holy Grail of Gaming Strategies
If you thought that this one could go without the famous "Martingale" strategy, you'd be wrong. It's one of the most common strategies out there that "works" for games like roulette and those games that allow x2 bets. Since Plinko is a bit different, we'll explain how the strategy can be applied to this game as well.
The method includes doubling up your bet every time you lose and cashing out on an x2 win. Since you can't affect the cashout time on this game, we suggest you set the grid to the lowest-risk setup and start placing $1 bets.

While the previous two strategies rely on a sample of throwing in as many balls as possible and checking the statistics of the outcome, this one is different. It requires throwing in one ball at a time and waiting to see the result. So, if the first one lands on an x0,4 slot, you can double-up the bet. You can do this every time until you hit an x2 win, or x2,1 in the case of BC Gaming's Plinko.
Once you hit it, restore the initial bet level and start over again. It may not work as accurately as with the double-up bets on roulette, but it's still applicable and a decent solution for this game.
Plinko Strategy #4: Trusting the Fibonacci Sequence
Finally, there's one common strategy that's just perfect for this game – the Fibonacci strategy. It works by increasing your bet level after losing bets, but unlike doubling it up like with the Martingale method, you'd be adding the value of the lost bets to the next one. So, if you lose $1 and $2 bets, you should add $3 on top of your next bet to hit profit.
The thing is – you need a higher multiplier than just x2 for this to work and that's why Plinko is perfect for it. You can try this method on both low-risk and medium-risk grids and see what happens on a sample of 100 spins.
About Plinko RTP
The whole thing about Plinko and its gambling strategies is that this game comes with the highest RTP among slots out there. It usually ranges from 97% to 99% and that's impressive compared with slots for example.
So, it makes sense to try and use one of the listed strategies having in mind that the game should return at least 99 out of your 100 bets in the long run. Or, at least that should happen in theory, so we suggest you try gaming dapps for playing the provably fair version of the game.
It's also perfect to use these strategies for bonus wagering on sites that allow the contribution of Plinko toward meeting the wagering requirement.
Our Take On Plinko Strategy
You want our expert tip, you say? Well, we think it's always best to rely on having pure fun and not play for profit, but if you ask us about the most effective method, it's surely the Martingale strategy.
Even so, you should be warned that it doesn't work in the long run and you shouldn't rely on it to make a living out of playing Plinko. In every other case, these methods should increase your winning chances in the game, assuming you can keep your cool and stick to your plan.
Plinko Strategy FAQ
Is there a trick to winning in Plinko?

A regular version of Plinko includes a few tricks like adjusting the throwing speed of the chip, but playing on gaming sites is different, so there's no 100% accurate method for winning all the time.

Is it possible to win big on Plinko?

Yes, it's possible to win big on Plinko by betting on a high variance board but it may take some time to grab that max win.

Does the Martingale strategy work on Plinko?

The Martingale strategy works on Plinko but only if you stick with the rules and set up a low-variance board for a higher chance of hitting the x2 multiplier.