Bitcoin Casino Statistics – A Look Into The World Of Crypto Casinos Through The Numbers
In 2023, the growth of the crypto gambling industry is so massive that it even surpassed the advancement rate of regular online casinos back when they first showed up. Bitcoin casinos are now everywhere, making it tougher to find the best decentralized gambling DApps.
So, to make the process easier for you as a player and to give you a glimpse of the bigger perspective on crypto gambling, our team of experts wanted to dive into the key stats.
Once you are done with this guide, you'll be able to grasp the crypto-gambling market's growth, industry trends, and some of the most relevant figures for determining the direction in which the industry is heading.

Our Team's Top 10 Crypto Casino Statistics
Once you get to know a few important industry stats, you'll be able to realize where the industry is going.
As an expert team of online casino enthusiasts, we often get asked the big question about crypto gambling being the future of online gambling, so here are some stats to help you see that for yourself:
In Q1 of 2023, crypto bets have marked a jump of 44.6% when compared with the Q1 of 2022
Crypto bets have increased by 30% only in the first quarter of 2023 when it comes to the total online casino bets placed
Around 76% of all crypto bets online have been wagered in BTC, while ETH follows right up with 8.4%
In the period from 2021 to 2022, the value of crypto casino bets has more than doubled, precisely with a 116% increase
The value of the crypto gambling industry is estimated to reach a figure of $93 billion by the end of the year
Around 40% of the total amount of online casino wagers in 2023 were placed in crypto with the number still growing
Based on the current growth rate and statistics, the industry's value is expected to reach $150 billion in the next few years, making it more than 50% of the entire casino industry
Popular online casino streamers like TrainwrecksTV have wagered more than $24 billion in crypto
Based on SoftSwiss reports, more than 70% of all online bets were placed via mobile devices in 2023, and more than 40% of these bets were in crypto
According to SoftSwiss reports, the value of total crypto gambling bets is estimated to jump around 19% in 2023 alone
We know this all may seem confusing, but allow us to give you a bit more context. One of the crucial details is that the entire crypto-gambling industry was valued at around $1 billion in 2020.
To put that into perspective, it's now estimated to reach $93 billion by the end of 2023 alone, so that's a massive growth in just a couple of years.
Crypto casinos have been around since 2012, but the true jump in the market only started in 2019, possibly due to land-based gambling restrictions caused by the worldwide health situation.
Also, we have to mention all the benefits of gambling in crypto on online casino sites. Not only do you get more privacy and personal information safety, but you also get to gamble on provably fair casinos.
It means you can check and verify the outcome of each game round to prove if it's truly random and luck-based. We'll explore all these stats in more detail to help you understand what all this means for you as a player in the following sections.
How Fast Is The Crypto Gambling Industry Growing?
You may initially think that this one isn't so crucial for you as a player, but it's important to get to know the limits and boundaries of the iGaming scene.
Precisely when it comes to crypto gambling, it's useful to know how fast the market is developing so you can take proper action when choosing your favorite site to play at.
Well, we already mentioned how the value of the crypto-gambling market is estimated at $93 billion by the end of the year, but there are a few associated facts.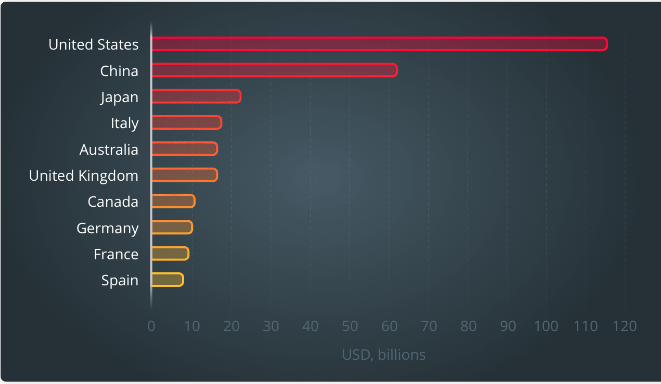 Some of the largest-growing country markets of crypto gambling are Canada, the USA, Europe, and Australia. To give you a bit more context, there are more than 19 million online players in Canada and the size of the US chunk of the crypto gambling market is expected to reach $9.4 billion in the next few years.
Europe and Asia follow right up since these countries make up more than 70% of the world's total crypto gambling market. In Europe, the fastest-growing crypto gambling markets are the UK and Germany.
We can lay down the information posted by the UK Gambling Commission which suggests that around 24% of UK adults gamble online or at least have gambled online before. As the market continues to grow, we are expecting to see those figures rise even more.
Commonly Used Crypto For Online Gambling
Now that you know a bit more about the countries with the highest crypto-gambling development rate, let's take a look at the most commonly used coins.
Without a doubt, BTC is considered to be the most popular one, but its contribution value has actually dropped in the past few months. The second most popular coin is Ethereum and ETH casinos have marked a market rise of around 5% recently.
This means that almost 13.5% of all the crypto bets are made in ETH as a currency. Until just recently, more than 50% of all BTC transactions were related to online gambling, so you can assume how big that chunk is.
Some of the remaining widely used payment methods include USDT, EOS, Dogecoin, Ripple, Monero, and ADA. However, all these coins combined have a usage value of below 15% on the crypto gambling market.
Latest Crypto Gambling Stats for 2023
Now, if you are a new player looking for the best crypto casinos to play at in 2023, you may need some introduction to the recent changes. First off, it's important to note that there are still some shady sites among crypto casinos, so you can rely on reviews from industry experts to find valuable information.
However, knowing a few details and ongoing stats can also help, and the best source of these is SoftSwiss. The brand has been in the industry for over a decade and they are providing complete gambling platforms to operator sites.
You can think of them as a white-label solution, only they also deal with game aggregator platforms. So, based on their research, the crypto gambling trends in 2023 state that these are the most popular payment methods for crypto players:
Bitcoin
Ethereum
Litecoin
USDT
Their experts assume that USDT is yet to become popular for online players since its value is closely tied to the value of the US dollar. So, it's easier to place these bets as you don't have to worry about the coin's value fluctuations as much.
More than 66% of all sports bets in 2023 are placed on live events rather than on pre-match betting. When it comes to slots and online gambling, the rate of crypto usage grows rapidly – almost by 10 percentage points in a single year.
That means that even though fiat currencies were still holding the leading position with 64% of bets placed in 2020, crypto is now taking over in 2023 with more than 50% of the total wagered funds.

Finally, we have to deal with the most important stats – the growth of crypto gambling in 2023. According to SoftSwiss, there's been an increase of 19% in crypto growth in Q1 of 2023 alone compared to 2022, which is a huge difference in such a short period.
In 2023, Bitcoin still remained the most widely used coin for online gambling, followed by ETH and LTC, while USDT is predicted to make the largest growth.
Crypto Gambling Games
Among all the crypto casinos out there, more than 78% of these offer provably fair games. These are online casino games that are based on the blockchain alone and their fairness can be checked and verified by the player using the crypto seed.
The RTP of provably fair games is 99% which is why it's considered that more than 50% of crypto players in 2023 are wagering their coins on these games.
Among such games, you can find and play options like the Crash Game, Mines, Dice, Limbo, Plinko, and other similar games. There are even provably fair game versions of popular casino games like roulette, blackjack, and even some provably fair lottery games.
The Future Of Crypto Gambling And How It Affects You As A Player
Back in 2020, there were roughly around 300 crypto casino sites but that number has grown significantly since then. In 2023, you'll find more than 2000 crypto gambling sites and around 900 DApps alone, which is triple the amount we've mentioned.
Given all the statistics we've gone through in this guide, one thing is for sure – the crypto gambling market will keep on growing in the years to come. It's definitely taking over the iGaming industry as the CAGR growth rate suggests that we may see the global gaming market reach trillions of dollars as soon as 2030.
We hope that these infographics and stats we've presented in this guide will therefore help you find your lucky place in this ever-growing industry and that our reviews will help you find the best and most reliable crypto gambling sites in 2023!
Crypto Gambling Statistics FAQs
What is the current value of the crypto gambling market?

The current value of the crypto-gambling market is estimated at $64 billion and it's expected to reach the value of $93 billion by the end of 2023.

What are the most popular crypto-gambling currencies?

The most popular crypto gambling currencies are BTC, ETH, and Litecoin, while USDT is projected to make the biggest growth among crypto players in 2023.

What is the RTP on crypto gambling games?

The RTP on crypto gambling games can vary but it's the highest for provably fair games with up to 99% RTP and a provably fair mechanism that allows players to check the fairness of each game round.

What are the best crypto casinos in 2023?

The best crypto casinos in 2023 in the opinion of our experts are BC Game Casino, TrustDice, WolfBet, and JustBit Casino.